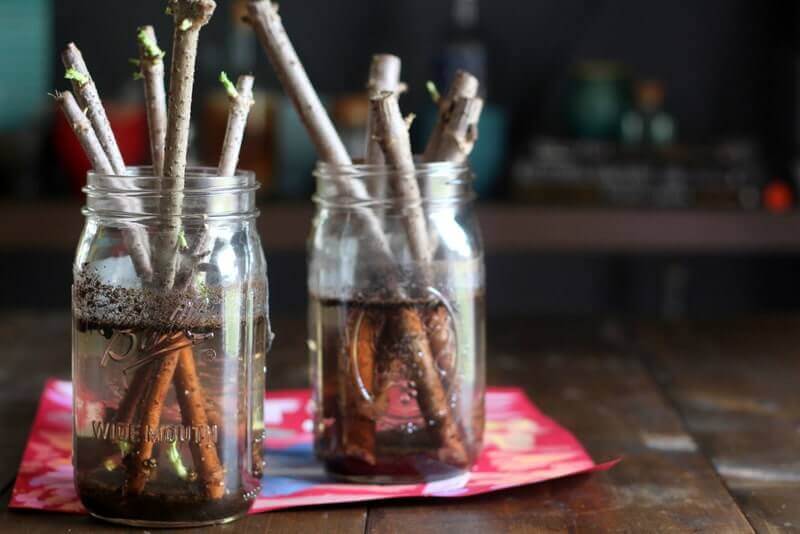 Have you ever gathered plump, juicy berries into your apron and whisked them to the kitchen to make medicine, wine, or jam? Yeah, me neither, but I will! I'm no Julie Andrews and I don't (usually) twirl and sing in my kitchen, but gathering food and medicine from my yard does make things feel a little more magical, and some singing may be involved.
As I mentioned on Instagram a few days ago, my husband and I are preparing to plant an elderberry patch to go with the other culinary and medicinal plants that grow on our homestead. Like the common backyard weed I use to make our "first aid" ointment, elderberry has a variety of benefits and uses.
Benefits Of Elderberry
Elderberry syrup has long been revered for it's ability to support immune function through cold and flu season. One study found that flu patients who received elderberry syrup recovered about four days sooner than those who received a placebo, while another on suggests it may help open nasal passages. (source)
For just .000001% more effort, you can transform your elderberry syrup into elderberry jam, or you can use the berries to make elderberry tea. I could go on and on, but what you really need to know is this. Word is getting out about elderberry, and that is AWESOME!
Except when it's not, because all of a sudden elderberry retailers everywhere are out-of-stock due to high demand. Yikes. 
Fortunately, elderberry bushes are both beautiful and easy to grow. Several of you asked for step-by-step instructions on the Instagram thread, so I put together this post for you. It covers the most common questions I've heard about growing elderberries, plus step-by-step instructions for growing elderberries from cuttings.
Will Elderberry Thrive Where I Live?
Elderberry bushes are very hardy and do well in zones 3-8. You can type in your zip code here to find out what zone you're in. You have just a few more weeks to gather your cuttings, so it's best to get started as soon as possible.
How Long Does It Take To Get Berries?
This summer you'll get elderflowers, which you can use to make syrup, tea or lemonade. (See step five for details.) And by next summer you'll have juicy elderberries to use in homemade pies, jam, jelly, wine, and syrup – hooray!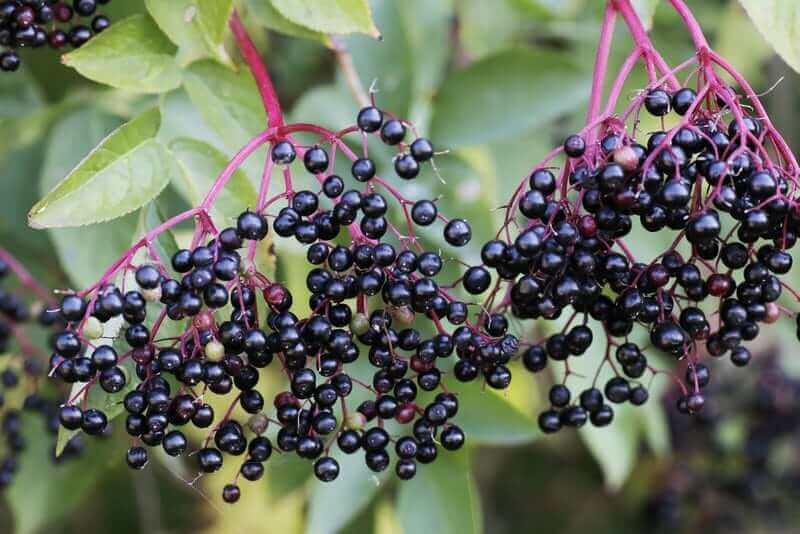 Growing Elderberry From Cuttings: Step-By-Step Instructions
Because I'm not an expert on anything garden-related, I enlisted the help of elderberry expert Rodger Lenhardt to make sure this post is accurate and helpful. (Thanks Rodger!)
Step 1: Find Your Elderberry Bush
If you know of a friend or neighbor that has one, ask them if you can get a clipping. If not, chances are good that if you ask around someone will know where to get one. You might post on Facebook to see if anyone in your extended community has a bush they'd be willing to let you take a clipping from.
If you have difficulty finding elderberry bushes in your area, you can order from Norm's Farms. My husband found Norm's through his permaculture mentor, and ordered three different types of elderberry cuttings to maximize fruitfulness. According to this article, "Cross pollination is not required to produce fruit, but flowers that are cross-pollinated will produce larger fruit–it is beneficial to have two cultivars of elderberry in close proximity." In other words, if you plant two different varieties within 60 feet of each other you increase the fruitfulness of both.
Worried You Might Pick The Wrong Thing?
When I first started looking for elderberries in the wild, I was terrified I'd confuse it with Pokeberry or Water Hemlock, which are poisonous. Fortunately, if you know what to check for they are VERY easy to tell apart.
Here's the difference between elderberry and water hemlock.
And here's the difference between elderberry and pokeberry.
Still worried? Rodger from Norm's farms gave me a tip that makes exposure to pokeberry even less of a concern. Apparently once a winter frost hits, pokeberry stems collapse and disintegrate. They'll grow back later in the spring/summer, but for now they're probably not even out.
Once you've identified your elderberry bush, you can cross-check it by cutting it down the center. Elderberry has a hard, woody stem with a soft center that Rodger describes as "like styrofoam."
Step 2: Gather Your Elderberry Cuttings
While the bush is dormant – usually January through March – use pruning shears to cut a 8-9 inch section of elderberry cane. (That's the hard, woody stem I mentioned earlier.) You want the cut to be slanted to improve the canes ability to draw up moisture.
According to this article, it's best to "focus on stems that are very green in spring, those that are sturdy but thinner than the older canes at the center of the clump . . . Choose ones that are about as big around as your little finger and located on the edges of the thicket."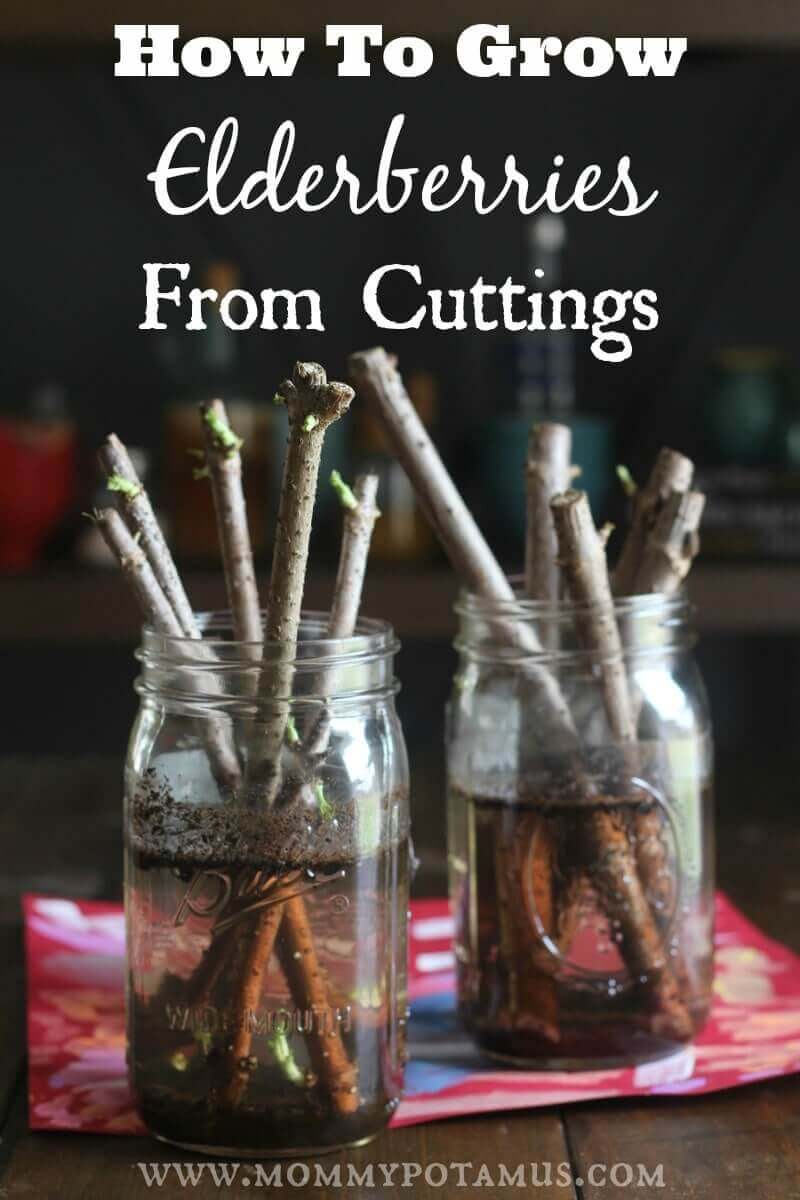 Step 3: Encourage Root Growth
And by encourage, I don't mean grab your pom poms and cheer. (Though you can totally do that if you want to.)
There are two main ways to help your trimmings establish roots.
Water Method
Place your trimmings (cut side down) in a mason jar and add water until they are halfway submerged. Place the jar in a sunny area for 6-8 weeks, changing the water often.
Spritz with water occasionally – elderberry bushes love a humid environment. Roots grown in water are more fragile than ones grown in soil,  so wait until they look sturdy before transferring. When they're ready and there is not risk of freezing temperatures, plant the elderberry bush into quality soil – the kind that you'd use in a vegetable garden – with good drainage.
Soil Method
Place your trimmings (cut side down) in a mason jar and add water until they are halfway submerged. Allow them to soak for 12-24 hours and then transfer them to pots filled with good, organic soil. (Again, the kind you would use in a vegetable garden.) Keep the pots moist so that the cuttings don't dry out. They need a humid environment to encourage growth, so either:
Place them in a greenhouse
Place a plastic bag over the top to trap moisture and create a greenhouse-like effect, then set the pot in a sunny area. (Thanks for this tip, Rodger!)
The trimmings will send out leaves and then grow roots – it can take six to twelve weeks to see significant root growth according to Rodger. Once it reaches the 6-8 week mark, gently tug on the cutting to assess root development. Once they're well established and there is not risk of freezing temperatures, plant the elderberry cane (roots intact) into the soil.
Should I Use A Root Stimulant?
Most of the experts I've read or talked with say that a root stimulant is not necessary for elderberry bushes, but you can certainly use one to speed things up if you'd like. Most store-bought ones contain synthetic chemicals, but thanks to Hayley of Health Starts In The Kitchen I recently learned that willow water is a natural alternative. She doesn't have a tutorial for making it on her site, but I did find one here.
Step 4: Planting Your Elderberry Bush
"Transplant the elderberry cutting into the landscape in the spring following rooting. Pick a spot that gets full sun or part shade, with humus rich soil and good drainage. Dig a planting hole and place the new elderberry shrub into the soil with the base of the stem level with the soil line." (source)
Elderberry bushes can grow to be 6-8 feet wide, so space your bushes out by 6-10 feet.
Step 5: Make Elderflower Lemonade!
Seriously, this is a step. During your elderberry bushes' first season you want to pinch off the flowers so that the elderberry can devote it's energy to developing a strong root system. Use them to make syrup, tea or lemonade.
Next season you'll be harvesting elderberries! What's growing in your garden this year?