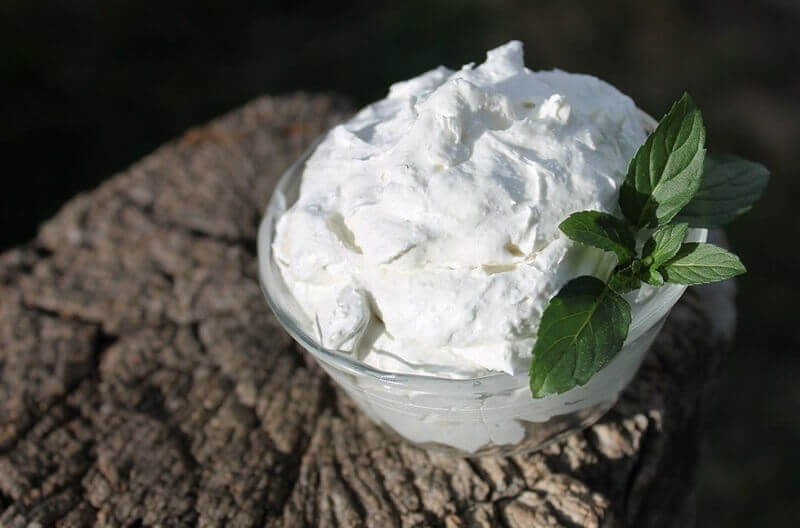 Note from Mommypotamus: Hey guys, we're less than a week a way from starting our next big adventure! While I'm sorting through what needs to go to the house and what needs to go to storage, Nina from Shalom Mama is sharing her decadent recipe for lavender mint body butter- thank you Nina!

Come spring, I get excited about sandal weather
Growing up in Central Oregon, where it will be snowing one day and 70 degrees the next, I've learned to take advantage of warm days and slip into my flip-flops whenever possible. The only problem? In just a few days, my feet go from silky smooth to dry and rough, thanks to the desert air and the friction of my sock-less feet on my flip-flops.
Now, I really don't mind the change. Sure, the bottoms of my feet aren't as lovely as they normally are throughout the year, but they're a lot less tender and I can tolerate walking barefoot a lot better. It's actually pretty great. But my husband doesn't share my optimistic attitude about my rough feet, especially when we get in bed and I rub my feet against his for warmth. Sigh.
Fortunately, that gave me an opportunity to get creative. Since I'm quite frugal, I thought about what I had on hand that would restore my feet to their formerly smooth selves. And because I'm also rather crunchy, my mind immediately thought about which herbs and carrier oils would soothe and soften my feet.
This combination of herbs and oils is not only great for soothing and softening the skin on your feet, but on the rest of your body as well. I've used it on my hands and legs, and, of course, my feet feel nice and soft. Here's a little info on the key ingredients: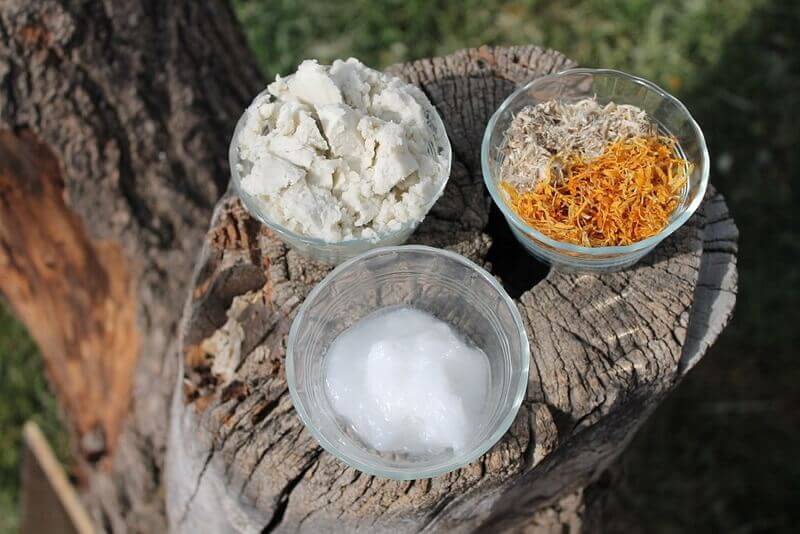 Coconut oil is a must-have in almost any natural beauty recipe I make. Ok, it's a must-have in almost everything I make, because it has so many benefits for your skin. It boasts antiviral, antibacterial and antifungal properties. Got athlete's foot? Use this cream! Coconut oil also penetrates deeply into your skin, providing long-lasting moisture that doesn't feel greasy.
Shea butter makes your skin feel smooth and soft (also without making it feel greasy). Created from the fat of the nut of the African shea tree, this butter does more than just hydrate skin. Shea butter is anti-inflammatory, which makes it great for irritated skin. It also speeds healing, thanks to the presence of several fatty acids and plant sterols. When combined with coconut oil, it makes a powerful moisturizer that promotes healing. In fact, you could just mix the shea butter and coconut oil in this recipe and your feet would be so happy with you. But we're going to take it a step further and infuse the oils with two amazing herbs.
Calendula, or pot Marigold, is especially handy for treating wounds or soothing irritated skin. It can be used in first-aid to heal wounds and prevent infection. Calendula can also be used for soothing inflammation, dressing sprains, eczema, soothing rashes and irritated skin and reducing body scars.
Marshmallow root – The mucilage, or gummy secretion, in the leaves and particularly the root, is helpful for soothing minor wounds. Marshmallow root soothes, lubricates, softens and heals. Marshmallow root also has pain-easing properties. These properties are present when it is taken internally or applied externally.
Sounds lovely, doesn't it? Now, let's get started.
You will need:
1/4 cup extra virgin coconut oil
3/4 cup unrefined (Grade A) shea butter
2 tbsp dried calendula petals
2 tbsp dried marshmallow root (look for marshmallow root that's already been cut up)
8 drops lavender essential oil
8 drops peppermint essential oil
Oven-safe pan
Mesh strainer or cheesecloth
Stand mixer with whipping attachment or hand mixer and bowl
Clean jar
Heat your oven to 200 degrees and turn it off. In your pan, melt the coconut oil and shea butter on low heat, then add herbs. Stir it all together and put it in the oven. 
Let the herbs steep there for four hours or longer. Strain the herbs from the oil (if the mixture solidifies in the oven, just warm it on the stove until it melts again, then strain) and put the infused oil in the bowl you'll be whipping the cream in. Put the oil in the fridge until it gets firm, but not solid (it can take a few hours to get to that stage).
Using your mixer, whip the oil for about 30 seconds. Grab a spatula and mix it all up – I've found that some of the oil gets stuck on the bottom of the bowl and needs to be mixed in. Add your essential oils. Whip it again for another minute. It will turn white and peaks will form. Warning: it will look yummy and good enough to eat. Resist the urge to take a bite – you will be disappointed.
To apply, simply rub it into your feet at night. I can't stand getting into bed with "moist" feet, so I try to apply the foot cream and rub it in really well at least 30 minutes for bed. That gives it adequate time to soak up and feel dry enough for me to get in bed. In fact, my favorite way to use this cream is to soak my feet in hot water with some epsom salts and essential oils first and then I dry them and rub on the foot cream. They soak it right up. 
How do you give your feet the TLC they need?
About Nina
Nina is a writer, student midwife, and mama of four. She blogs regularly at Shalom Mama and loves helping others create wellness through simple living.
Check out her website for more simple wellness tips and connect with her on her Facebook.
FREE Ebook: DIY Body Care Gifts Made Simple
Do you want to give gorgeous, handcrafted gifts for family and friends, without spending a bunch of time on them?
Then I'd love to give you a free copy of DIY Body Care Gifts Made Simple – my step-by-step guide to making gorgeous handcrafted gifts without stressing yourself out – as a gift for signing up for my newsletter. I'll show you how to make vintage labels, luxurious lotion bars, lip balms, sugar scrubs, body sprays and more like a pro. Sign up for my newsletter and you'll be redirected to the download page immediately!