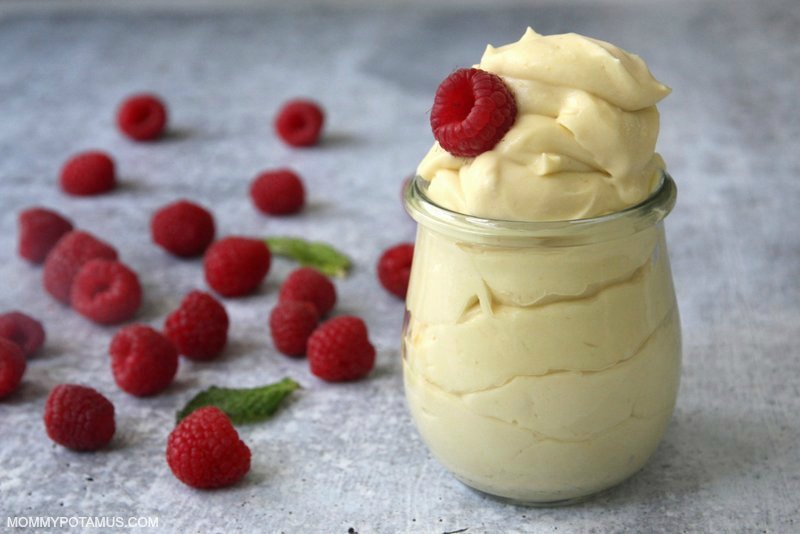 I love the bright freshness that lemon brings to recipes. Sometimes, drinking warm lemon water in the morning can even be a nice change from tea (with several health benefits). This lemon mousse is a light and fluffy treat made with lemon curd, meringue, and whipped cream.
What is Lemon Mousse?
If you've never made a mousse, don't be intimidated by the fancy sounding name. A mousse is just a dish (usually dessert) made light and fluffy by whipping air into a base of egg whites or whipping cream (or both) with some type of flavor folded in. In the case of this lemon mousse, the lemony flavor comes from lemon curd.
And What is Lemon Curd?
Lemon curd is a fruit spread made with lemon juice and zest, eggs, sweetener (in this case honey), and sometimes butter. It's surprisingly quick, easy, and affordable to make, but if you don't want to attempt it or spend the time, you can also buy it at most grocery stores and online.
To make the lemon curd for this recipe, simply whisk together lemon juice and zest with honey and gently heat it until it is combined. Whisk the lemon honey mixture into egg yolks and 1 whole egg, pour it through a strainer back into the pan, and gently heat it until it becomes thick. Remove it from the heat and add vanilla extract and butter and you're done!
The lemon curd is delicious as is, but don't eat it all yet! You'll need about ½ cup of it for the mousse. There will be a little left over for tasting. Set the finished dish of lemon curd in an ice bath or the freezer to cool down a bit while you make the meringue.
Meringue with Honey
I'm not a big fan of using too much refined sugar, so I wanted to find a way to use raw honey in this recipe instead.
The meringue for this lemon mousse is made with honey and it's even easier to make than the more common version made with granulated sugar. Simply combine the honey and egg whites left from making the lemon curd in a mixing bowl and place it over a pan of boiling water. You don't need much water in the pan, just enough to create steam, and thereby heat. So only use a couple inches of water and make sure the bottom of the mixing bowl is not touching the water.
Heat the egg white honey mixture just until it is warm and well combined. Then whisk it with a stand or hand mixer until the egg whites are thick and fluffy and stiff peaks form. The stiff peak stage means that when you lift the whisk, the egg whites stay standing up in little mountains.
And the meringue is done! Gently fold in ½ cup of the lemon curd and set it in the refrigerator until you've whipped the cream.
To whip the cream, simply whisk it at high speed with the mixer until it is thick and fluffy. Fold it into the lemon/egg white mixture and you're mousse is finished.
Scoop the finished mousse into serving dishes and either serve immediately or refrigerate until ready to serve. The mousse holds up well for a couple days, so it can be made ahead of time. However, it will melt quickly at room temperature, so keep it chilled.
Dairy-Free Lemon Mousse
This recipe is easily adaptable if you'd like to make your lemon mousse dairy free. Simply omit the butter in the lemon curd step and swap out the heavy whipping cream for coconut cream.
Make sure you chill the can of coconut milk in the refrigerator the night before. When it's time to whip the cream, just scoop out the thick cream leaving any watery coconut milk behind, and whip it just as the directions instruct for whipping dairy cream. Here's a more in-depth tutorial if you've never made whipped coconut cream before.
Lemon Mousse Recipe
This lemon mousse is a light and fluffy treat made with lemon curd, meringue, and whipped cream.
Ingredients
⅓

cup

lemon juice

1 ½

tsp

lemon zest

½

cup

raw honey

(divided)

½

tsp

vanilla extract

1

tbsp

butter

(optional)

3

eggs

(2 of them separated)

1

cup

heavy whipping cream

(or or coconut cream - chilled)
Instructions
To make the lemon curd, combine the lemon juice and zest and ¼ cup of the honey in a small saucepan and heat over medium low heat until the mixture is smooth and melted.

In a medium size bowl, whisk together 2 egg yolks and 1 whole egg. Set aside the egg whites. You will need them to make the meringue.

Gradually, pour the warmed lemon/honey mixture into the bowl with the eggs, whisking constantly.

Pour the mixture through a strainer back into the pan.

Whisk and cook over medium heat for 5-7 minutes or until the mixture is thickened.

Cook, stirring constantly, 1 additional minute.

Remove from the heat and whisk in the vanilla and butter.

Set the finished lemon curd in an ice water bath or the freezer to chill while making the meringue.

To make the meringue, in a mixing bowl whisk together the 2 egg whites separated earlier with the remaining ¼ cup honey.

Whisk and heat over a double boiler just until the egg whites are warmed and combined with the honey.

Remove from the heat and use a stand or hand mixer to whip until stiff peaks form.

Fold ½ cup of the lemon curd into the meringue.

Transfer the lemon meringue to the refrigerator while whipping the cream.

Pour the whipping cream or chilled coconut cream into a mixing bowl and whisk until thick and fluffy.

Fold the whipped cream into the lemon meringue.

Divide into serving dishes and enjoy immediately or refrigerate until serving.
Notes
To whip coconut cream, make sure the coconut cream is well chilled first.
Nutrition
Serving:
1
/2 cup
|
Calories:
156
kcal
|
Carbohydrates:
18.3
g
|
Protein:
2.6
g
|
Fat:
8.7
g
|
Saturated Fat:
5
g
|
Polyunsaturated Fat:
0
g
|
Monounsaturated Fat:
0
g
|
Trans Fat:
0
g
|
Cholesterol:
86
mg
|
Sodium:
42
mg
|
Potassium:
0
mg
|
Fiber:
0.1
g
|
Sugar:
17.8
g
|
Vitamin A:
0
IU
|
Vitamin C:
0
mg
|
Calcium:
0
mg
|
Iron:
0
mg
Have you ever attempted to make a mousse? How did it go? Let me know below!