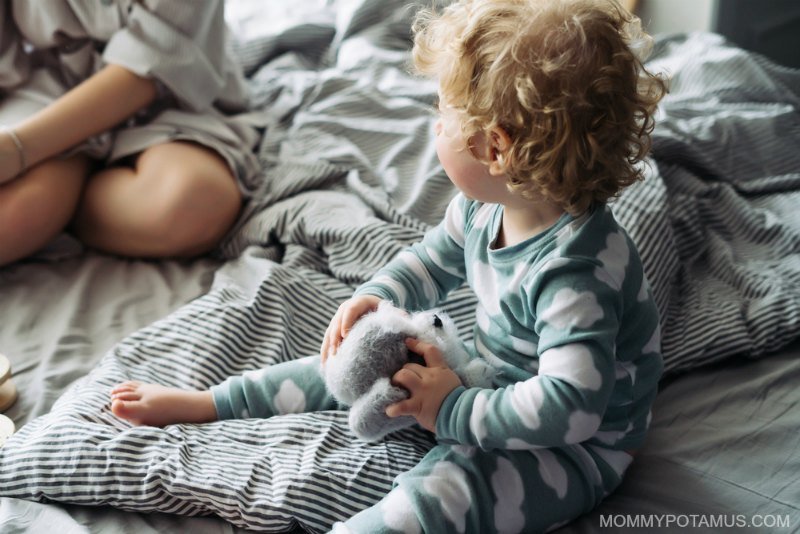 Sometimes it feels like I make schedules and "to do" lists just so I can ignore them. It makes me feel spontaneous. This week I wrote a list of topics I want to cover and so far I have completely denied their existence.Until today.There is a deadline looming over my head. Okay, not my head . . . someone else's.
I would love to know how to get my two year old to sleep through the night without waking up to nurse – before our number two gets here in 7 weeks! I love nursing her to sleep and nursing her down for naps, but some nights she literally stays latched on for hours upon hours and it's making me go crazy!
>~ Kate
When I got pregnant Katie was two and still waking me up several times a night to breastfeed. I knew I couldn't handle a pregnancy on such disrupted sleep, much less be physically ready for the demands of a newborn. I wish I could say I handled my concerns with grace and dignity, but in reality I began freaking out. Finally Daniel insisted we buy "The No-Cry Sleep Solution for Toddlers and Preschoolers."
He took a day off work to read it with me while Gigi watched Katie. By sundown we had a plan. I'll admit I was skeptical. Amazingly, it actually worked! Here's what we did:
The Goal: Break the Nursing to Sleep Association
"Is that all?" you ask. Hey! I can hear that sarcastic tone in your voice! Give me a chance, because I felt that way, too. It is possible to move most toddlers past their need to breastfeed to sleep while still nursing at bedtime AND co-sleeping (if that's your thing). The trick is to incorporate a different soothing technique after breastfeeding but before sleep.
Step 1: New Bedtime Routine
Nursing a child to sleep is such a sweet ritual. It's so simple nothing else is really needed. Daniel and I found that when we were ready to discontinue said ritual, a lot of things were needed to replace it. In short, she needed a "wind down" ritual. So, about an hour before she needs to go to bed we begin dimming the lights and talking more softly. Then, in the exact same order every night, we:
Put on her pyjamas
Brush teeth and hair
Read stories
Breastfeed
Take a last trip to potty
The final step involves Daniel laying his hand on Katie's back while she gently falls asleep. Although at first she protested his presence instead of mine, it was easier for her to accept going to sleep without nursing if I wasn't present. However, it wasn't long before she began enjoying the time with her daddy, and now she "shoo's" me away when she is done nursing and ready to cuddle.
The ritual you create will most likely be different and may include bathtime, a stroll around the block, or quiet play of some kind. If you focus on making the "wind down" ritual something your child looks forward to I promise the process will go much more smoothly.
Step 2: Slowly Eliminate Night Nursing
Once Daniel had proven that Katie was actually capable of falling asleep without nursing or "crying it out," we moved on to Step 2. In her book Elizabeth Pantley describes a variety of strategies for reducing the frequency of nighttime nursing. These were the two that we had the most success with:
Tip #1: The Pantley Pull-Off. Although originally developed for younger children, Pantley modifies this technique for toddlers.
A helpful first step is to create a phrase that means, "We're all done nursing." You'll want to first use this during the day at the end of each nursing session. As you finish nursing and are moving your child off your lap and closing up your clothing, repeat your phrase two or three times. Choose your own phrase, based on your personality and your child's age, but it could be something like, "All done. Milk is all done. Bye-bye milk."
Once you have established your phrase, you can use it at night to shorten nursing sessions. When your child wakes up and wants to nurse go ahead, but before he/she falls asleep use the pull-off technique. If there's a fuss use your phrase and try to soothe via touch, patting, etc. If there's a big fuss go ahead and start nursing again, then try it as soon as the sucking reflex begins to slow down. You may have to do this many times before your little one decides it's not worth the hassle and goes to sleep after you disengage them. Eventually (often sooner than you think) your child will realize they can fall asleep without nursing and will wake you less.
What worked for us: In addition to a post nursing cue, I have found that telling Katie she can have "one more minute" of milk before our nursing session is over helps her transition more easily when I give the "all done" cue. Now if I give the "all done" cue without the "time's up" phrase she'll lean back, look directly into my eyes and say "ONE MORE MINUTE." Stickler.
Tip #2: Set Time Perimeters. We used this and it worked well:
If you've been on call for your nursling all night long, you don't necessarily have to go "cold turkey" and stop all breastfeeding.

. . . Set a period of time when you will say no to breastfeeding, such as from midnight to 6:00 A.M. During that time, if your child wakes to breastfeed, tell him "the milk is sleeping" or a similar description that he can understand. Hold him, pat him, let Daddy or your partner rock him, but persist in the idea that the milk is asleep.

The first few times you may do this may be quite difficult. (OK, truth be told, it may be very, very difficult.) But if you are consistent, after a few days of this your child will begin to understand and the fussiness will dissipate. When that happens, you can then expand the milk-sleeping time by an hour in either direction and continue to make adjustments until you reach a point you are happy with.
Allthough Katie did protest and cry throughout this process, I felt okay about it because I was right there with her, comforting and soothing as I could while remaining firm that we would not nurse until morning. In the short-term I actually got less sleep doing this than when I just went ahead and nursed her, but it wasn't long before she began waking me up with requests less often. Now we never nurse at night, and except for normal pregnancy stuff (getting up to go to the bathroom, braxton hicks, etc.) I sleep great!
What did I miss? Please share your tips!