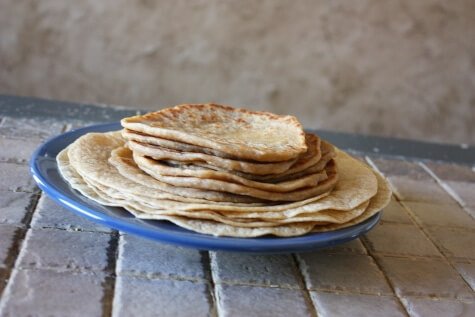 How To Make Homemade Soaked Flour Tortillas
I typically use a tortilla press, but this time I cooked half of the batch of soaked flour tortillas in a skillet to see how they would turn out. They were much thicker and smaller than the pressed version, but still very good. If you plan on using a skillet I recommend doubling the recipe so you can have nice, large soaked flour tortillas. Otherwise they are about the size of small pancakes.
Note: The press we use is similar to this one. It's the only piece of kitchen equipment we own that has Teflon on it (the black pan in the photo below is a cast iron skillet). It's not ideal, but it was free. I hope to upgrade to a cast iron one soon.
Soaked Flour Tortilla Recipe (whole grain)
Equipment
medium bowl

tortilla press
Ingredients
Instructions
The night before you want to serve tortillas, combine the whole-wheat flour, olive oil, warm water, and lemon juice.

Cover and leave on counter for 12-24 hours.

Next day, add 1 tsp sea salt.

Knead for 5-7 min, adding flour as needed to keep dough from sticking to hands OR leave mixture in the bowl and mush it around with your hands. The second option produces very sticky dough but I use it because adding too much flour can make them dry. Let dough rest for 30 minutes.
For tortilla press
Divide dough into 16 equal-sized balls and press according to your press' instructions.
For skillet
Pour oil onto a flat surface. Divide dough into 16 equal-sized balls and lay them on the oil.

Press them with your hands until they are the size you want them. Drizzle a tiny bit of oil in a skillet (preferably cast-iron to prevent sticking) and set on low to medium heat.

Place tortillas in skillet, shaping them as you lay them in, and cook until slightly browned on each side.

Place in a tortilla warmer immediately to make them as fluffy as possible.
Nutrition
Carbohydrates:
0
g
|
Protein:
0
g
|
Fat:
0
g
|
Saturated Fat:
0
g
|
Polyunsaturated Fat:
0
g
|
Monounsaturated Fat:
0
g
|
Trans Fat:
0
g
|
Cholesterol:
0
mg
|
Sodium:
0
mg
|
Potassium:
0
mg
|
Fiber:
0
g
|
Sugar:
0
g
|
Vitamin A:
0
IU
|
Vitamin C:
0
mg
|
Calcium:
0
mg
|
Iron:
0
mg