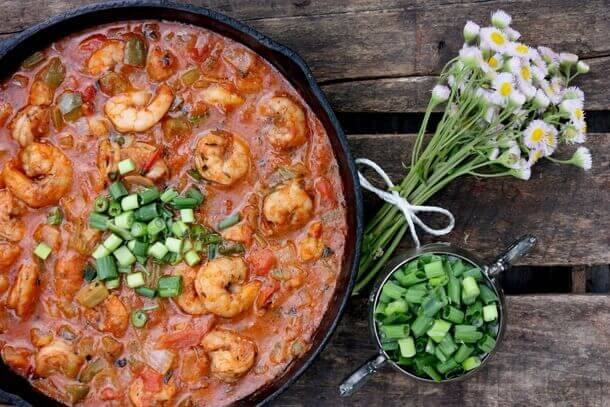 I'm not saying you'll find yourself tracking alligators on a pontoon boat, whetting your reed for a saxophone solo on Beale Street, or adjusting your corset for the civil war reenactment at Chretien Point Plantation. But grab a whisk, honey, and you might just find yourself doing the unexpected. Soul food is one part love and two parts lard/butter, and with a pairing like that just about anything can happen!
Soul Food
If you've never savored the deep, buttery base of a creole as it gives way to a bold, zesty tomato kick now is the time. Ready, set, geaux!
Zesty Shrimp Creole Recipe (Grain-Free)
Ingredients
4

ounces

8 tablespoons butter

1 1/2

cups

chopped onions

3/4

cup

chopped green bell peppers

3/4

cup

chopped celery

2

bay leaves

1 1/2

pounds

peeled

seeded and chopped tomatoes

1

tablespoon

chopped garlic

1 1/2

tablespoons

navy bean flour*

1/2

cup

water

1 1/2

pounds

wild-caught shrimp

peeled and deveined (Save your shells and make stock. You can make bisque right away or store in freezer for later.)

3/4

cup

chopped green onions

2

tablespoons

chopped fresh parsley

optional

Dash of worcestershire sauce

make it from scratch using this recipe, skip the molasses if you're on strict GAPS

1

batch seasoning

Salt and cayenne to taste
Seasoning:
1

tablespoon

paprika

1

tablespoon

salt

1

tablespoon

garlic powder

1/2

tablespoon

black pepper

1/2

tablespoon

onion powder

1/8

tablespoon

cayenne pepper

1/2

tablespoon

dried oregano

1/2

tablespoon

dried thyme
Instructions
Peel and quarter tomatoes, then squeeze them in your fist to remove excess juice. Crush them into small pieces with your hands or a food processor.

In a large saucepan melt butter over medium heat.

Add the onions, peppers, and celery and saute until they are soft (about 6 to 8 minutes).

Stir in the bay leaves, tomatoes, and garlic.

Bring the mixture up to a boil and reduce to a simmer. Add a dash of Worchestershire and hot sauce and simmer for about 15 minutes. If the mixture becomes too dry add some water.

Whisk the flour and water together and add to the saucepan. Continue to cook for 4 to 6 minutes.

Toss the shrimp in seasoning and add to the pan. Continue to cook for about 4 to 6 minutes or until the shrimp turn pink and curl up. Stir in the green onions and parsley.

Add salt to taste and more cayenne if desired.

Serve over faux (or real!) rice
Faux Rice Method:
Pulse raw cauliflower in the food processor until it resembles rice, then steam a few minutes. It's ready when it's firm but not crunchy.

Enjoy!
Notes
Gathering/prepping all ingredients makes this dish very simple to prepare. It can be a bit chaotic, though, if you're searching for items as you go.* Navy bean flour is easy! Place 2 cups of navy beans in a bowl or pot, cover with filtered water and add 2 tablespoons
whey
, apple cider vinegar, or lemon juice. Let sit on the counter for 12-24 hours. Drain and rinse the beans, then place in the dehydrator or warm oven until thoroughly dried. Grind in a coffee grinder until the beans reach flour-like consistency. (Note: I always do a huge batch of beans to keep on hand for
homestyle gravy
or to add into
chili
. . . saves time in the long run!)