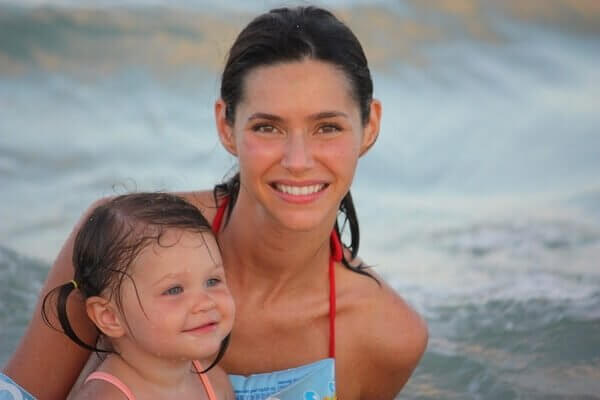 While most moms are stocking up on sunblock for the summer, I'm stripping my kids down to their skivies for a little playtime in the backyard. Here's why:
A chronic lack of sun exposure has been linked to fertility problems, heart disease, inflammatory bowel disease, depression and, surprisingly, cancer. (source 1, source 2) Why is sun exposure so vital to our health? There are oh-so-many reasons, but let's start with my favorite:
Sunshine = Happiness
Have you ever noticed how a day in the sun can shift your perspective from feeling ***OVERWHELMED*** to calm and optimistic? That's because:
"Melatonin is a hormone that controls sleep, and serotonin is a neurotransmitter that is tied to states of wakefulness and being in a "good mood." Serotonin is the chemical targeted by a class of anti-depressants called SSRIs, which keep higher levels of serotonin in the bloodstream to help elevate mood.
The web connecting sunlight, melatonin and serotonin goes something like this: When the sun comes up again, and sunlight hits the optic nerve, some of that light is sent to the gland in the brain in charge of melatonin. In response, melatonin secretion decreases. When the sun goes down, the body increases its secretion of melatonin.
At the same time, when the body perceives sunlight, serotonin levels increase. And the more sunlight the human body is exposed to, the more serotonin the brain produces. So in effect, melatonin and serotonin have an inverse-proportional relationship that is guided by the body's perception of sunlight. The overall effect is "downtime" at night and "uptime" during the day.
There's another factor involved in sunlight's affect on mood, though: vitamin D. The body actually creates its supply of vitamin D from the sun's ultraviolet rays hitting the skin, and high levels of vitamin help the body maintain high levels of serotonin."
Discovery Health: Can the Sun Make Me Happy? (emphasis mine)
So basically, sunlight lifts your mood during the day and then tucks you in for some deep, soul-restoring sleep at night. Free therapy!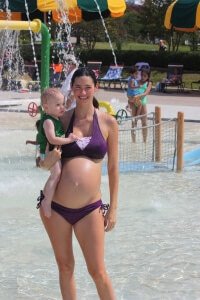 Womb With A View
I love the effects of sunshine so much I didn't even wait until my babies were born to share it with them. By the fourth month of life babies react to light by turning toward or away from it. So, to the horror of more than a few, I often uncovered my huge pregnant belly and shared the warm glow of the sun with my babies. I'm sure they enjoyed the light, but I KNOW they enjoyed the feel-good hormones that flooded my body. Beyond that, they got a lot of other benefits, too.
"Evidence suggests maternal vitamin D [levels] during pregnancy is inversely associated with asthma symptoms in early childhood and lower vitamin D levels in children are associated with increased markers of asthma severity."
Vitamin D Council
Sunlight during pregnancy gives children stronger bones, too.
"Sayers and Tobias at the University of Bristol, UK, found that when pregnant women are exposed to more sunshine, their children have stronger and wider bones. Stronger bones in childhood may reduce the risk of osteoporosis and broken bones in later life."
Sunlight During Pregnancy
On the flipside, deficiencies can cause bones to be weak and fragile. One of the most difficult things I experienced during my pregnancy with Katie was that my first trimester occurred during one of the most rainy seasons on record. I deeply craved sunlight during those first few months, but what could I do, go sit in a tanning bed?
It was a miserable time, and it had long lasting effects. Katie's baby teeth, which formed around the second month in utero, were very weak and porous. Fortunately, her adult teeth formed around 20 weeks after I had plenty of sunshine, but I still wish we hadn't had to work so hard to strengthen her crumbly baby teeth.
Now, you probably already knew about the connection between Vitamin D levels and bone density, but did you know that researchers also think
"The same may be true for the [reducing the] risks of developing autoimmune diseases such as multiple sclerosis (which has recently been linked to seasonality of birth) and rheumatoid arthritis, or conditions such as malignancy. Moreover, nutritional vitamin D status has very recently been linked to the human innate immune system and its ability to contain Mycobacterium tuberculosis. This observation could have profound implications in the treatment of infections."
Bruce W. Hollis and Carol L. Wagner, Nutritional Vitamin D Status During Pregnancy, published in CMAJ
The possible benefits go even further than that. New research indicates that sunlight exposure under certain conditions can significantly impact glucose metabolism and metabolic disorders.
Generation D-
So sunlight is vital for health and mood. . . especially for our little ones. Does it surprise you, then, that about "70 percent of U.S. children have low levels of vitamin D, which puts them at higher risk for bone and heart disease,"¹? (emphasis mine)
To compensate for this The American Academy of Pediatrics now recommends 400IU of Vitamin D per day for infants and children, with an emphasis on exclusively breastfed children since most lactating women are Vitamin D deficient.
Unfortunately, MIT senior research scientist Stephanie Seneff says they're missing the point entirely. "My personal belief is that vitamin D supplements are useless," she recently told me.
Um, what?!?!?
I'll admit, recommending the same dosage for a 15 pound baby and a 50 pound pre-teen seems like a pretty arbitrary one size fits all solution, but surely a more tailored approach to supplementation would be good, right?
No so, says Seneff, who holds not one . . . not two . . . but FOUR degrees from MIT. According to her, our skin creates a unique water soluble form of Vitamin D called D sulfate which interacts with cells differently than the fat soluble plant form (D2) you find in fortified foods and the unsulfated form (D3) sold as drops at the health food store (which is also fat soluble). While D3 is beneficial for helping to transport calcium and phosphorous, it cannot replicate all the benefits of D3 sulfate.
Of course, my approach does not mean I advocate sunburns.  I realize that some people who read this have experienced the pain and difficulty of skin cancer, either personally or with a loved one. I would never dare to invalidate these experiences or to treat them lightly. It is my hope that by providing this research, which is based off the work of a senior MIT scientist and a former cancer and DNA research scientist, I have made a compelling case for re-examining our cultural attitudes about sunlight.  It is my opinion that responsible sunlight exposure positively affects our health when a good diet with plenty of healthy fats/ antioxidants are present. My writing reflects a commitment to that lifestyle.
More on that and the potentially profound health implications in the next installment of this series!
(Pssst! The post on how sunlight may be helpful for preventing certain types of cancer is published here!)