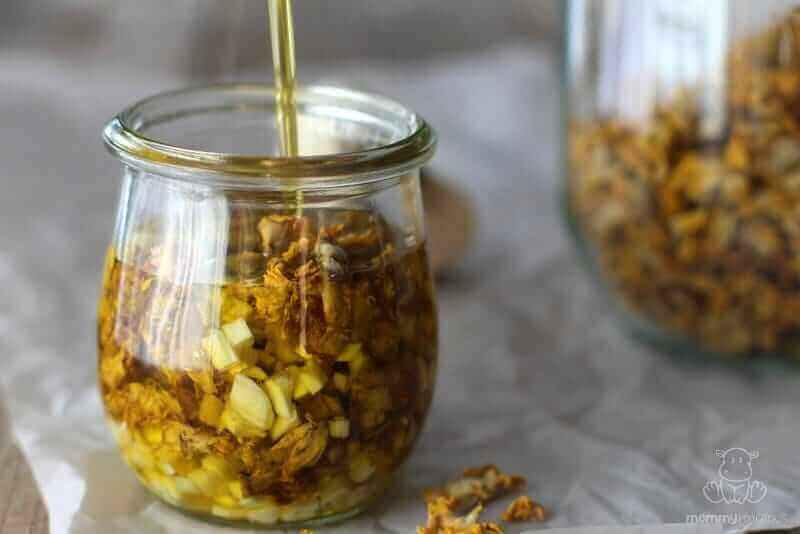 Mullein and garlic infused olive oil is one of the most popular natural remedies for ear infections/earaches, and for good reason. In folk medicine, mullein has long been revered for its ability to ease discomfort, and garlic is well-known for its immune supporting qualities. Both have long been used to encourage circulation and lymphatic flow – both properties that may be helpful when ear discomfort is due to fluid buildup. (source 1, source 2)
Also, according to The Herbal Apothecary, "Author and herbalist Louise Tenney claimed that mullein is an excellent pain reliever, relaxing the mind and central nervous system to calm inflamed and irritated nerves, and it can be particularly helpful for those who are having trouble sleeping." (The Herbal Apothecary, p. 136) These qualities are likely due to constituents such as coumarin and hesperidin, which have the subject of research regarding analgesic and anti-inflammatory properties. (source 1, source 2)
What else is mullein helpful for?
I like to keep mullein leaves and flowers on hand for several things, like:
Respiratory Support Tea – According to The Complete Gardeners Guide, "a tea made from leaves, flowers or both (one teaspoon to one cup boiling water) is said to alleviate hoarseness and bronchial catarrh." (p. 125)
Deep Sleep/Relaxation Tea – "A brew created from the flowers alone is reputed to allay pain and induce sleep." (The Complete Gardeners Guide, p. 125)
Skin Care – Mullein leaves and flowers are often added to calendula salve to soothe minor burns (including sunburns), cuts, and other irritations.
However, sometimes it's just not practical to make a remedy from scratch. If you'd prefer to pre-made quality mullein and garlic oil, I like this brand.
I don't have mullein, can I just use garlic?
Yes! Many people have found a garlic oil infusion to be helpful for earaches.
Is there anything else I need to know?
If the eardrum is perforated, nothing should be put in the ears. This Dr. Mom pocket otoscope – which is available on Amazon – was designed by an ER physician to help moms know what is going on when their little ones have an earache. It comes with a link to high resolution photos of normal and abnormal eardrums. The ER doctor also includes instructions on how to properly use the otoscope for best viewing results.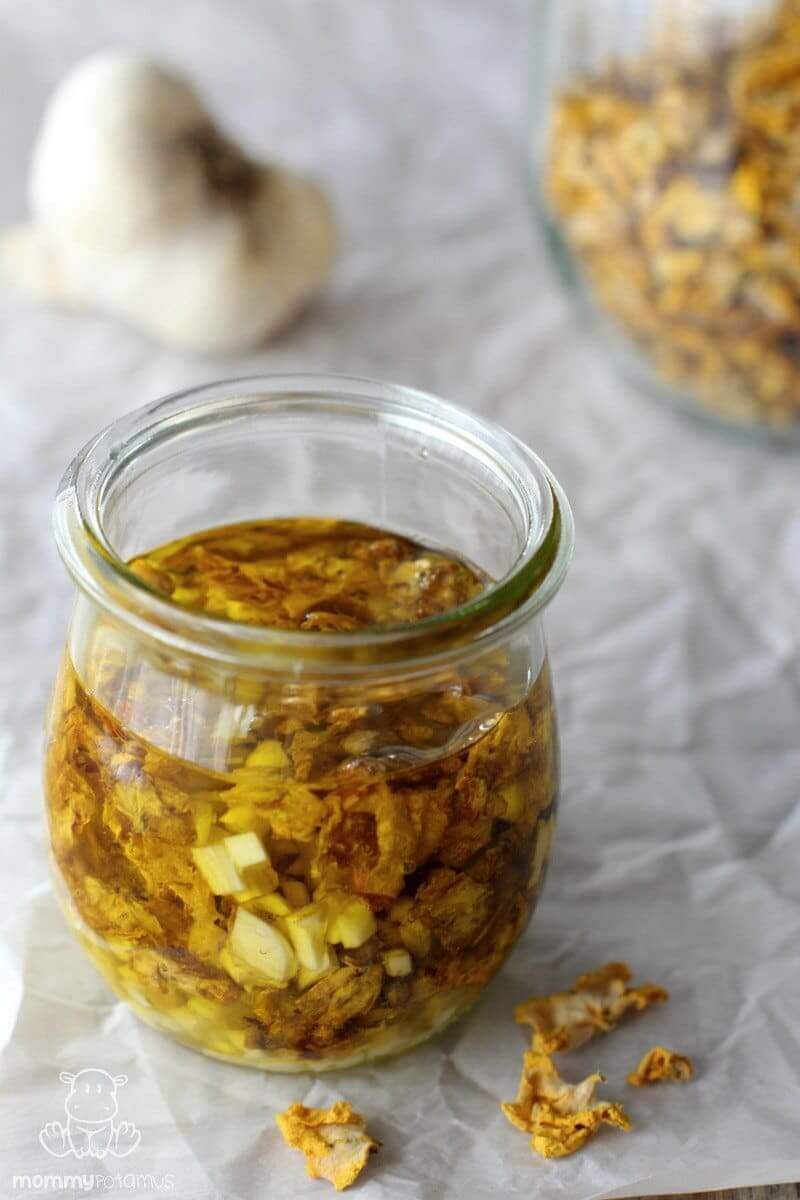 How To Make Garlic and Mullein Oil For Earaches
Ingredients
2 tablespoons fresh garlic, minced
2 tablespoons mullein flowers
olive oil – enough to cover the garlic and mullein
Equipment Needed
Slow cooker or double boiler (If you don't have a double boiler you can use a stainless steel bowl set inside a pot of boiling water)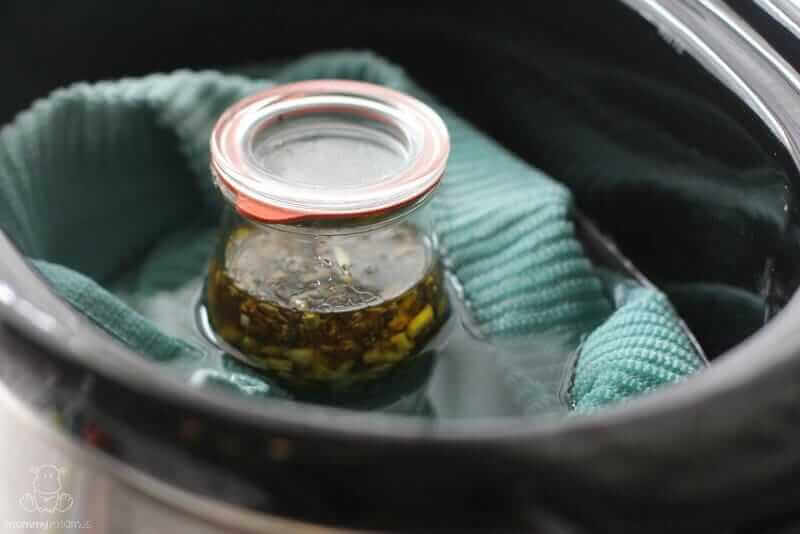 Method 1 (Fast)
Place mullein flowers and garlic in a clean, dry glass jar. Next, pour in the olive oil – add enough so that the mixture is covered.
Cover the jar with a tight fitting lid.
Place a kitchen towel in the bottom of your slow cooker and place your jar inside. Add enough water to cover about half the jar and set to the lowest setting for 2-3 hours.
Strain out the oil using cheesecloth and pour the oil in a clean, glass jar. Store in the fridge or the freezer (to preserve freshness) until needed.
Method 2 (Faster)
In Herbal Recipes For Vibrant Health, Rosemary Gladstar suggests a quicker method than the one above: Place mullein and garlic in a double boiler and cover with olive oil. Allow to infuse over low heat for 20-30 minutes, then strain out the garlic/mullein. Store in the fridge or the freezer (to preserve freshness) until needed.
How To Use Mullein And Garlic Oil
Place your glass dropper bottle in warm/hot water until it reaches body temperature, then place "3 or 4 drops into the ear. Massage the outer ear and around the base of the ear after applying the oil. Administer the warm herbal oil every 30 minutes or as often as needed. Any excess oil will drain out on its own within a few minutes." (Source: Rosemary Gladstars Herbal Recipes For Vibrant Health)
Want more research-backed natural remedies?
No problem, I've created a free ebook for you – Kitchen Apothecary: 25+ Natural Remedies Using Ingredients From Your Pantry – as a gift for signing up for my newsletter. You'll also get updates when I post about safe essential oils for pregnant/breastfeeding mamas, exclusive gifts and coupons (I was able to give away a jar of free coconut oil to anyone who wanted it recently!), plus other goodies.
Sign up using the form below.
This article was medically reviewed by Dr. Scott Soerries, MD, Family Physician and Medical Director of SteadyMD. As always, this is not personal medical advice and we recommend that you talk with your doctor.