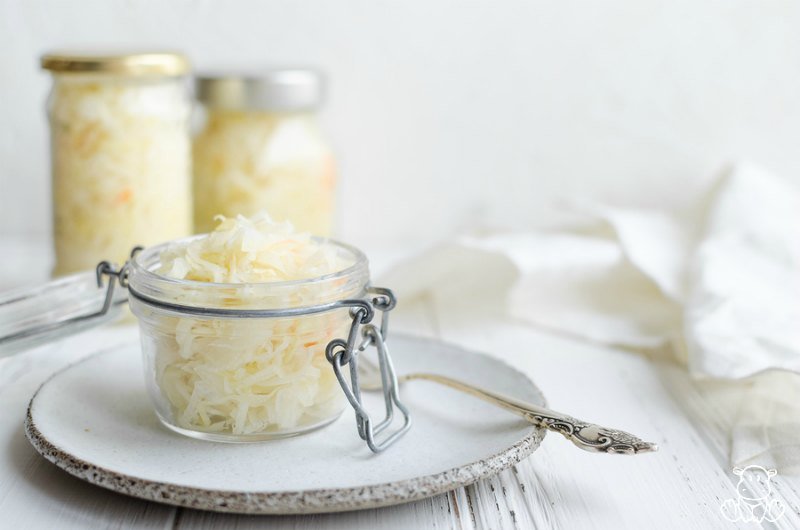 While I always try to get nutrients from food whenever possible, there are some supplements I take regularly. One of those supplements is probiotics. Probiotics are important for gut health (and overall health) and many of us don't get enough of them. Getting them naturally is much harder than it used to be since we have to wash produce (chemicals!) and may not eat as many fermented foods as our ancestors did.
Probiotic benefits run the gamut from gut health to mental health and truly deserve their place on my short list of daily supplements. There are some commonly asked questions about them though that I thought I'd try to address in this post.
What Are Probiotics?
Probiotics are beneficial bacteria that the human body naturally houses in the digestive tract. Mounting research shows that the body's microbiome plays a delicate and important role in overall health. You can get probiotics in supplement form or from eating fermented foods. Both sources of probiotics have their place.
Do They ( Really) Work?
It depends. Taking a generic probiotics supplement while eating a standard American diet may not give you the benefits you're looking for.
But if you are doing the following, you are much more likely to see health benefits from probiotics:
Taking probiotic supplements that you and your doctor have chosen specifically for you
Eating fermented foods daily
Eating a real food diet that's low in sugar
Eating enough prebiotic foods
Probiotics aren't a miracle cure and need to be part of a healthy lifestyle to fully reap their benefits. This is because the kind of probiotics you take as well as the diet you eat play a big part in how well they will work or not work.
Another thing to think about: probiotics come in many different species, genuses, and strains. And as we discuss below they're not all equal. Some probiotics that work well for one thing are useless for another. That's why tailoring your probiotics to your needs is important.
Probiotic Uses: How Do Probiotics Work?
The gut microbiome is a complicated place. Hippocrates was once quoted for saying "all disease begins in the gut." It turns out he was right, and science is finding that poor gut health is related to many diseases.
Bacteria (good and bad) outnumber human cells in the body ten to one. It's thought that as much as three-quarters of the immune system resides in the gut where these bacteria live. It would make sense then that bacteria play a large part in immune function and overall health.
There are a few ways that probiotics affect our health in a positive way:
Crowd out bad bacteria – Probiotics take over space and resources that some bad bacteria would be using.
Secrete beneficial substances – Probiotics secrete substances that control the microbiome. These beneficial substances include hydrogen peroxide (H2O2). H2O2 kills bad bacteria but feeds good bacteria.
Activate the immune system – Probiotics encourage the immune system to have a reaction to pathogens. Probiotics activate macrophages, natural killer (NK) cells, and antigen-specific cytotoxic T-lymphocytes.
Probiotics obviously play a big part in the health of the gut and body. This is why making sure we have enough good bacteria in our bodies is so important.
Probiotics Myths & Misconceptions
There are a lot of misunderstandings about probiotics and their role in health. Here are some of the biggest myths and misconceptions (and the truth!).
Myth #1: All Probiotics Do the Same Things
Just because one strain causes a certain reaction doesn't mean another will too. This is true for closely related strains as well. Some strains can make the tough journey through the digestive tract and be viable on the other side. Other strains can't. Some examples of strains that generally survive in the digestive tract are:
lactobacillus acidophilus – Supports overall digestive health, nutrient absorption, immune health and urinary and vaginal health. It can also give relief from occasional digestive upset.
lactobacillus plantarum – Produces hydrogen peroxide which helps fight bacteria.
lactobacillus fermentum – Effective for overall digestive health and detoxification.
lactobacillus rhamnosus – Research shows this strain is helpful for traveler's diarrhea and vaginal health.
lactobacillus salivarius – Colonizes in less than ideal conditions and can boost immune function.
lactobacillus paracasei – Beneficial for liver health.
lactobacillus gasseri – Helps support vaginal and digestive health.
lactobacillus reuteri – colonizes the intestines and oral cavity and is beneficial for digestive, oral, and immune health.
Bifidobacterium bifidum – Important for assisting with digestion and nutrient absorption.
Bifidobacterium infantis – Babies have the largest population of this strain that declines with age. Helpful for digestive support.
Bifidobacterium longum – Helps scavenge and neutralize toxins and improve immunity.
bacillus coagulans – Produces enzymes that assist with digestion and nutrient assimilation.
bacillus subtilis – Stimulates the immune system.
bacillus clausii – Helps avoid recurrent respiratory infections in children.
bacillus indicus HU36 – Proven immune stimulant, crowds out intestinal pathogens, and supplies gastric stable carotenoids. Also proven safe and stable.
saccharomyces boulardii – Treats digestive illness like diarrhea and diseases that include crohn's disease and ulcerative colitis.
streptococcus salivarius – Beneficial for oral health.
Also, strains that are proven effective for one ailment won't necessarily help with another. For example, Lactobacillus rhamnosus GG is great at preventing side effects from antibiotic use. It doesn't help with urinary tract infections though, according to Probiotic Advisor.
Additionally, some strains of bifidobacterium are helpful in fighting irritable bowel syndrome (IBS). They are not helpful in treating antibiotic-associated diarrhea and other side effects. Essentially, the only way to know if one strain will be effective for a given ailment is to conduct studies to find out.
The best way to find probiotic strains that will help you is to do research and find clinical studies that show a probiotic strain is beneficial for that ailment.
Myth #2: Probiotics Are Universally Beneficial
New research published in the journal Cell shows that probiotics are not always beneficial as commonly thought. This study found that while probiotic supplements colonized some study participants' guts, others seemed to be resistant to it. That means the bacteria didn't colonize the gut for some reason. What researchers concluded was that it may be more beneficial to tailor probiotics supplements based on strains that are already colonized in an individual's gut.
While this conclusion is reasonable, I also wonder what the participants' diets looked like. Diet can affect how bacteria colonize in the gut. Health is not compartmentalized. If we aren't healthy in one area (diet for example) it's hard to achieve health in another.
Additionally, a study performed by the same researchers found something interesting. Participants who used probiotics after antibiotics actually took longer to recolonize their beneficial bacteria. Researchers conclude that the study was small and needs more research. But their research illustrates how important individualized probiotics are.
Research as to the safety of probiotics is lacking as well. While most people don't experience any adverse effects, some do. Experts can't say definitively that probiotics are harmless for everyone.
Bottom Line: Commonly, probiotics have been thought to be beneficial (or at least harmless). This new research shows that taking a probiotic arbitrarily may have no benefit and may even be harmful. It also shows how important it is to know what kind of probiotics can help a particular health issue and how to best get that strain. Fermented foods may be a better bet for daily probiotics and supplements may be a better choice for specific ailments. In either case, it may be most beneficial to consult a healthcare provider first.
Myth #3: You Can't Use Probiotics When Using Antibiotics
While the above study implies that you can't take antibiotics and probiotics together, research shows that you can. According to one 2012 study, taking probiotics alongside antibiotics can reduce antibiotic-associated side effects (like diarrhea).
Myth #4: Probiotics Should be Taken on an Empty Stomach
It's commonly thought that probiotics should be taken on an empty stomach but research doesn't support this myth.
Research shows that probiotics should be taken within 30 minutes of a meal. Doing this (as well as eating enough fat!) improves the survivability of the probiotic strain.
It makes sense too if we think about it. In nature, we get probiotics from food (either fermented or from veggies straight out of the soil). When we take probiotics on an empty stomach they have to fight the digestive tract alone.
Myth #5: Probiotics Stick Around in the Gut
When we talk about probiotics we often use the word "recolonize" which means to add good bacteria in hopes they will populate the gut. But probiotic supplements don't recolonize indefinitely. They don't stick around in the gut for longer than a few weeks. This is why it's important to make probiotics a routine part of your day. However, according to an article published in The Atlantic, certain strains stick around as long as six months.
What researchers found was that patients with similar strains of a bacterium already present in their body won't be colonized by the supplement. In essence, strains that are similar compete for the same nutrients and the "outsider" is more likely to lose that battle. What researchers concluded was that probiotic supplements need to be tailored to individuals.
To keep beneficial bacteria in the gut we need to get as many different strains as possible and take them regularly.
Probiotic Benefits
We know that probiotics are a huge part of our bodies' health but here are some of the specific ways they can help:
Digestive Health
Knowing how integral bacteria is to the gut, it makes sense that digestive system issues could crop up if gut bacteria were out of balance. Research supports this theory. A 2012 meta-analysis found that probiotics are beneficial for gastrointestinal illnesses such as ulcerative colitis, Crohn's disease, and diarrhea.
Another meta-analysis found that probiotics were beneficial for diarrhea and infectious diarrhea, including antibiotics resistant diarrhea.
Many other studies have found that probiotics are helpful in treating a variety of gastrointestinal symptoms. Keep in mind though, each study has tested a specific strain of probiotics. That means other strains may not be as effective as the one tested. Getting the right strain for your ailment is important.
Mental Health
It may seem like a strange connection, but the gut plays a huge part in mental health. Probiotics affect mental health in a few interesting ways:
Promote growth and development of neurons
Stimulate memory and learning
Guide changes in mood
Shift digestive patterns – Pain and anxiety are often the results of this change.
Influence the expression of genes – May turn on or off the gene for depression, for example.
A review published in Biological Psychology further discusses the link between the gut and the Brain. It concludes that the gut-brain axis along with inflammation can affect mental health. Probiotics may play a part in anxiety, depression, and other psychiatric illnesses.
Another study published in the EPMA journal found that probiotics have an anti-inflammatory property that can be beneficial in treating diseases that have an inflammation component. Mental illness, as well as metabolic disease and many other illnesses, have a connection to inflammation.
Weight Loss and Metabolic Health
Probiotics may help with weight loss too. Probiotics can help the body produce the satiety hormone GLP-1, according to a 2013 study. Participants in the study had less weight gain and insulin resistance. They also had a reduced appetite and improved glucose tolerance.
Another study published in PLoS One shows that probiotics can be helpful for weight loss in another way. A healthier gut microbiome was found to increase levels of the protein ANGPTL4 (a central player in fat storage).
But it's important to remember that not all probiotics are going to be beneficial. For example, Lactobacillus acidophilus may actually cause weight gain, a meta-analysis points out.
Probiotics can also be beneficial for metabolic issues. A review found that probiotics help regulate blood pressure by improving cholesterol levels, triglycerides, and other lipids that are associated with heart disease. Probiotics also lowered insulin resistance and improved renin (a protein that helps regulate blood pressure) levels.
For Women
While weight loss is often a big sticking point for women, there are other ways in which women, specifically, can benefit from probiotics.
Can help relieve urinary tract infections (UTIs) – A study published in the journal Clinical Infectious Diseases found that probiotic suppositories were helpful in reducing recurrent UTIs.
Can help fight vaginal infections – Only 40 percent of participants in a study had normal vaginal flora as the study began. Supplementation with probiotics improved vaginal gut flora so that 90 percent of the women in the study had normal flora.
Can boost fertility. Studies show that fertility can be improved by addressing vaginal bacteria imbalance, according to Naturopathic Doctor News and Review.
It's clear that a healthy microbiome can positively affect women in a number of ways.
For Babies and Children
It was once thought that a baby's gut was sterile until they were born. There's now some research that shows this may not be true and babies may be introduced to bacteria through the amniotic fluid. Babies are further colonized when they're born. Ideally, they're born vaginally and are colonized with Mom's (healthy) vaginal bacteria. Babies born via cesarean section have a tougher time being colonized by beneficial bacteria and are often colonized by mom's skin or other bacteria in the operating room. In reality, many of us don't have healthy microbiome to pass on to our babies, whether they are born vaginally or not.
After birth, babies continue to be colonized by breastmilk if they are breastfed. Ideally, mom will have friendly bacteria to pass into the breast milk (again, many of us do not). Babies fed formula may not get these additional beneficial bacteria as many infant formulas don't include probiotics (but you can add them).
As you can see there are plenty of ways that baby may not get the best microbiome despite our best efforts. Some of the issues babies and children may have if their microbiome is imbalanced are:
But adding probiotics to babies and children's daily regime can make a big difference. In studies, probiotics can be helpful in treating these issues. For infants, improving mom's diet if she is breastfeeding is a good start. If formula feeding, adding a supplement can help.
Probiotics are beneficial even before baby is born. As one review found, there are significant health benefits of mom taking probiotics during pregnancy. Probiotics during pregnancy helped prevent necrotizing enterocolitis (NEC), an inflammatory infection of the intestines in infants.
How to Get the Best Probiotics
You know that probiotics are beneficial to your health. Here are some of the best ways to get more probiotics into your family every day.
Fermented Foods
My top choice for getting enough probiotics is by eating fermented foods regularly. Fermented foods like fermented dairy products, sauerkraut, and kombucha contain many more strains of beneficial bacteria than supplements do. Different fermented foods contain different strains too. If you get a variety of fermented foods into your diet, you should get a good variety of probiotic strains.
Some fermented foods to try include:
If you're new to fermented foods, try a basic sauerkraut first. It's easy to make and delicious.
Probiotic Supplements
I like to rotate my probiotic supplements to get different strains regularly. Of the brands I've used though I prefer Just Thrive for a few reasons:
Has clinical studies (so you know they work!). Studies have shown that Just Thrive probiotics can help modulate the immune system, improve the metabolism, and heal leaky gut.
100 percent survivability – Studies prove that Just Thrive probiotics survive long enough to do their job. This is because these live microorganisms are spore-based and retain their protective shell.
Stable – They are so stable they don't need to be refrigerated. You can even cook with them up to 455 degrees!
No histamine issues – Some people who are histamine intolerant can't tolerate probiotics. Some probiotics are histamine producing. These strains include Lactobacillus casei, Lactobacillus delbrueckii, and Lactobacillus bulgaricus. Just Thrive only contains histamine degrading strains so they don't cause histamine issues.
It's hard to tell which probiotics will be beneficial for each ailment. It's also hard to know whether they will survive long enough to reach the intestines. So, having clinical studies available that prove the above benefits is a huge plus!
Do Probiotics Really Work? Bottom Line
There are many health benefits of probiotics but we can't take probiotics thinking they will be a cure-all. Probiotics should be a part of an otherwise healthy lifestyle to be most effective.
Additionally, probiotics should be chosen for each individual person and each individual ailment. The quality of probiotic is also important. If a probiotic doesn't survive to reach the intestines then it's not going to work. So that's why I prefer fermented foods and Just Thrive supplements (which has clinical studies to support its ability to heal).
Do you use probiotics? What do you use them for?
This article was medically reviewed by Dr. Scott Soerries, MD, Family Physician and Medical Director of SteadyMD. As always, this is not personal medical advice and we recommend that you talk with your doctor.
Sources
The Importance of Strain. (n.d.). Retrieved from https://www.probioticadvisor.com/probiotic-essentials-1/the-importance-of-strain/#.W6zeFhNKhZI
Why Probiotics May Not Always Help, And Could Actually Do Harm. (n.d.). Retrieved from https://www.livescience.com/63513-probiotics-benefits-questioned.html
Greger, M. (n.d.). How Should I Take Probiotics? Retrieved from https://nutritionfacts.org/2014/01/02/how-should-i-take-probiotics/
Yong, E. (2016, September 29). A Probiotic That Actually Lasts. Retrieved from https://www.theatlantic.com/science/archive/2016/09/a-probiotic-that-actually-lasts/502100/
Ritchie, M. L., & Romanuk, T. N. (n.d.). A meta-analysis of probiotic efficacy for gastrointestinal diseases. Retrieved from https://www.ncbi.nlm.nih.gov/pubmed/22529959
Videlock, E. J., & Cremonini, F. (2012, April 24). Meta‐analysis: Probiotics in antibiotic‐associated diarrhoea. Retrieved from https://onlinelibrary.wiley.com/doi/full/10.1111/j.1365-2036.2012.05104.x
Psychobiotics: A Novel Class of Psychotropic. (2013, June 09). Retrieved from https://www.sciencedirect.com/science/article/pii/S0006322313004083
Bubnov, R. V., Spivak, M. Y., Lazarenko, L. M., Bomba, A., & Boyko, N. V. (2015, July 14). Probiotics and immunity: Provisional role for personalized diets and disease prevention. Retrieved from https://link.springer.com/article/10.1186/s13167-015-0036-0
Yadav, H., Lee, J. H., Lloyd, J., Walter, P., & Rane, S. G. (2013, August 30). Beneficial metabolic effects of a probiotic via butyrate-induced GLP-1 hormone secretion. Retrieved from https://www.ncbi.nlm.nih.gov/pubmed/23836895
Decreased fat storage by Lactobacillus paracasei is associated with increased levels of angiopoietin-like 4 protein (ANGPTL4). (n.d.). Retrieved from https://www.ncbi.nlm.nih.gov/pubmed/20927337
Million, M., Angelakis, E., Paul, M., Armougom, F., Leibovici, L., & Raoult, D. (2012, August). Comparative meta-analysis of the effect of Lactobacillus species on weight gain in humans and animals. Retrieved from https://www.ncbi.nlm.nih.gov/pubmed/22634320
L. (2009, August 27). The Improvement of Hypertension by Probiotics: Effects on Cholesterol, Diabetes, Renin, and Phytoestrogens. Retrieved from https://www.mdpi.com/1422-0067/10/9/3755/htm
Probiotics Could Help Prevent Urinary Tract Infections. (n.d.). Retrieved from https://www.livescience.com/13747-good-bacteria-prevent-urinary-tract-infection.html
Reid, G., Beuerman, D., Heinemann, C., & Bruce, A. W. (2001, December). Probiotic Lactobacillus dose required to restore and maintain a normal vaginal flora. Retrieved from https://www.ncbi.nlm.nih.gov/pubmed/11750220
E. (2017, November 28). The Vaginal Microbiome: Its Role in Fertility, Pregnancy, & Preterm Labor Risk. Retrieved from https://ndnr.com/womens-health/the-vaginal-microbiome-its-role-in-fertility-pregnancy-preterm-labor-risk/
Aubrey, A. (2018, April 30). Probiotics For Babies And Kids? New Research Explores Good Bacteria. Retrieved from https://www.npr.org/sections/thesalt/2018/04/30/606440075/probiotics-for-babies-and-kids-new-research-explores-good-bacteria
Deshpande, G., Rao, S., Patole, S., & Bulsara, M. (2010, May 01). Updated Meta-analysis of Probiotics for Preventing Necrotizing Enterocolitis in Preterm Neonates.
People assume probiotics are safe, but no one has really asked. (n.d.). Retrieved from https://www.nbcnews.com/health/health-news/are-probiotics-safe-study-shows-we-really-don-t-know-n891801
Probiotic Species and Strains: What Are Their Differences? (n.d.). Retrieved from https://www.drdavidwilliams.com/probiotic-strains
Kelesidis, T., & Pothoulakis, C. (2012, March). Efficacy and safety of the probiotic Saccharomyces boulardii for the prevention and therapy of gastrointestinal disorders Retrieved from https://www.ncbi.nlm.nih.gov/pmc/articles/PMC3296087/
Lefevre, M., Racedo, S. M., Ripert, G., Housez, B., Cazaubiel, M., Maudet, C., . . . Urdaci, M. C. (2015). Probiotic strain Bacillus subtilis CU1 stimulates immune system of elderly during common infectious disease period: A randomized, double-blind placebo-controlled study. Retrieved from https://www.ncbi.nlm.nih.gov/pmc/articles/PMC4669646/
Research: COLORSPORE: Carotenoid Producing Probiotic Bacillus indicus (HU36) and its Use as a Functional Food and Dietary Supplements. (n.d.). Retrieved from https://thriveprobiotic.com/blogs/blog/research-colorspore-carotenoid-producing-probiotic-bacillus-indicus-hu36-and-its-use-as-a-functional-food-and-dietary-supplements
Marseglia, G. L., Tosca, M., Cirillo, I., Licari, A., Leone, M., Marseglia, A., . . . Ciprandi, G. (2007, March). Efficacy of Bacillus clausii spores in the prevention of recurrent respiratory infections in children: A pilot study. Retrieved from https://www.ncbi.nlm.nih.gov/pmc/articles/PMC1936284/