Finding my credit card in the nut butter jar? Funny.
Hearing a child shout "What's the PASSWORD?!?" while trying to unclog a paper filled toilet? Also funny.
Babysomnia? NOT FUNNY. As all moms know, there comes a point where the dream of flowers and chocolates is tossed aside for a comfy pillow and – if our spouse can make it happen – the gift of two hours of uninterrupted sleep.
Okay, one hour.
Maybe even thirty minutes. Romance isn't dead, folks.
If you are nodding your head right now, this post is for you. A few months ago, I asked you on Facebook what three things you needed more of in your life. For many of you, at least one of the answers was sleep. (For some of you, it was all three!) In this post I'm going to review intelliBED, which is the mattress I bought early this past summer. More importantly, though, I'm going to talk about the science of sleep and why this decision ended up being more important than I realized.
The Art Of Getting The Sleep You Need
Let's start with the basics: How many hours of sleep do you get most nights? Eight? Seven? Less?
If your answer was less than eight, consider this: In one study conducted by The University of Pennsylvania, researchers divided sleepers into three groups: those who got eight, six, and four hours of sleep. Not surprisingly, the eight hour group did well on cognitive tests. The four hour group? They scored like a company of blindfolded archers trying to hit a pea while the sky rained down angry ferrets.
But we're not here to talk about them. We want to talk about the six hour group, which reported that they were tired but had adapted to the loss of sleep. In their assessment, their performance had not been affected. But objectively, by the end of the two week experiment they demonstrated impaired cognition that was equal to being drunk. (source) Put another way, incremental sleep loss had rendered them no more functional than an individual who had been awake for 24 hours straight, but they didn't realize how profoundly they'd been impacted. (source)
So getting enough sleep is obviously important. But it's not just about getting sleep – it's about getting deep, healing of sleep.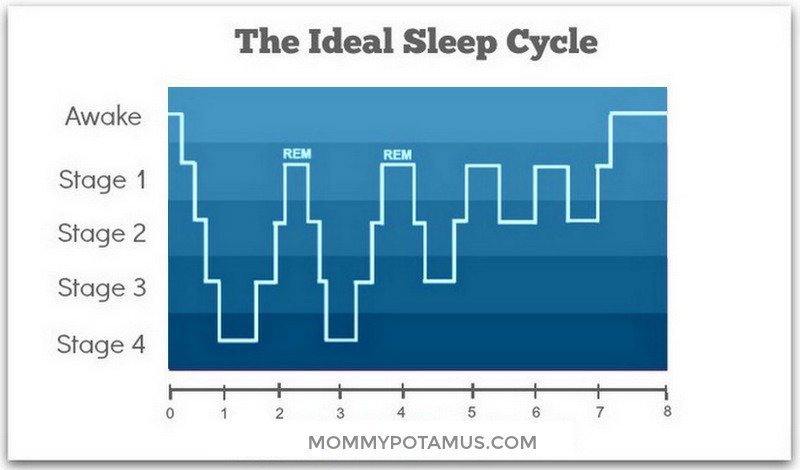 What is healing sleep? As you can see in the graph above, there are four stages of the sleep cycle: REM (which is the stage we dream in), Stage 2 (light sleep that produces fast brain waves), and Stage 3 and 4 sleep, also known as Delta sleep.
Delta sleep, which is characterized by high-amplitude, low-frequency delta waves, is when your body does most of its healing work: releasing human growth hormone, repairing tissue, stimulating the production of new cells, etc. This time of rejuvenation is associated with improved memory, decreased depression, and improved immune, nervous and digestive system function.
How My Favorite Mattress Is Different
Back when I wrote about my ideal mattress criteria, I was mostly looking for a non-toxic solution. When I finally found one I wanted to try, I called the company, intelliBED, to ask some questions. What I learned during that conversation is that there is much more to restorative sleep than I'd realized.
When we sleep on a bed that creates pressure on our hips, back, and shoulders, we have to move frequently to redistribute our weight. If we don't, areas under pressure lose circulation and tissue gets damaged. According to the Mayo Clinic, "Bedsores — also called pressure sores or pressure ulcers — are injuries to skin and underlying tissue resulting from prolonged pressure on the skin."
Obviously, our bodies do whatever it takes to prevent this damage from happening. Since our bodies don't typically move around while remaining in Stage 3 and 4 sleep, we have to come up out of deep, restorative sleep back into lighter sleep to shift our weight. These "micro-arousals"  may inhibit or stop the release of human growth hormone during deep sleep. (source)
IntelliBED uses a patented gel-matrix that reduces pressure on our hips and shoulders, thus in many cases extending the time we can stay comfortably in deep, healing sleep. Using a medical grade pressure mapping system, they recently recorded what happened when the same person laid down on four types of mattress. Anything over blue signifies enough pressure to cause an individual to need to move within five minutes.
The bottom line:
If you frequently shift your weight while you sleep, you may not be getting enough of the deepest, most restorative levels of sleep your body needs. IntelliBED uses a gel matrix called isoflex(r) that is used in hospitals to cushion severe wound care patients. IntelliBED is the only company that has obtained a license to use this gel in commercial products, and that's what makes them different.
Here's an overview of the bed from Dr. Robert Troell, a Stanford educated surgeon who is also board-certified in sleep medicine.
So I set out to find a non-toxic mattress but ended up with a super-comfy bed that has improved my quality of sleep. Does that mean I settled for something with questionable materials? Nope.
Truly Non-Toxic Materials
Mattress companies add a variety of chemicals to achieve certain qualities – such as foam "memory" and fire resistance – in their mattresses. Many of these chemicals pose serious health risks. For example, chlorinated tris –  which is currently being used in increasing amounts due to PDBE's being phased out –  was banned in children's pajamas more than thirty years ago after it was found to cause cancer in test animals. (source 1, source 2, source 3)
According the the Journal of Exposure Science & Environmental Epidemiology, chlorinated tris and other chemicals are now being detected in the dust found in homes.
Children are especially vulnerable to the impact of these chemicals, yet they are the ones that spend 12-16 hours a day with their faces near the surface of the mattress. If there's anything we learned from PDBE's, it's the frustrating reality these dust particles are likely to bioaccumulate. (source)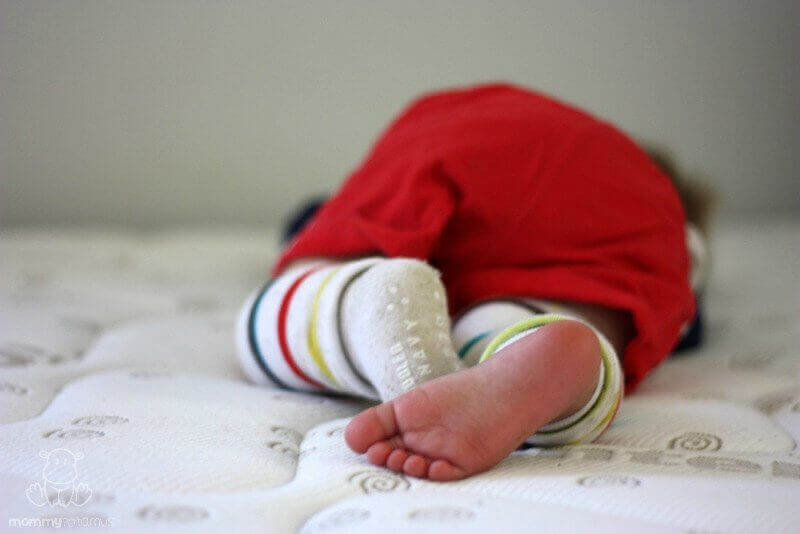 Babypotamus decided to demonstrate my point about babies sleeping with their faces smooshed against the mattress by taking a nap during my photo shoot.
When I set out to buy a non-toxic bed, I was certain that I wanted a natural or organic mattress. However, as I researched I learned that certain natural materials don't distribute a person's weight across the surface of the bed like intelli-Gel, nor do they support the recessed areas of the body.
IntelliBED has really done their homework when it comes to they materials they've selected – they use a green fire blocker, and the rest of their materials are hypoallergenic, non-offgassing and Certi-Pur certified.
Unlike the "new bed smell" I have experienced before, my new intelliBED had no chemical smell at all fresh out of the box. I am incredibly chemically sensitive (to the point that I get nauseous when a house is freshly painted even with zero VOC paint), but I mashed my face into the mattress and could not smell a thing.
Cost & Durability
I spent a comparable amount to the intelliBED ten years ago when, as newlyweds, Daddypotamus and I invested in a top-of-the-line memory foam mattress. It smelled strongly of chemicals when it arrived – in fact, we had to leave the windows open in the bedroom for several days before I could even sleep in there without becoming nauseous. Looking back, I believe that bed contributed to the health issues I developed as a newlywed. It wasn't the only factor, but it certainly didn't help.
But back to durability. Yes, we got ten years out of that bed, but I didn't get my money's worth for that entire decade. No way. If I had known what I was doing, I would have replaced that mattress five years after purchase. That's when it really started to feel different. The memory foam felt like a different mattress with each successive pregnancy.
I was pregnant with Katie two years after purchase. Micah came along three years later. And baby Levi appeared three years after that. During the last few weeks of my pregnancy with Levi, I was experiencing so much pressure on my hips that I began waking up with bruises on my hips! I had to make a conscious effort to wake up and turn more often.
Since the goal is deep, restorative sleep, it would be good to know how long a mattress will last in its ideal condition, and then divide the cost of the mattress by the number of years and/or months of optimal condition to determine the cost of a really good sleep. At somewhere in the ballpark of $3,600, my queen-sized memory foam really cost me $720 a year. And that includes all the noxious fumes I had to breathe during that time. That's a pretty big cost for such a significant downside.
Our king-sized intelliBED 30 Deluxe, while it runs about $3,500 for the mattress, is warrantied to last in optimal sleeping condition for an unheard of 30 years! That's $116 per year for optimal, non-toxic sleep experience. We've already covered the cost of this year by what we've saved in chiropractic visits.
The Downside of My intelliBED
There is ONE way in which my old memory foam mattress was better than my current intelliBED. My intelliBED mattress moves a little more when I get in and out of bed. I have to move carefully in order not to wake my husband, but I feel so much more comfortable with the material used in this mattress, and the cushioning and support we're getting is so much better that the trade-off is worth it to me.
Watch The Interview
IntelliBED co-founder Sean Clark and I recently chatted all about sleep wellness, and though the replay video was initially lost due to a YouTube glitch, they were eventually able to recover it. Thanks, YouTube!
In this interview we go into more detail about the materials used in intelliBED's mattresses, and I also share some tips I've found helpful for getting better sleep at night.
Where To Order an IntelliBED
IntelliBED has a 60 day, risk-free trial, so if you're interested in trying them you can have a bed delivered to your door, worry-free. If you decide it's not for you they will pay to have it shipped back to them. Also, if a mattress isn't in your budget right now and you still have a bed that offers good support, IntelliBED sells a topper with their gel matrix that you can lay over your current bed. Just fyi. 😉
Question? Leave a comment below!