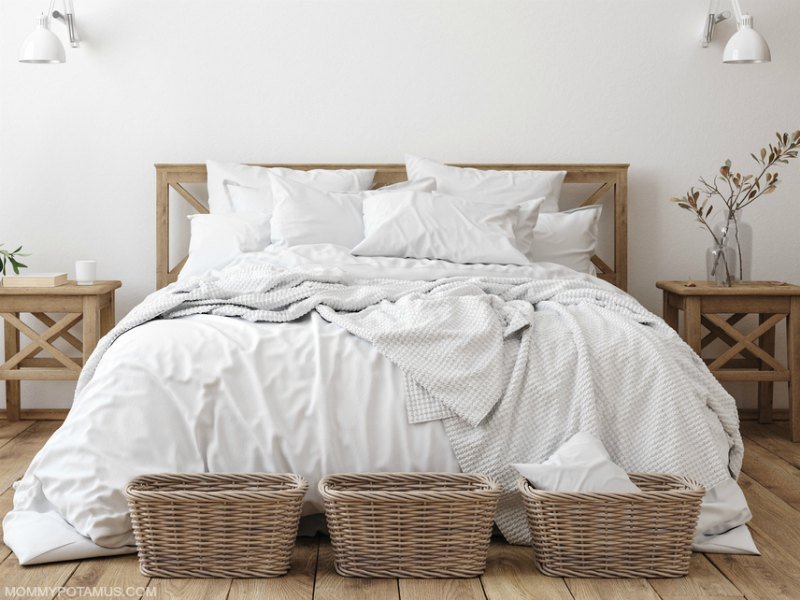 Finding my credit card in the nut butter jar? Funny.
Hearing a child shout "What's the PASSWORD?!?" while trying to unclog a paper filled toilet? Also funny.
Babysomnia? NOT FUNNY. As all moms know, there comes a point where the dream of flowers and chocolates is tossed aside for a comfy pillow and – if our spouse can make it happen – the gift of two hours of uninterrupted sleep.
Okay, one hour.
Maybe even thirty minutes. Romance isn't dead, folks.
If you're nodding your head right now, this post is for you. A few months ago, I asked you on Facebook what three things you needed more of in your life. For most of you, at least one of the answers was deep, restorative sleep.
In this post I'm going to review the Organix mattress by IntelliBed, which is what I've been sleeping on for years. More importantly, though, I'm going to talk about the science of sleep and why this decision ended up being more important than I realized.
The Art Of Getting The Sleep You Need
Let's start with the basics: How many hours of sleep do you get most nights? Eight? Seven? Less?
If your answer was less than eight, consider this: In one study conducted by The University of Pennsylvania, researchers divided sleepers into three groups: those who got eight, six, and four hours of sleep. Not surprisingly, the eight hour group did well on cognitive tests. The four hour group? They scored like a company of blindfolded archers trying to hit a pea while the sky rained down angry ferrets.
But we're not here to talk about them. We want to talk about the six hour group, which reported that they were tired but had adapted to the loss of sleep. In their assessment, their performance had not been affected.
But objectively, by the end of the two week experiment they demonstrated impaired cognition that was equal to being drunk. (1) Put another way, incremental sleep loss made them about as functional as an individual who had been awake for 24 hours straight, only they didn't realize how impaired they were. (1)
So getting enough sleep is obviously important. But it's not just about getting sleep – it's about getting deep, healing sleep.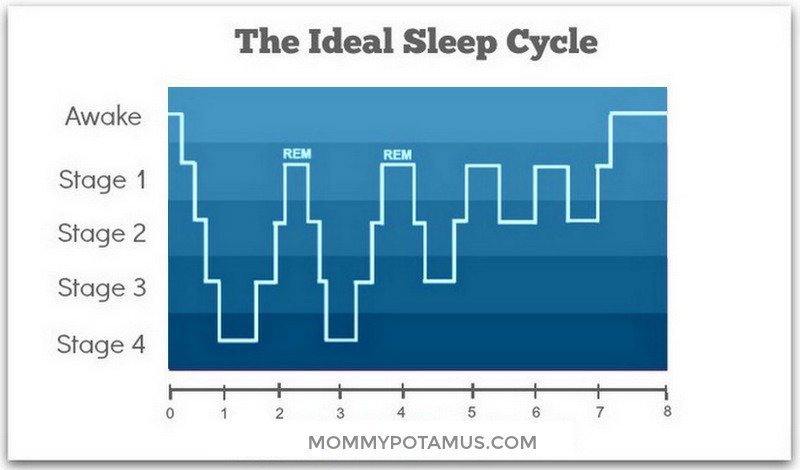 What is healing sleep?
As you can see in the graph above, there are four stages of the sleep cycle: REM (which is the stage we dream in), Stage 2 (light sleep that produces fast brain waves), and Stage 3 and 4 sleep, also known as Delta sleep.
Delta sleep, which is characterized by high-amplitude, low-frequency delta waves, is when your body does most of its healing work: releasing human growth hormone, repairing tissue, stimulating the production of new cells, etc. This time of rejuvenation is associated with improved memory, decreased depression, and improved immune, nervous and digestive system function.
Back when I compiled my ideal mattress criteria, I was mostly looking for a non-toxic solution. When I finally found one I wanted to try, I called the the manufacturer to ask some questions. What I learned during that conversation is that there is much more to restorative sleep than I'd realized.
When we sleep on a bed that creates pressure on our hips, back, and shoulders, we have to move frequently to redistribute our weight. If we don't, areas under pressure lose circulation and tissue gets damaged.
According to the Mayo Clinic, "Bedsores — also called pressure sores or pressure ulcers — are injuries to skin and underlying tissue resulting from prolonged pressure on the skin." Obviously, our bodies do whatever it takes to prevent this damage from happening.
Since our bodies don't typically move around while remaining in Stage 3 and 4 sleep, we have to come up out of deep, restorative sleep back into lighter sleep to shift our weight. These "micro-arousals" may inhibit or stop the release of human growth hormone during deep sleep. (2)
So for me, healing sleep means more time in Stage 3 and 4 sleep, aka "repair mode."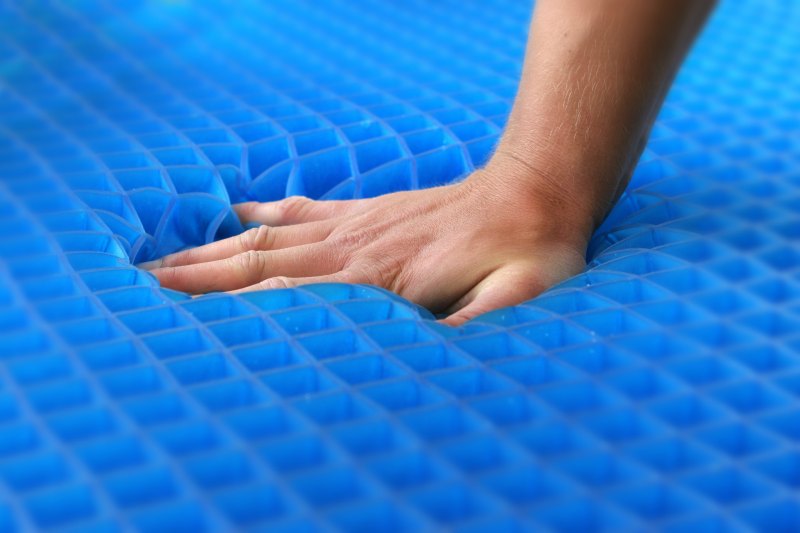 Why The Organix Mattress Is Different
The Organix mattress uses a patented Gel Matrix™ that is used in hospitals to cushion severe wound care patients. It reduces pressure on our hips and shoulders, which in many cases extends the time we can stay comfortably in deep, healing sleep. Made from copolymer gel, which is non-toxic and non-offgassing, the Gel Matrix™ is solely licensed to IntelliBed for use in commercial products.
When the same person laid down on four types of mattresses, including one with the patented Gel Matrix™, here's how a medical grade pressure mapping system recorded the results.
Anything over blue signifies enough pressure to cause an individual to need to move within ten to twenty minutes.
A Soft & Firm Mattress In One
If you frequently shift your weight while you sleep, you may not be getting enough of the deepest, most restorative levels of sleep your body needs. The Gel Matrix™ helps by creating pressure relief that eases nighttime discomfort.
At the same time, the inner construction of the bed supports postural alignment in a way that most soft beds can't. Because of this unique combination, you get the benefits of both a soft (deeply pressure relieving) AND firm (supportive) mattress in one.
Here's an overview of the bed from Dr. Robert Troell, a Stanford educated surgeon who is also board-certified in sleep medicine.
So I set out to find a non-toxic mattress but ended up with a super-comfy bed that has improved my quality of sleep. Does that mean I settled for something with questionable materials? Nope.
Problems With Conventional Mattresses
Mattress companies add a variety of chemicals to achieve certain qualities – such as foam "memory" and fire resistance – in their mattresses. Many of these chemicals pose serious health risks. Let's take a look at two of the main categories:
Flame Retardants
In a study that just came out, researchers found that exposure to PDBE flame retardants cost children 162 million IQ points between 2001 and 2016. They concluded that PDBE flame retardant exposure had a more negative impact on IQ than lead, mercury, and organophosphate (pesticide) exposure combined.
Also, chlorinated tris – which is currently being used in increasing amounts due to PDBE's being phased out – was banned in children's pajamas more than thirty years ago after it was found to cause cancer in test animals. (3) (4)
And that's not the only problem associated with flame retardants – they've been linked to an increased risk of reproductive problems, thyroid dysfunction, fetal growth problems, and more. According the the Journal of Exposure Science & Environmental Epidemiology, chlorinated tris and other chemicals are now being detected in the dust found in homes.
Volatile Organic Compounds
Volatile organic compounds (VOCs) such as formaldehyde and benzene are also often present in many conventional mattresses, even crib mattresses. As I cover in more detail in this article on reducing VOCs around the home, exposure has been linked to significant short-term and long-term health effects.
Children are especially vulnerable to the impact of these chemicals, yet they are the ones that spend 12-16 hours a day with their faces near the surface of the mattress. If there's anything we learned from PDBE's, it's the frustrating reality that these dust particles are likely to bioaccumulate. (3)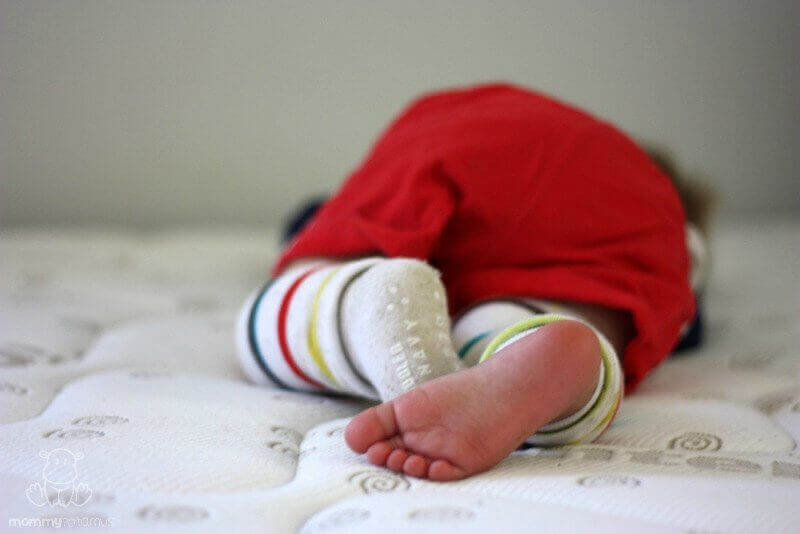 My littlest one decided to demonstrate my point about babies sleeping with their faces smooshed against the mattress by taking a nap during my photo shoot.
Non-Toxic Materials In The Organix Mattress
When I set out to buy a non-toxic mattress I was really only looking at the materials used, but along the way I came to believe that beds ability to relieve pressure was just as important as what it's made of.
Less pressure means we can stay asleep in the same position longer, and hopefully stay in those deep levels of healing regenerative sleep once we've reached them. Our lives are so full of unavoidable stressors these days, it seems to me that it's more crucial than ever to make sure we get the best sleep possible.
With that said, IntelliBed has really done an amazing job with selecting materials. Here's an overview:
Gel Matrix™ Layer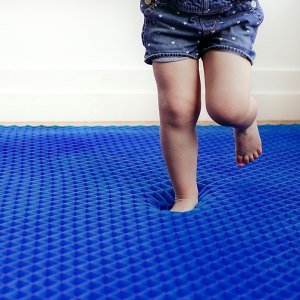 Although the Gel Matrix™ layer is neither natural nor organic, the copolymer gel it's made from is non-toxic, hypoallergenic, antimicrobial, and non-offgassing. It's also highly durable and pressure relieving.
When my mattress first arrived, I noticed immediately that unlike the "new bed smell" I have experienced before, it had no chemical smell at all fresh out of the box. I am very chemically sensitive, but I mashed my face into the mattress and could not smell a thing.
A few years after recommending this mattress, I bought a plane ticket and flew to their manufacturing facility in Utah to inspect beds that were in various stages of production. Everybody I spoke with was completely open and ready to show me what they were working on, and nobody was wearing masks. I thought that was interesting so I commented on it, and they gave me a VOC air quality meter to check things out.
I walked around and took readings right next to the raw materials, including the Gel Matrix layer as it was coming off the press. Not only was the VOC count extremely low – it was LOWER than when we measured in their administrative offices due to off-gassing carpets and office furniture. I'm talking measurements between 0.07-0.08, which is excellent.
Green Fireblocker
The fire blocker used is called Firegard. It's GreenGuard Gold certified, which means that Underwriters Laboratories (a highly respected organization) has tested it and verified that it is low-VOC. GreenGuard tests for tens of thousands of VOC's and gave Firegard its highest rating.
I requested (and received) a copy of their flammability tests (which were done by Intertek, an independent third party) and it's clear that their fire blocker far exceeds industry standards in performance.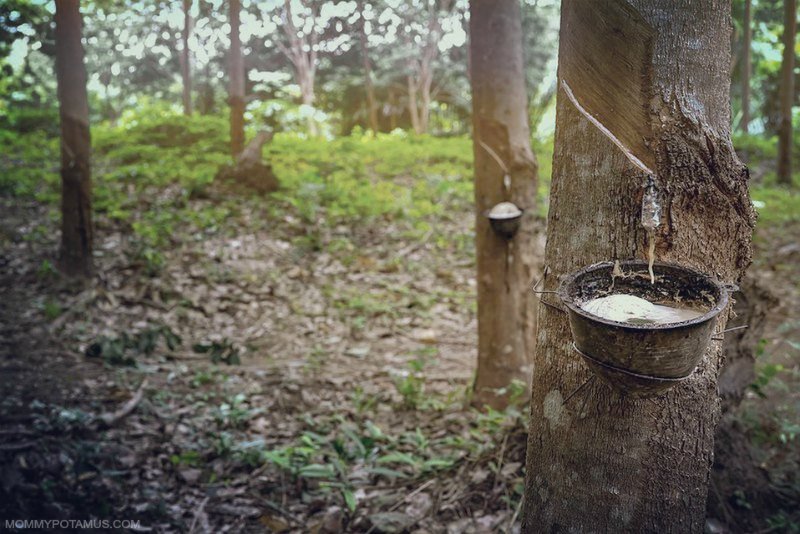 Talalay Latex
Depending on the model, there are one or two layers of talalay latex, which is made from the sap of rubber trees. It's breathable and naturally resistant to mold, mildew and dust mites.
CertiPUR Foam Layer
There's also a Serene Comfort Layer made from polyurethane foam to add extra cushion. Unlike some polyurethane foams which have additional chemicals mixed in to create certain effects like "memory," the foam in the Organix is:
Made without ozone depleters
Made without PBDEs, TDCPP or TCEP ("Tris") flame retardants
Made without mercury, lead and heavy metals
Made without formaldehyde
Made without phthalates regulated by the Consumer Product Safety Commission
Low VOC (Volatile Organic Compound) emissions for indoor air quality (less than 0.5 parts per million)
Three-Zone Pocket Coil System
Unlike the open coil mattresses most of us grew up with, pocket springs are individually wrapped springs that move independently of each other. That allows the mattress to be more responsive while minimizing motion transfer. As a bonus, they're more durable, too.
And because I know you might be wondering, I'm going to weigh in on the issue of springs and EMFs later in this article.
Organic Cotton
After construction, the entire mattress is wrapped in an organic cotton cover.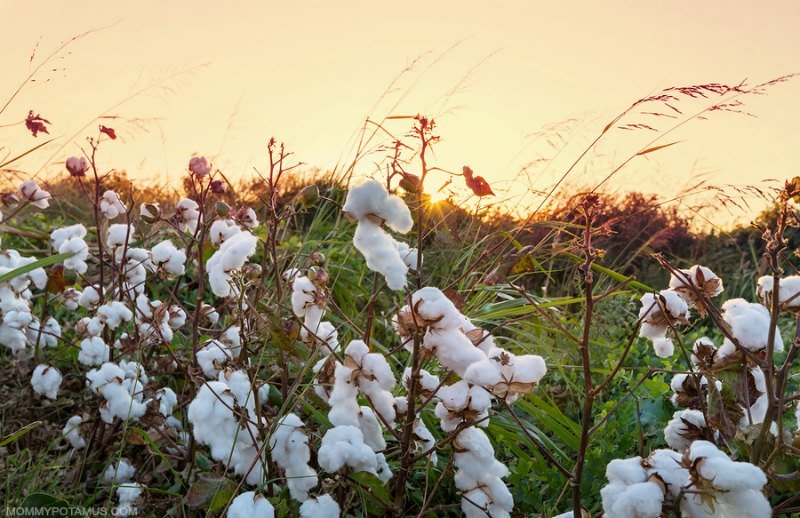 Value & Durability
When my husband and I were newlyweds, we invested in a top-of-the-line memory foam mattress. It smelled strongly of chemicals when it arrived – in fact, we had to leave the windows open in the bedroom for several days before I could even sleep in there without becoming nauseous. Looking back, I believe that the VOCs emitted by that bed contributed to the health issues I developed during our first year of marriage. It wasn't the only factor, but it certainly didn't help.
That wasn't the only issue, though. In terms of value, we got ten years out of that bed, but we didn't get our money's worth for that entire decade. I was pregnant with my first child two years after purchase. My second baby came along three years later. Around that time I noticed that the bed felt different, which I now know was a sign that the memory foam was breaking down and compressing.
My littlest came three years after that. During the last few weeks of that pregnancy, the mattress had significantly deteriorated in comfort. I was experiencing so much pressure while sleeping on my side that I began waking up with bruises on my hips! I had to make a conscious effort to wake up and turn over more often.
So we had the mattress for ten years, but it didn't actually last that long in terms of comfort.
Since the goal is deep, restorative sleep, it would be good to know how long a mattress will last in its ideal condition, and then divide the cost of the mattress by the number of years and/or months of optimal condition to determine the cost of a really good sleep.
At somewhere in the ballpark of $3,600, my queen-sized memory foam really cost me $720 a year for the five years it was mostly comfortable. And that includes all the noxious fumes I had to breathe during that time. That's a pretty big cost for such a significant downside.
The Organix Bed by IntelliBed has shown in third-party durability testing that it only softens about 4.5% over the life of the mattress, which is warrantied to last in optimal sleeping condition for 20 years. So for the Sapphire model, that's about $275 a year. My family covers the cost of each year just in what we save from chiropractic visits.
Watch The Interview
IntelliBed's co-founder Shawn Clark and I recently chatted all about sleep wellness, and though the replay video was initially lost due to a YouTube glitch, they were eventually able to recover it. Thanks, YouTube!
In this interview we go into more detail about the materials used in their mattresses, and I also share some tips I've found helpful for getting better sleep at night.
What about EMFs?
One consistent question I've received over the years is whether I'm concerned that the coils in my mattress might amplify EMF exposure. I'm personally not, and I'll explain why. According to Oram Miller, who is a Certified Building Biology® Environmental Consultant and Electromagnetic Radiation Specialist and the Director of Learning and Development for the International Institute for Building Biology and Ecology, our general sleeping environment is what's important, not the coils.
For example, we don't have wifi, but when we did we turned it off at night. We don't keep a lot of electronic devices plugged in near our sleeping environment, and in our last home we turned off the breaker to our room before going to sleep to make it as low-EMF as possible. (We'll eventually do that in our current house, too . . . I just need to make time to figure which breakers go to which walls.)
According to Oram:
In summary, most healthy people are not bothered by the metal in their mattress and box springs. It is the voltage in plastic circuits in the walls and floor of their bedroom, and bedside lamp cords, that are the culprit, not the metal in the bed. This means, as far as we are concerned, replacing a bed with metal springs and frame with a futon on a wooden platform while keeping the circuits on at night within six to eight feet of your body on the bed will not provide as deep, recuperative and healthy a night's sleep as shutting off the proper breakers while sleeping in a bed with a traditional mattress and box springs. That is the experience of our clients. When you drop the large electric fields out of the picture by shutting circuits off at night and fix any wiring errors or other sources of magnetic fields (and remove routers and cordless phone base units from the bedroom), then there are no EMFs to amplify when you sleep. Then the metal in the springs and frame are not an issue." (5)
With that said, I am not a proponent of motorized adjustable beds because I believe they can contribute to electric and EMF exposure when plugged in.
Black Friday Sale: How To Save On An Organix Mattress
Right now Organix is offering 10% off their mattresses, plus:
Free shipping ($369 value)
Free organic cotton sheets
Free mattress protector 
Question? Leave a comment below!
Sources
1. Jones, Maggie (2011) How Little Sleep Can You Get Away With?
2. Cline, John (2010) The Mysterious Benefits of Deep Sleep
3. Lakind, Judy and Birnbaum, Linda (2010) Out of the frying pan and out of the fire: the indispensable role of exposure science in avoiding risks from replacement chemicals
4. Consumer Product Safety Commission. CPSC Bans TRIS-Treated Children's Garments
5. Correspondence provided by manufacturer and personal communication with Oram Miller.