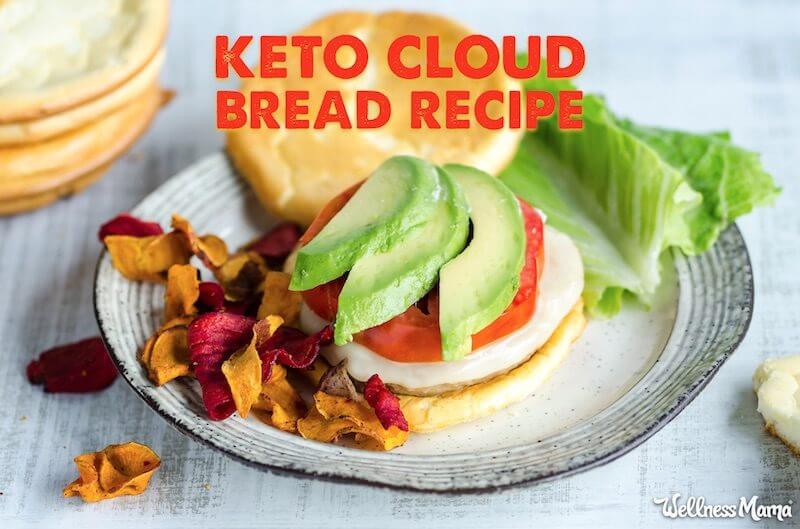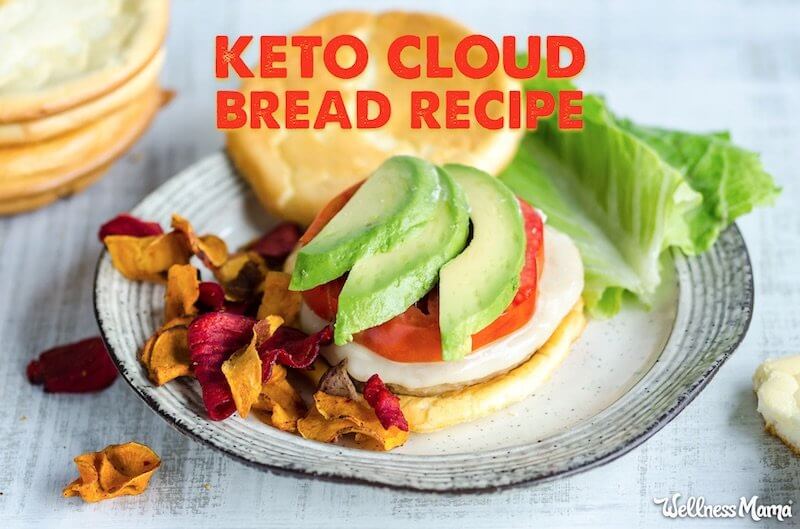 When switching to a grain free or gluten free diet, one of the things most people miss most is bread. Sandwiches are a staple of most families menus (plus, they're so easy to pack for lunch!). So when I found out about cloud bread I knew I needed to give it a try.
What is a Cloud Bread?
Cloud bread (also called oopsie bread) is a high protein keto bread alternative. It's made with eggs and cream cheese as the main ingredients. Cloud bread is low carb, gluten free, and grain free — a perfect alternative to bread!
Cloud bread seems to have originated during the Atkins diet craze but found a new following in the paleo/keto community. It includes only real food ingredients that nourish the body.
Eggs are an amazingly healthy food when they are from healthy pastured hens. Eggs contain:
Choline
Carotenoids
Vitamins A, D, E, and K
Fatty acids like Docosahexaenoic Acid (DHA) and conjugated linoleic acid (CLA)
Cream cheese (from healthy, grass-fed cows) is a good source of healthy fats, CLA, and a diversity of vitamins (including A, D, and K).
Because this bread alternative is made with eggs and cream cheese, it's a powerhouse of protein and healthy fats. It's not a surprise that this bread is filling! You won't be hungry after eating a slice.
Do You Need to Refrigerate Cloud Bread?
When cloud bread comes out of the oven, it's on the crispy side. It softens as it sits in an airtight container. It's best to store cloud bread in an airtight container in the refrigerator or freezer. Thaw on the counter for a few minutes before eating or reheat in the oven.
Cloud Bread Serving Ideas
This cloud bread is very mild tasting so it goes well with anything you want to pair it with. It works really well as a hamburger bun but works as a bread alternative in almost any recipe. If you want to spice it up a bit, you can try adding seasonings into the yolk mixture before folding (or you can sprinkle them on after). Here are some ideas:
Garlic powder and dill (goes well with Mediterranean style sandwiches)
Dried rosemary, thyme, sage, garlic, and black pepper (great for leftover turkey sandwiches)
Garlic powder, onion powder, chili powder, and paprika – Can be used for BBQ style foods or anytime you want some spice.
Dried oregano, basil, parsley, and thyme – This combo is great for an Italian style sandwich.
Parsley, chives, dill, onion powder, garlic powder, black pepper – This ranch style blend is great for flavoring cloud bread for a fun flavor. If you'd rather plain cloud bread but want the ranch taste, try my homemade ranch dressing recipe on top.
Cinnamon and coconut sugar (or stevia) – A mildly sweet treat for a special snack.
If you're looking for another keto bread, I'm looking at this one to try next.
Have you ever made a grain-free bread? What's your favorite recipe?
Keto Cloud Bread Recipe
A healthy, low carb, high protein bread alternative that is also grain and gluten free. This cloud bread is perfect for anyone looking to reduce their carbohydrates, but still wants to enjoy a sandwich once in a while.
Instructions
Preheat oven to 300°F.

Line a baking sheet with parchment paper and set aside.

Separate the eggs whites and yolks into two bowls.

Add the cream cheese and salt to the yolks and beat with a hand mixer to combine.

Sprinkle the cream of tartar over the egg whites and whip until stiff peaks form.

Use a spatula to gently fold the whipped egg whites into the yolk/cream cheese mixture.

Spoon the dough onto the parchment paper in 6 equal portions.

Flatten carefully.

Bake for 30-32 minutes.  

Store in an airtight container.
Notes
Try adding different mix-ins to spice it up a bit:
garlic powder and dill
dried rosemary, thyme, sage, garlic, and black pepper
garlic powder, onion powder, chili powder, and paprika
dried oregano, basil, parsley, and thyme
Nutrition
Serving:
1
roll
|
Calories:
109
kcal
|
Carbohydrates:
0.9
g
|
Protein:
5.1
g
|
Fat:
9.5
g
|
Saturated Fat:
5.1
g
|
Polyunsaturated Fat:
0
g
|
Monounsaturated Fat:
0
g
|
Trans Fat:
0
g
|
Cholesterol:
130
mg
|
Sodium:
291
mg
|
Potassium:
0
mg
|
Fiber:
0
g
|
Sugar:
0.3
g
|
Vitamin A:
0
IU
|
Vitamin C:
0
mg
|
Calcium:
0
mg
|
Iron:
0
mg