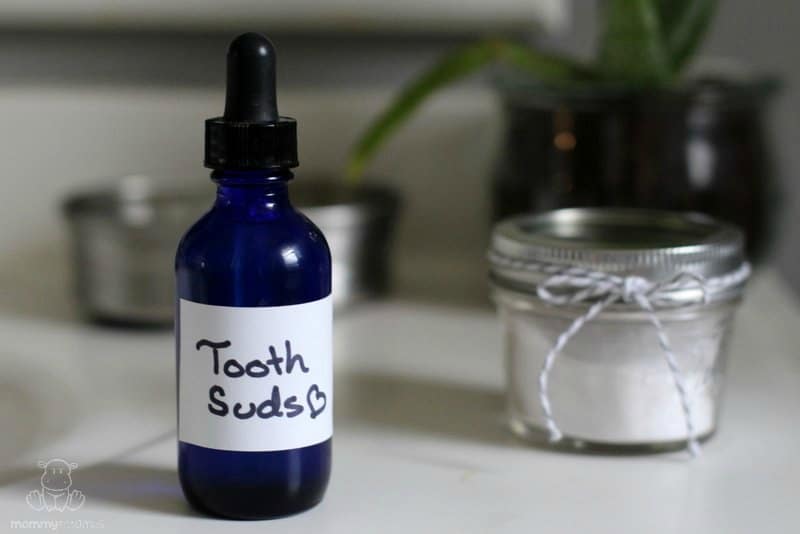 Do you love the "foamy factor" of toothpaste…
But not the chemicals used to achieve it? This recipe is for you!
Just make sure to rinse your mouth thoroughly after brushing. It's soap, so the aftertaste will remind you a lot of . . . soap. (And if that doesn't sound good to you, try tooth powder. My kids think it so delicious they sometimes refuse to spit after brushing. It's all food grade, so I'm okay with that.)
Homemade Tooth Suds Recipe
Ingredients:
6 tablespoons castile soap
3 droppers full stevia extract
15-20 drops peppermint or spearmint essential oil
Instructions:
Add everything to a 4 ounce dropper bottle and shake thoroughly to mix. Apply a few drops to your toothbrush and brush as normal.
FREE Ebook: DIY Body Care Gifts Made Simple
Do you want to give gorgeous, handcrafted gifts for family and friends, without spending a bunch of time on them?
Then I'd love to give you a free copy of DIY Body Care Gifts Made Simple – my step-by-step guide to making gorgeous handcrafted gifts without stressing yourself out – as a gift for signing up for my newsletter. I'll show you how to make vintage labels, luxurious lotion bars, lip balms, sugar scrubs, body sprays and more like a pro. Sign up for my newsletter and you'll be redirected to the download page immediately!