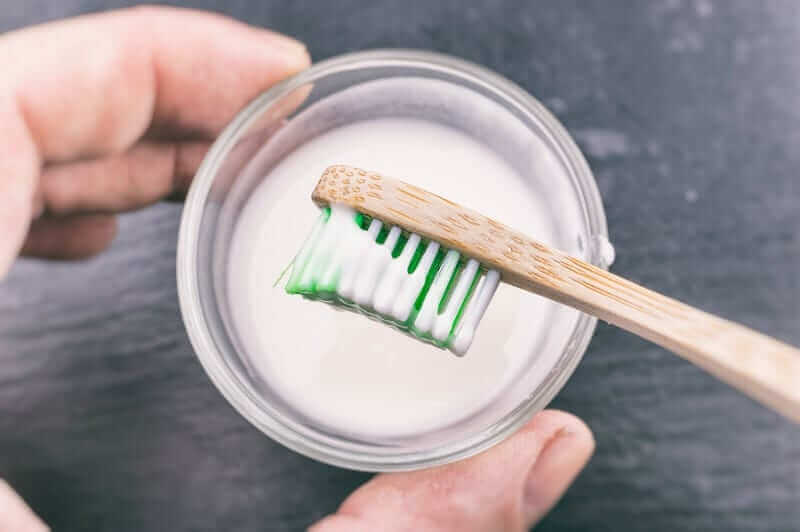 I Switched Toothpaste over avocados. At $3 a pop, it's time to get creative with my budget if I'm going to keep my kids reveling in their creamy green goodness. Our homemade deodorant recipe works better than the "natural" stuff and costs pennies on the dollar, so I recently decided to tackle toothpaste (actually, tooth SUDS) and tooth brightener, too!
Why tooth suds, you ask? Good question!
By now you probably already know that prior to 1938 fluoride was exclusively sold as rat poison and has since been linked to lowered IQ, weakened bones, thyroid suppression, lowered metabolic function, and Alzheimers. (source) All experts agree that this stuff is not for babies – most of us would go further and say it's not for anyone! Unfortunately, most commercial toothpaste manufacturers – even many of the "natural" ones – contain fluoride AND sodium lauryl sulfate (a foaming agent).
The sodium lauryl sulfate found in our soaps is exactly the same as you would find in a car wash or even a garage, where it is used to degrease car engines.

In the same way as it dissolves the grease on car engines, sodium lauryl sulfate also dissolves the oils on your skin, which can cause a drying effect. It is also well documented that it denatures skin proteins, which causes not only irritation, but also allows environmental contaminants easier access to the lower, sensitive layers of the skin.

Perhaps most worryingly, SLS is also absorbed into the body from skin application. Once it has been absorbed, one of the main effects of sodium lauryl sulfate is to mimic the activity of the hormone Oestrogen. This has many health implications and may be responsible for a variety of health problems from PMS and Menopausal symptoms to dropping male fertility and increasing female cancers such as breast cancer, where oestrogen levels are known to be involved.

Natural Health Information Centre: Sodium Lauryl Sulfate (emphasis mine)
I'm sure there are some toothpastes out there that don't contain toxic ingredients, but actually – toothpaste itself can be a problem!
The use of certain toothpastes (especially those with flouride) could create harmful effects and even promote cavities. Glycerin is added to toothpaste to give it its "pasty" consistency. Supposedly, glycerin requires 27 rinses to remove from the teeth. And this could create a barrier on the teeth that would prevent teeth from getting harder and stronger.

Ramiel Nagel, Cure Tooth Decay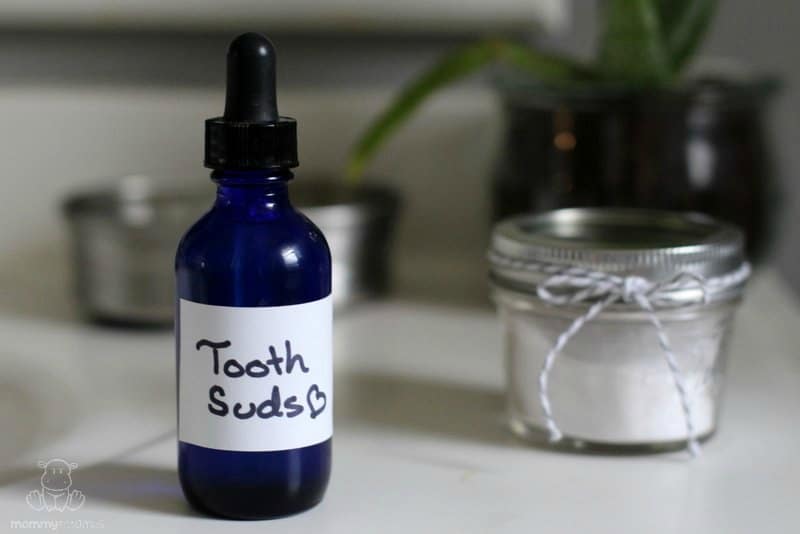 Homemade Tooth Suds
This liquid tooth cleaner leaves your mouth feeling clean and minty . . . or orange-y, or whatever flavor you choose. Here's what Kristine had to say about it:
We've been using this for a couple weeks now and love it! We used sweet orange oil hoping to appeal to the kids and it worked. They don't seem miss the old sweet stuff. I also find that my teeth feel cleaner for longer, I do miss the minty stuff though so I think I'll have to make second batch with peppermint oil. Thanks for the recipe!"
Click here for the tooth suds recipe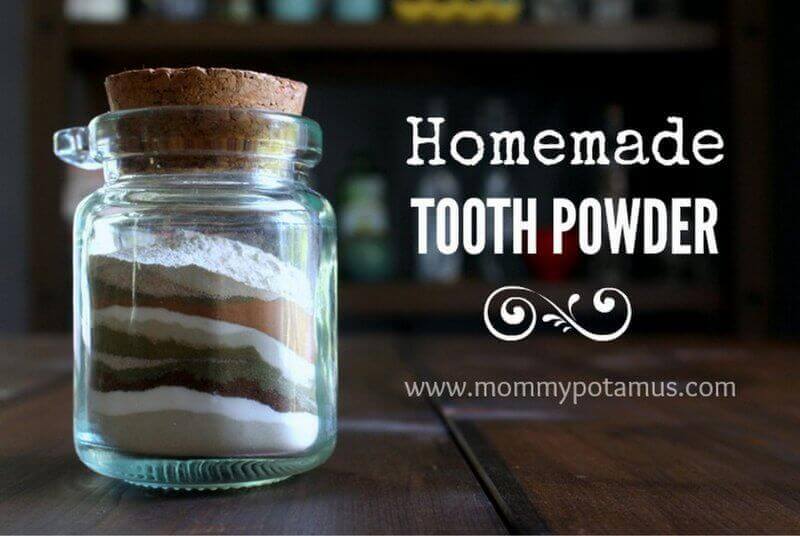 Homemade Tooth Powder
My toddler loves the flavor of this recipe so much he tries to eat it. I don't let him, but it is pretty good! It's also perfect for traveling because it doesn't leak.
Click here for my homemade tooth powder recipe.
Brightening Toothpaste
This toothpaste scrub recipe was sent in by a reader (thanks Nicole!). I use it about once a week to keep stains from building up.
Toothpaste Ingredients
1 teaspoon baking soda
1/2 teaspoon unrefined sea salt, medium or finely ground (salt helps remove stains and also contains minerals your teeth need for strong enamel)
1/2 teaspoon purified water
1 drop spearmint/peppermint/cinnamon/anise/fennel/other essential oil (where to buy spearmint and peppermint essential oil)
Toothpaste Instructions
Combine ingredients in a small bowl and mix them thoroughly until a smooth, thick paste forms.
Dip your toothbrush into the paste and use as you would regular toothpaste.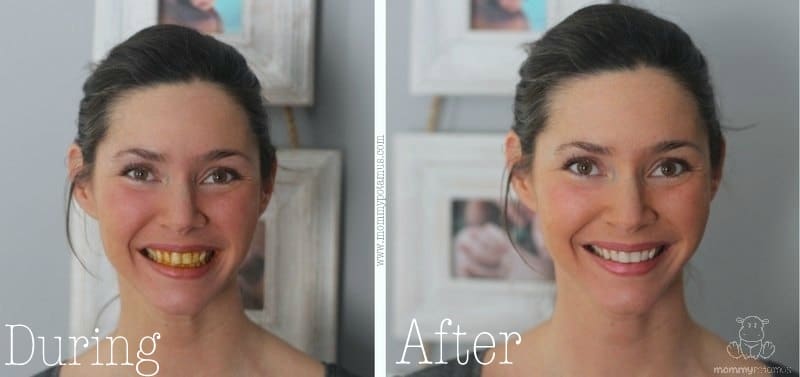 Tooth Whitening Paste
I know I look like I just ate a bunch of Cheetos, but you truly can whiten teeth naturally with turmeric. Pinky swear.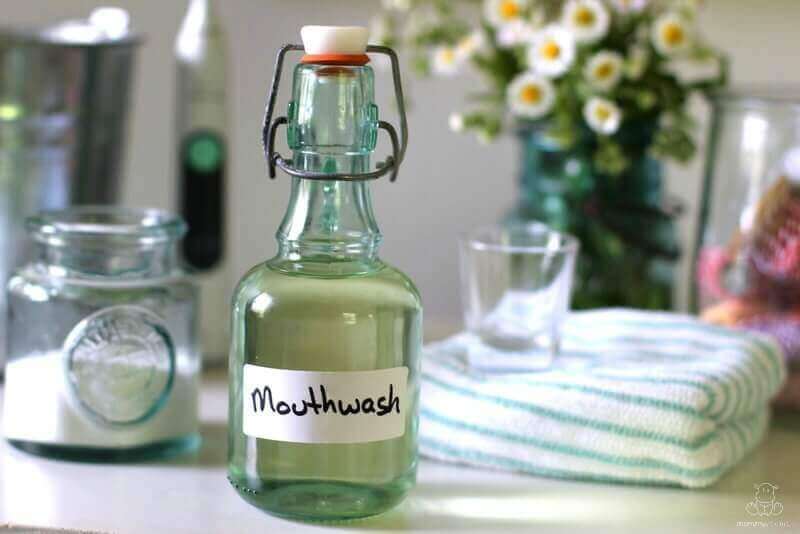 Homemade Mouth Wash
This homemade mouthwash recipe is easy to make and incorporates natural ingredients that support a healthy mouth.
FREE Ebook: DIY Body Care Gifts Made Simple
Do you want to give gorgeous, handcrafted gifts for family and friends, without spending a bunch of time on them?
Then I'd love to give you a free copy of DIY Body Care Gifts Made Simple – my step-by-step guide to making gorgeous handcrafted gifts without stressing yourself out – as a gift for signing up for my newsletter. I'll show you how to make vintage labels, luxurious lotion bars, lip balms, sugar scrubs, body sprays and more like a pro. Sign up for my newsletter and you'll be redirected to the download page immediately!