Way before I posted my "No I didn't stuff my face with Cheetos" tooth whitening recipe and started making my own shampoo, I was warning my college boyfriend (now husband) about the toxins he was putting on his body. To show me that my concerns were being taken seriously, he decided to take steps to ease his toxic burden.
By giving up deodorant. In the summer. In TEXAS.
Not the "sacrifice" I would have chosen, but it was pretty clever on his part. Rather than give up something that would bother him, he ditched the product whose absence would bother me. A lot.
So I went to the health food store and picked up some options, but nothing worked. That's when I discovered a cheap, non-toxic solution that's incredibly easy to make. Don't let the simplicity of this recipe fool you, though – it's been field-tested in the 100+ degree heat of Texas summers and proven its worth.
So, what's wrong with store-bought deodorant?
Now, maybe you're wondering why was I worrying about this in the first place. It's not like he was eating his old deodorant and other personal care products. Although that's true, hormone and nicotine patches work because our skin absorbs a lot of what we put on it. And the stuff in conventional deodorant . . well, some of it has serious safety issues.
Triclosan, for example, is a common ingredient that Minnesota banned over concerns that it may contribute to the development of superbugs. Studies indicate that it may disrupt normal thyroid function and alter hormones.
Other common ingredients are aluminum – which is present in some "natural crystal" deodorants and has been classified by an oncologist as a genotoxin and hormone disruptor – propylene glycol, parabens, and "fragrance," which often includes phthalates. For more info, check out my top five reasons to ditch conventional deodorant.
How To Choose The Natural Deodorant That's Right For You
Each of us has a unique body chemistry, which is why scents such as this vanilla body spray smell different on different people. When it comes to deodorant, our personal body chemistry plays a huge role in what works and what doesn't.
Some people need the full-strength option – that would be this recipe – while others find full-strength irritating and need a deodorant recipe formulated for sensitive skin. There's also a homemade stick deodorant, but I like this recipe because it's faster and easier.
Also, if you'd rather buy natural deodorant instead of make it, this is a great option that wasn't available when my husband tried store-bought options.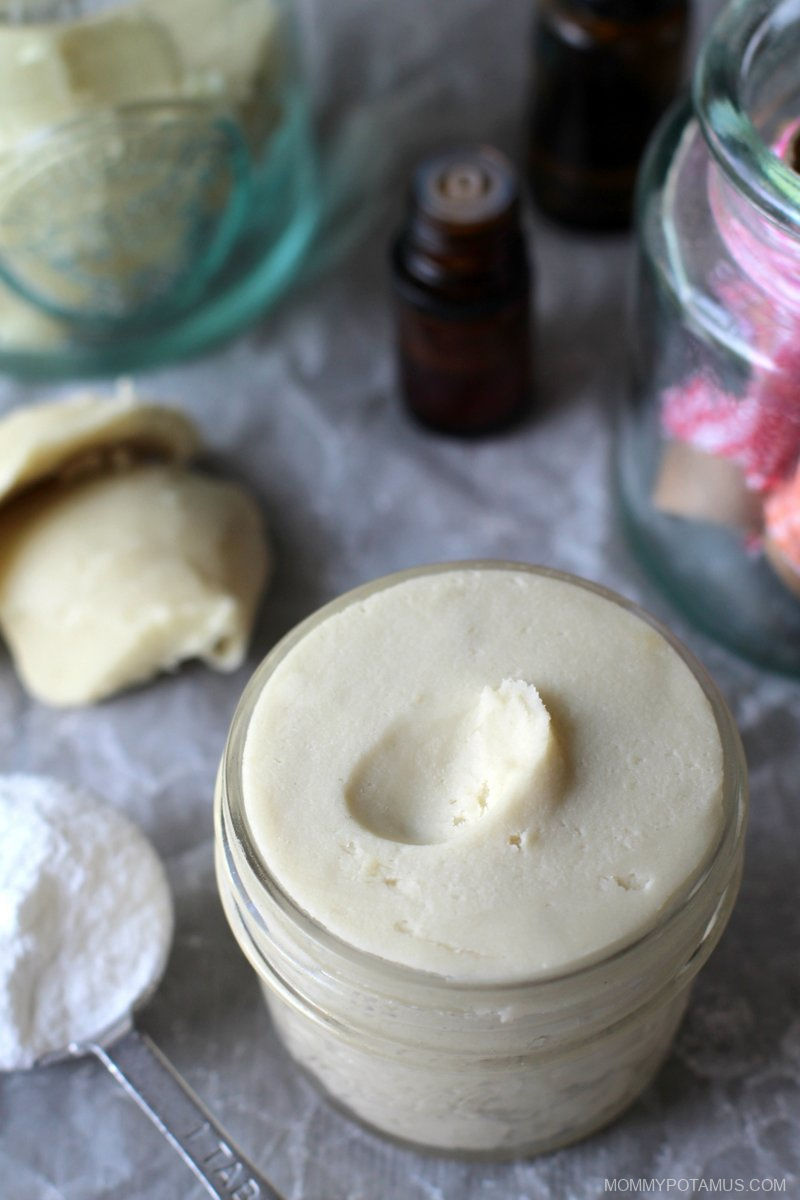 Homemade Deodorant Recipe (That really works!)
When I started making this recipe I used coconut oil as the base. However, I've found that skin-soothing shea butter is a better option because it's not greasy and absorbs quickly, which is super important if you're getting dressed in a hurry.
Are you ready to kiss your store-bought deodorants goodbye? Alright, here's the recipe!
Ingredients:
To Make
In a deep bowl, mix baking soda and arrowroot powder (or cornstarch together). Using your hands or a fork, work in the shea butter until it looks like very crumbly dough. Add in essential oil if using and then whip the deodorant together using a hand mixer. It will seem too dry at first and you'll wonder if it's really going to come together, but it will. You do need a deep bowl, though, because in the initial stage of mixing you don't want the powder to go over the side of the bowl. Transfer to a clean glass jar – I use a 4 ounce jar like this one.
To Use
Using your fingertips, scoop out a very small amount of deodorant – really, a little goes a long way – and rub it in your underarm area until it's invisible. The deodorant will absorb quickly and keep you smelling fresh, but if you want extra dryness protection you can apply a layer of arrowroot powder over the deodorant using a makeup brush.
FREE Ebook: DIY Body Care Gifts Made Simple
Do you want to give gorgeous, handcrafted gifts for family and friends, without spending a bunch of time on them?
Then I'd love to give you a free copy of DIY Body Care Gifts Made Simple – my step-by-step guide to making gorgeous handcrafted gifts without stressing yourself out – as a gift for signing up for my newsletter. I'll show you how to make vintage labels, luxurious lotion bars, lip balms, sugar scrubs, body sprays and more like a pro. Sign up for my newsletter and you'll be redirected to the download page immediately!