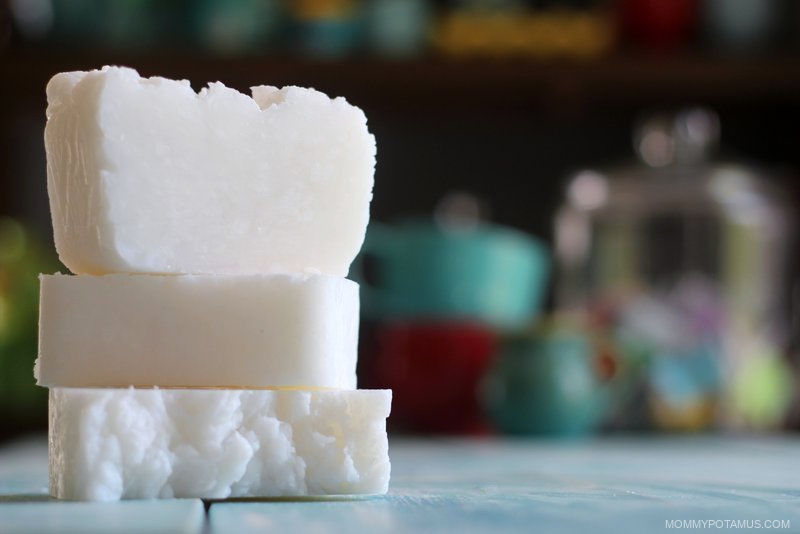 Want to play "I never"?
Good, I'll start. Since becoming a mom, I have never ever forgotten to eat dinner, then just finished my kids plates as I washed them.
I have never ever accidentally rubbed soft scrub in my armpits instead of my homemade deodorant.
And I most certainly have never ever run out of shampoo and washed my hair with regular bar soap.
Okay, I have actually done all those things. Now obviously I don't recommend the first two, but hear me out on that last one.
It all started on a day when I needed to shower and get dressed in 10 minutes (are there any other types of days for moms??) and I realized I was completely out of shampoo. Rather than hop out of the shower and mix up a batch of clay hair wash, I grabbed my coconut oil soap and rubbed on my head. ( I figured Tropical Traditions sells a coconut oil-based shampoo bar, so why not?)
There was SO. MUCH. LATHER. We're talking lather for days. And my hair was so soft afterwards I started to feel a little self conscious about how often I was stroking my own hair. Unfortunately it did leave my hair a little oily, but I loved overall effect so much I decided to play with the recipe and see if I could change that.
Turns out, reducing the amount of oil in the finished bar by about 8% did the trick. It gently cleaned and moisturized my hair without leaving it heavy or greasy. It only requires three ingredients, and today I'm sharing the recipe with you.
New To Shampoo Bars? Here's What You Need To Know
As mentioned my post on detoxing your hair, commercial shampoos are usually made with surfactants such as sodium lauryl sulfate – which is a known skin irritant that is often contaminated with the probable human carcinogen 1,4 dioxane – instead of soap. (source 1, source 2)
They also often contain silicone that coats the hair and prevents it from absorbing moisture. While silicone can make hair look smooth and shiny in the short-term, over time it causes it to dry out and become more brittle over time.
When you make the switch to natural shampoo, you're going from an approach that strips hair and then coats it with polymers to something that washes and nourishes the hair with a natural oil. If you're using the right bar it won't make your hair heavy or greasy – it will provide just enough oil to help hair maintain it's softness and flexibility.
During the transition you may find that your hair feels a little "gummy" – this can happen as silicone and other polymers begin to peel off. Fortunately, you can speed up the process with the tutorial I linked to above.
Another reason hair can seem dry or dull is that it soap is alkaline and your hair prefers a more acidic environment. When washing with soap, you need to keep it happy by restoring hair pH with an acidic rinse after shampooing.
The rinse acts as a "conditioner" that restores pH, smooths the cuticle and makes your hair shiny. In most cases you won't need an additional conditioner, because shampoo bars moisturize as the cleanse.
The easiest way to use your shampoo bar is to lather in your hands and then work from root to tip, then rinse very thoroughly and follow with the shine boosting rinse below.
1/4– 1/2 cup apple cider vinegar or distilled white vinegar and enough filtered water to bring vinegar mixture to 3/4 cup.*
 8 drops essential oil (optional) – rosemary and peppermint work well for most hair types.
To Use: Mix ingredients in a mason jar or wide-mouth cup. Pour enough over hair to saturate and allow to sit for 2-3 minutes, then rinse. Cool water is best because it helps the hair cuticle close, but warm is okay.
Video Tutorial: Making Coconut Oil Shampoo Bars
Before I started making soap, I asked a friend if I could stop by and watch her make a batch. She agreed, and that afternoon in her kitchen was what helped me become comfortable with the process. In the video below, I invite you into my kitchen to do the same. I'll walk you through the method, and then you can scroll down this post for the exact recipe and written instructions to check as you go.
If you're looking for the body bar and laundry soap recipes mentioned in the video, you can find them here. Also, here's the link to my homemade laundry detergent. Now, back to the shampoo bar . . .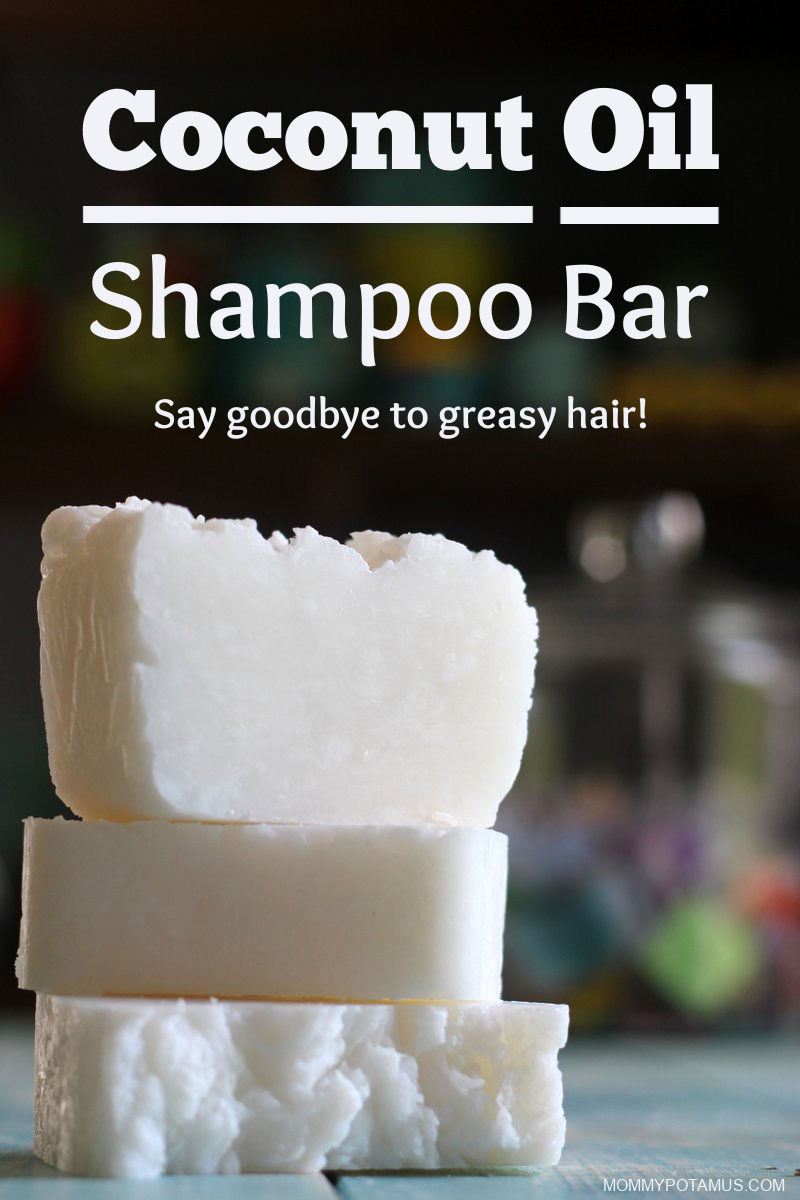 Coconut Oil Shampoo Bar Recipe (12% superfat)
This bar delivers a rich lather that cleans and gently moisturizes without leaving hair heavy or greasy.
Ingredients
For Normal Hair (10% superfat)
For Dry Hair (12% superfat)
Equipment:
Note: According to Anne Watson, author of Smart Soapmaking, you can use your regular kitchen utensils as long as you follow these guidelines.
crock pot – 8 quart
stainless steel or plastci spoon with long handle (if you use a wooden spoon like the one pictured below, make sure not to use it for anything but soapmaking)
sink or bowl filled with vinegar and water for cleaning anything that comes in contact with lye. Follow by cleaning with soap.
protective equipment: long-sleeved shirt, plastic/rubber gloves, safety glasses or protective eye gear
soap mold – (where to buy oval soap mold or square soap mold) A standard sized bread pan is perfect for this batch, cardboard boxes will also work
parchment paper for lining the soap mold (where to buy parchment paper online)
Photo Tutorial:
Step 1: Weigh all your ingredients.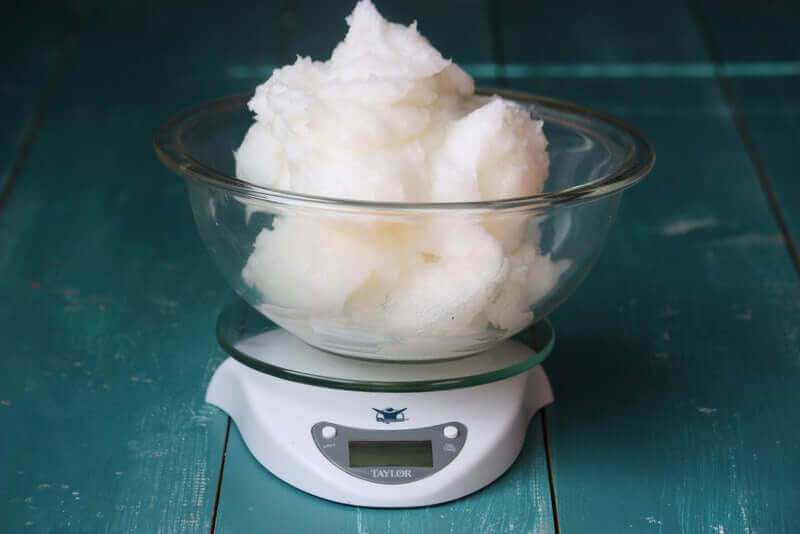 Step 2: Add the coconut oil to the crockpot and set it to low. (It's okay if it's in solid state – it will melt quickly!)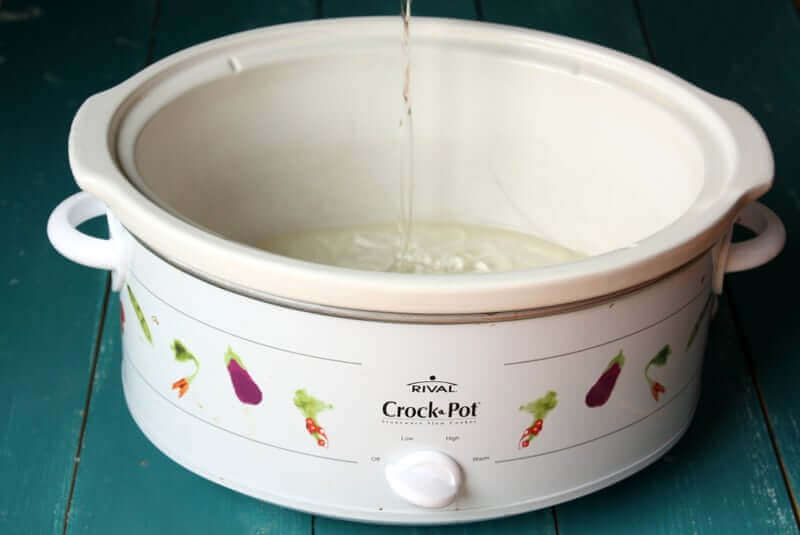 Step 3: Add water to a medium-sized glass or ceramic bowl and take it outside along with the lye and long-handled spoon. (If you have a mask and excellent ventilation you can mix it up inside, but I recommend going outdoors. )
While wearing your protective gear and taking care not to breathe the vapors, slowly add the lye to the water while mixing gently. Order is important here, so make sure it is the lye you're pouring into the water.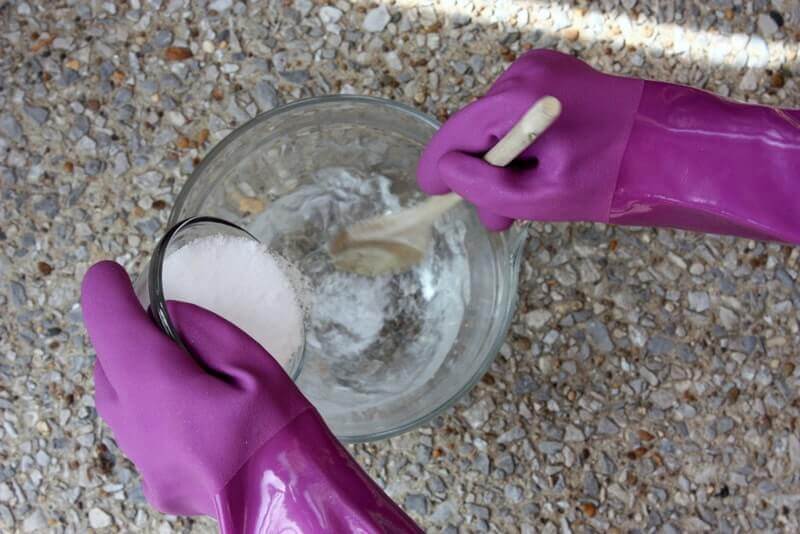 The mixture will get very hot so be careful! Let it transition from cloudy to clear, then bring it inside. Let cool for 5-10 minutes while you work on step 3. (Note: If you use a wooden spoon make sure it is dedicated to soapmaking – do not use it in your kitchen for preparing food. A stainless steel or plastic spoon can be washed and used for preparing food after making soap.)
Step 4: Add lye to crockpot (being careful not to splash) and stir a few times.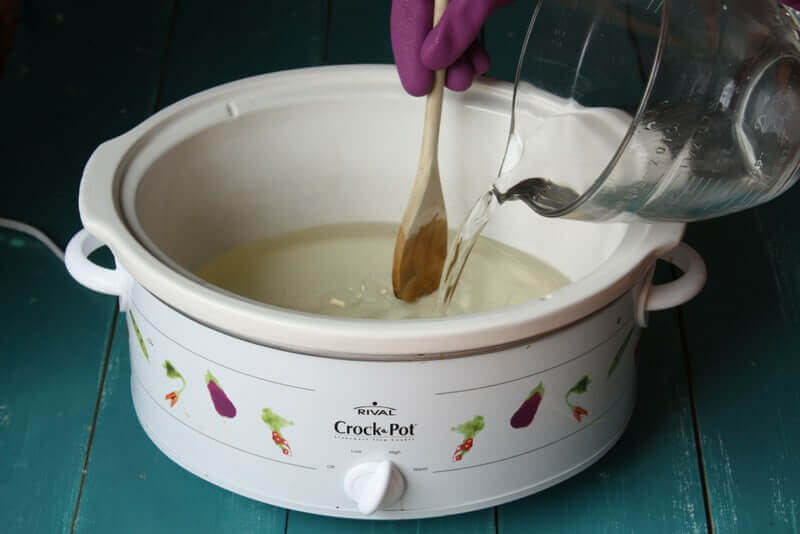 Step 5: Using the stick blender begin mixing toward "trace." You'll know trace is achieved when the mixture has the texture and thickness of a light pudding.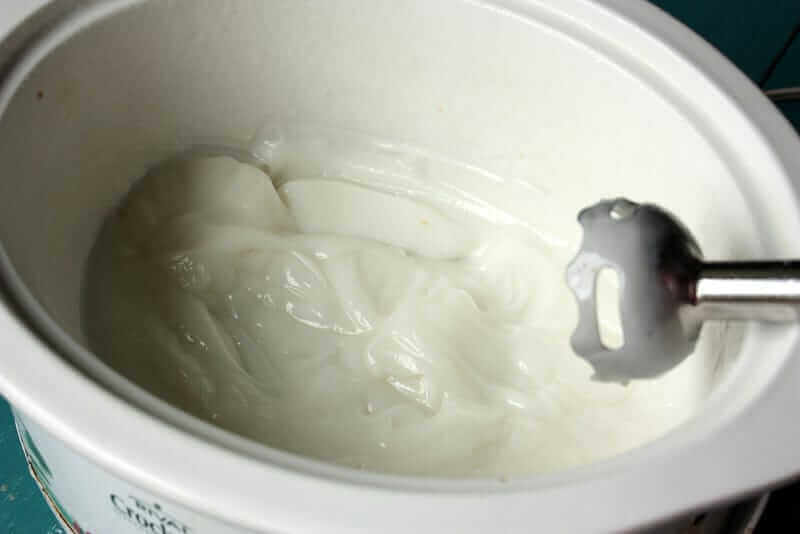 Step 6: Cover and cook on low for approximately 45 minutes – 1 hour. During this process the oils should rise up the sides like a wave and then fold back into the mixture. Mine usually takes 45 minutes, but the cooking time will vary depending on how hot your crock pot is. Check on it often.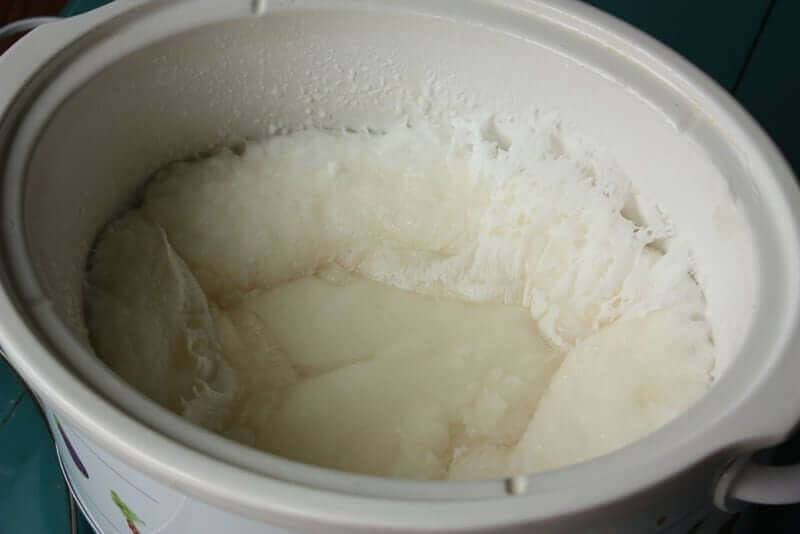 Step 7: When the soap is ready it should look a little like semi-translucent vaseline with no oil puddles in the middle. There are two ways to test and see if it's done. First, dip a PH test strip and wait several minutes for it to fully change color. It should be between 7-10. If it is higher than 10 it needs to cook some more. A more informal approach is to take a little of the soap and rub it between your fingers. It should feel a bit waxy. Then touch it to your tongue – if it 'zaps' you, it's not done. Note: It is really important to make sure all the lye is converted – otherwise the finished soap can burn!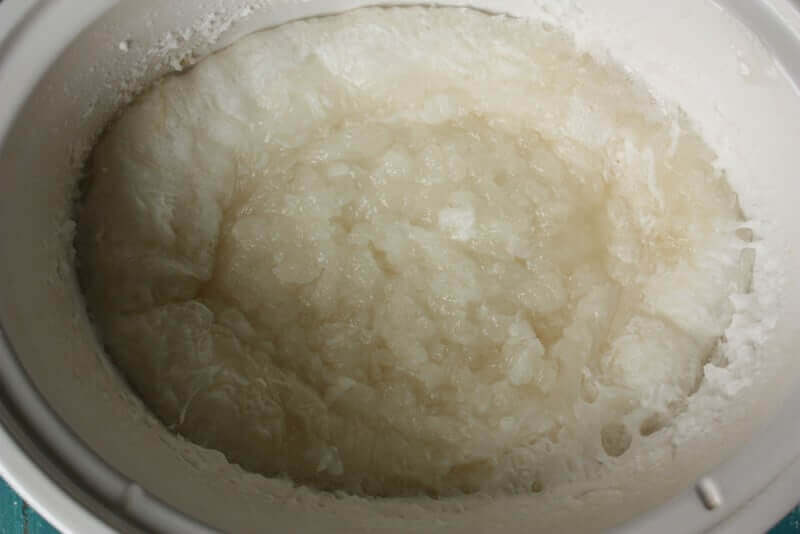 Step 8: If you're adding essential oils, do that now. (I skipped this, so no photo!)
Step 9:  Spoon mixture into your mold and let cool.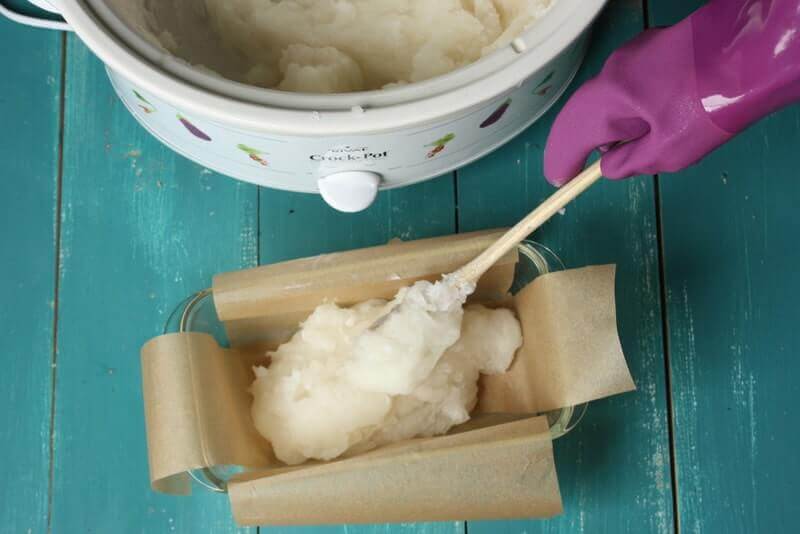 Step 10: Unlike other bars which need to harden for 24 hours before being cut, coconut oil makes a very hard bar that will be difficult to cut if you let it dry too long. Cut as soon as it's cool and firm.
Step 11: In an area with good air flow, place bars on a rack/tray with about an inch of space between them. Allow them to dry out and harden for another few days. Though you can try your first bar right away, it's best to let them sit for 2-3 weeks to let the conditioning properties fully develop.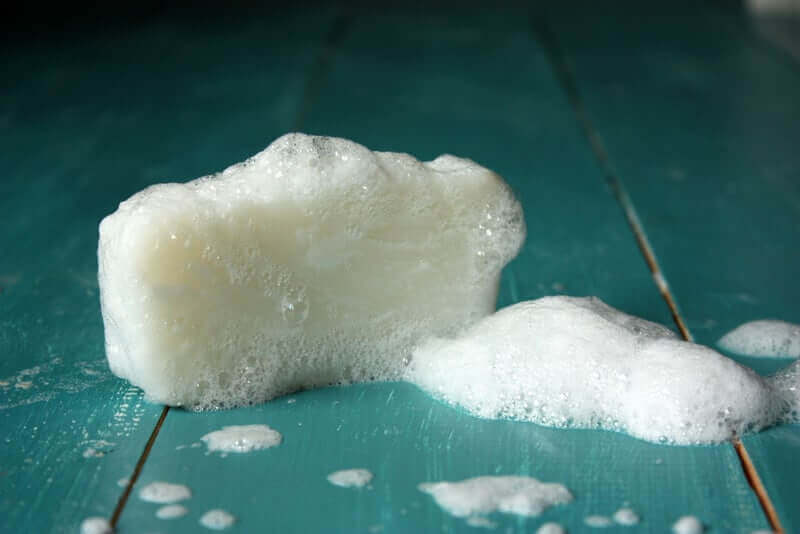 Shelf Life
2+ years when stored in a cool, dry place.
FREE Ebook: DIY Body Care Gifts Made Simple
Do you want to give gorgeous, handcrafted gifts for family and friends, without spending a bunch of time on them?
Then I'd love to give you a free copy of DIY Body Care Gifts Made Simple – my step-by-step guide to making gorgeous handcrafted gifts without stressing yourself out – as a gift for signing up for my newsletter. I'll show you how to make vintage labels, luxurious lotion bars, lip balms, sugar scrubs, body sprays and more like a pro. Sign up for my newsletter and you'll be redirected to the download page immediately!