I Wash My Hair With Mud
And I clean my face with oil. Seriously, I couldn't make this stuff up if I tried.
The thing is, in an age where ramen noodle spa bath's are not out of the question, the fact that a seemingly illogical beauty treatment exists is not really saying much. So, rather than try to prove to you that washing with mud just might be something you should consider, I'll just show you. And yes, it's ridiculously easy.
Me: Pre-Mud Wash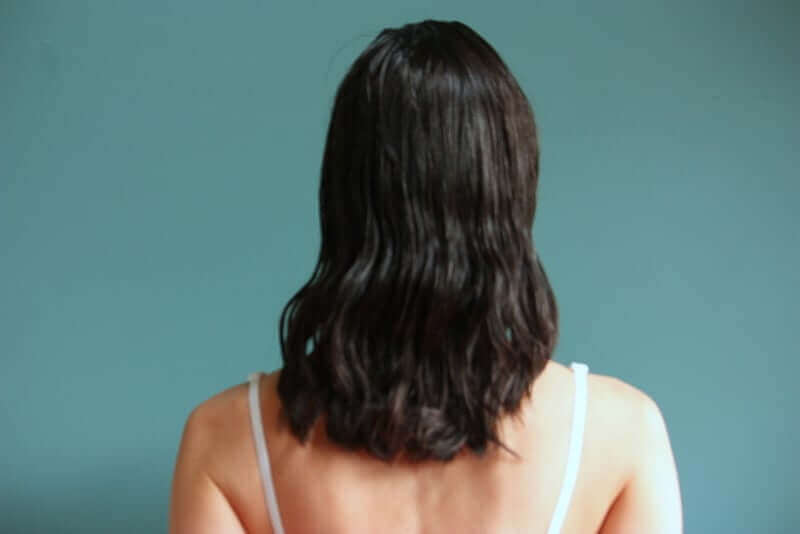 Note: My hair didn't look dirty enough in the first photo I snapped, so I **may** have drizzled oil on my head for dramatic effect. Not a great idea unless you want to wash a few extra times.
Me: Mid-Wash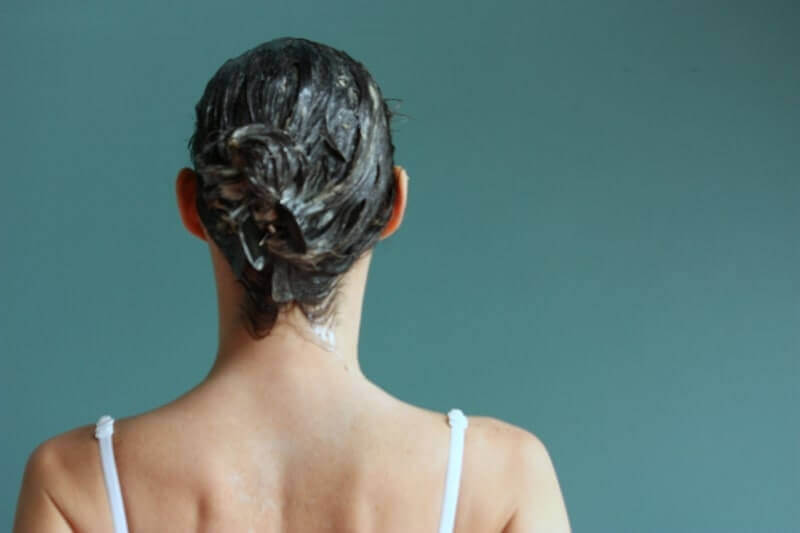 Me: Post-Wash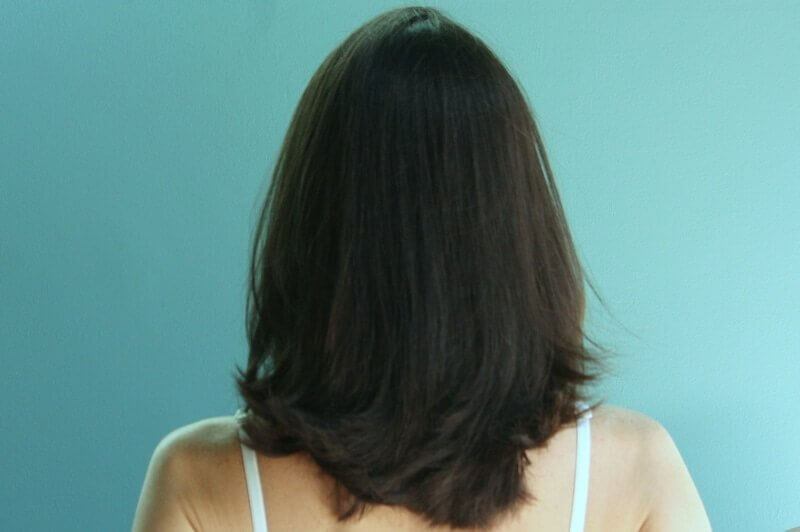 Now, are you ready find out how easy this is?
How To Wash Your Hair With Clay
There are a few things you need to know before getting started. First, store bought shampoos usually have a pH level of around 5-6, which closely matches your hair's natural pH. While this is a good thing, it is most often achieved using toxic surfactants such as sodium lauryl sulfate.
Clay, on the other hand, has a much higher pH which can leave hair dull and gummy. Fortunately it's very simple to restore your hair's natural pH after washing – simply follow with the shine boosting rinse listed below!
Another consideration when transitioning to natural shampoo is the use of silicone in many commercial brands. Silicone coats the hair much like plastic to give it slip and shine. If you have been using a shampoo with silicone or other chemicals your hair will need to detox – a process that can take up to a few weeks depending on the types of product previously used. During this process hair can feel very dry and tangle easily. As the follicles shed the coating they will begin to be able to drink in moisture, but this can take time.
Also, keep in mind that your hair's needs can change over time. I alternate between this and my other homemade shampoo's based on the needs of my hair. If it is feeling a little dry I use Sweet Orange & Honey shampoo from my ebook. If it is feeling a little oily I use the clay.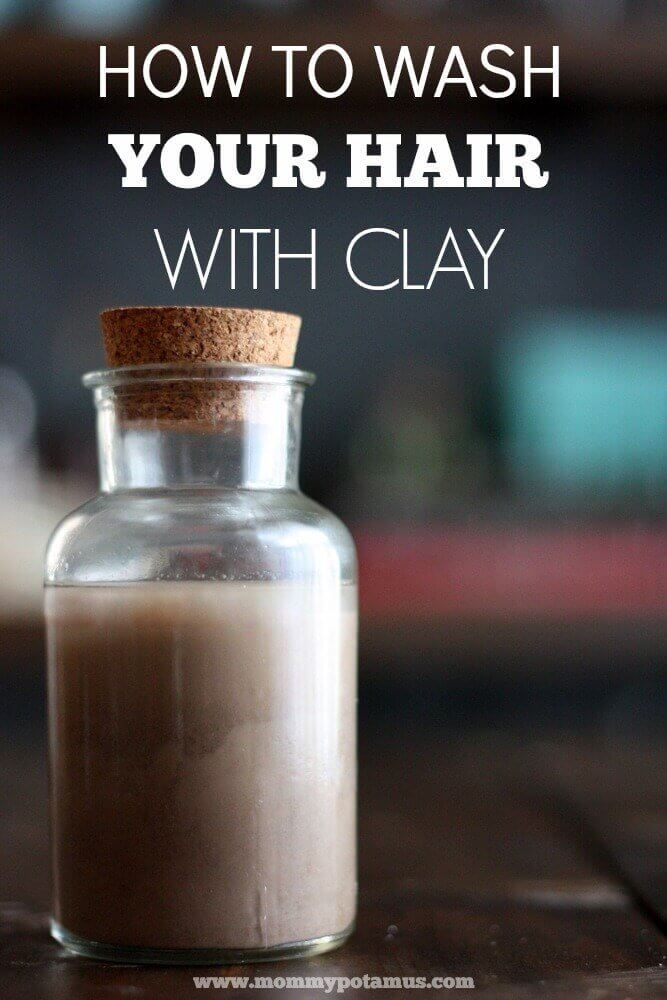 Selecting Your Clay
When deciding what clay to use for your mud wash here are some things to keep in mind:
Rhassoul clay yields the best results in my opinion – it leaves hair with the best texture and is less drying than other clays. It is not usually available in health food stores, but you can easily find it online.
Bentonite clay is widely available and works okay, but it can be a drying if left on too long. Also, it can leave a certain texture on the hair that I am not fond of. For the easiest application, either buy it in liquid form or give your hand mixed concoction a whir in the blender before heading off to wash. Otherwise it can be a bit clumpy. I recommend giving this method a try with bentonite if you have it on hand and then switching to rhassoul if you decide it's something you'd like to use long term.
Step 1: Mix Up Your Mud Wash
Water is best for frequent use, but apple cider vinegar can be substituted for an extra deep clean. How much you'll need will depend on the length and thickness of your hair. I use about 1-2 tablespoons of rhassoul for my medium length, thick hair. The consistency should roughly resemble an egg yolk.
Quick Tip: If your clay tends to clump toss it in the blender beforehand.
Step 2: Apply
Wet hair thoroughly and then wring it out. Dip the ends of your hair in the container with your mud mixture and then pour the remaining wash over your head and work it through to the tips (this just helps with even distribution). Let your hair sit for about 5 minutes – you can adjust this as you figure out what works best for your hair. When I wash every day about 2 minutes is right – otherwise it starts to dry out my hair. When it's every 2-3 days about 5 minutes works better.
Rinse until the water runs clear and then . . .
Step 3: Follow With My Shine Boost Rinse
This simple rinse helps to close the hair cuticle and restore pH.
Ingredients
¼ – ½ cup apple cider vinegar or distilled white vinegar and enough filtered water to bring vinegar mixture to 1 cup.*
8 drops essential oil – rosemary and peppermint work well for most hair types.
* Vinegar derived from non-organic sources is likely to either be a product of GMO corn or petroleum.
Quick Tip: If your hair looks a little "matte" after washing (like mine does in the photo above because I overcompensated for the oil), you may want to use straight vinegar
To Use
Blend ingredients in a clean contain. Pour about 1/2 cup over hair and allow to sit for 2-3 minutes, then rinse. Cool water is best because it helps the hair cuticle close, but warm is okay.
Questions?
I imagine some of you are wondering if this wash is safe to use on color-treated hair. According to one manufacturer who makes a similar clay wash it will strip commercial dyes but not henna-based dyes. I have not tested this.
If you have another question please leave it below!
FREE Ebook: DIY Body Care Gifts Made Simple
Do you want to give gorgeous, handcrafted gifts for family and friends, without spending a bunch of time on them?
Then I'd love to give you a free copy of DIY Body Care Gifts Made Simple – my step-by-step guide to making gorgeous handcrafted gifts without stressing yourself out – as a gift for signing up for my newsletter. I'll show you how to make vintage labels, luxurious lotion bars, lip balms, sugar scrubs, body sprays and more like a pro. Sign up for my newsletter and you'll be redirected to the download page immediately!