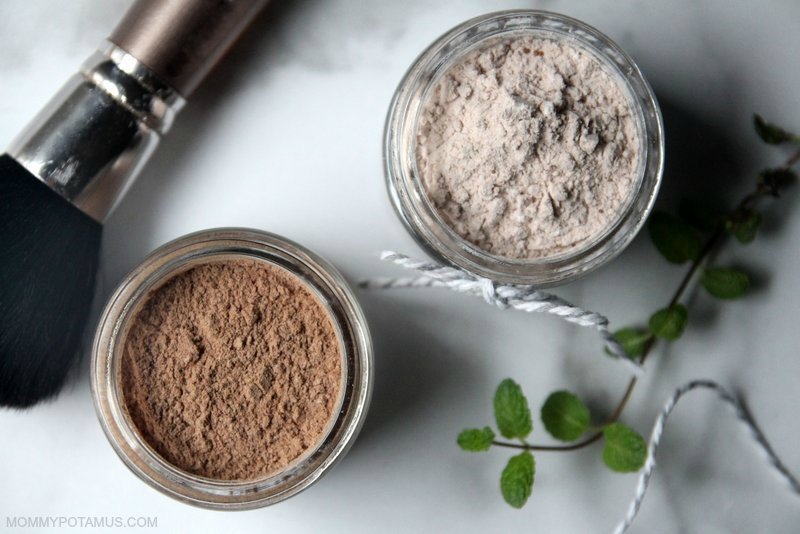 Today I'm sharing my two-ingredient DIY dry shampoo recipe, which is my go-to on days I need to get dressed in ten minutes flat while simultaneously locating a pair of lost shoes and stating for the 87th time that pants are not optional. Because yeah, on those mornings lathering up with my coconut oil shampoo bar is optional . . . I opt to skip it and be on time.
That's why I love this recipe – it's my secret weapon for "washing" my hair on days I have to skip the suds. Made with just a couple of ingredients you probably already have in your pantry, dry shampoo can transform greasy hair into locks that feel fresh and full of body.
I keep a jar on my bathroom counter and one in my purse, just in case I end up running to everyone I know on the days I rushed out of the house. (Does that always happen to you, too?)
So, what is dry shampoo?
Basically, it's a powder or spray that works by absorbing excess oils on your scalp and hair, leaving your hair looking freshly washed. It's good for all hair types – oily, normal, and even dry when used sparingly. I use it as an alternative to traditional shampoo when I'm camping, traveling, or just busy.
Below you'll find two basic recipes based on hair color. The reason for different formulations is that the recipe for light hair can leave a visible white tint on dark hair until it fully absorbs. Even though my hair is super dark I have successfully used the lighter formula, but I have to apply it before bed instead of in the morning so that my roots have time to soak it up.
On the flipside, people with light hair will want to avoid the dark hair formula because it can temporarily tint their roots brown.
Below you'll find both of my two-ingredient recipes – which will take less than five minutes to make – plus an FAQ section based on the most common questions I've received about dry shampoo over the years.
What To Buy When You Don't Want To DIY
If you don't keep the ingredients needed to make dry shampoo on hand or are not a fan of cocoa-scented products, this is a great option with a fresh scent and safe ingredients.
DIY Dry Shampoo Recipe for Light or Dark Hair
These easy DIY dry shampoo recipes work for light or dark hair. You'll only need two ingredients, and you probably already have them in your pantry.
Equipment
mixing bowl

spoon

airtight jar
Ingredients
DIY Dry Shampoo Ingredients For Dark Hair
DIY Dry Shampoo Ingredients For Light Hair
Instructions
Add arrowroot powder/cornstarch and cacao/cocoa powder to a bowl and stir the ingredients until they are thoroughly combined. (If you want to add 9-12 drops of lavender or tea tree essential oil, mix them in as well)

Transfer your dry shampoo to an airtight jar for storage. See the section below for instructions on how to use dry shampoo.
Notes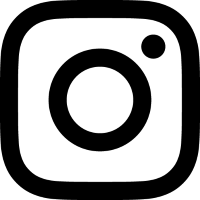 Tried this recipe?
Mention @mommypotamus or tag #mommypotamus!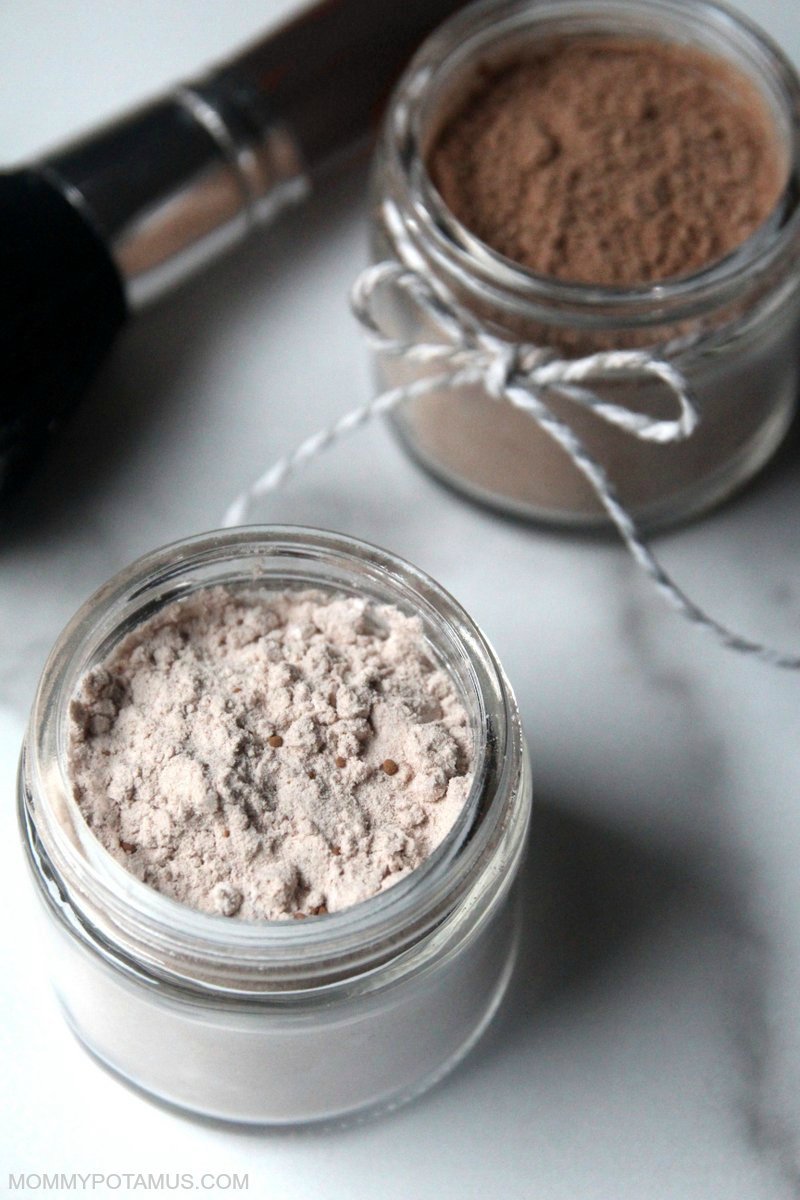 How To Use Dry Shampoo
Before we get started, let me share my best dry shampoo tip with you: LESS IS MORE. Over-application can make your hair difficult to work with and/or look chalky. When used properly, though, it lifts while creating a beautiful texture.
To Apply: Dip your makeup brush in dry shampoo, then tap to remove any excess powder. Most people recommend that you divide your dry hair into sections and apply the dry shampoo to your roots, moving from the crown of your head down. I've found that it's actually a pretty forgiving process that doesn't require much fuss, so here's what I personally do:
First, I grab the makeup brush and apply dry shampoo to the roots around my forehead and temples. This is typically the area that needs the most volume. Next, I flip my head over and use the brush to apply it to the rest of my scalp.
After that, allow the powder to set for 2-3 minutes, then brush your hair from root to tip. This helps to distribute the powder throughout your hair as well as remove any excess.
Now, run your fingers through your hair and look for oily places you may have missed. Spot apply as needed, then brush again. Ideally, you'll want to give your hair 5-10 minutes to fully absorb the shampoo before styling, but if you're in a rush go ahead and style immediately.
Frequently Asked Questions
Below are answers to some of the most common questions I've received about dry shampoo over the years.
Why make my own dry shampoo instead of buy it?
I make my own because it's so quick and affordable. Also, many dry shampoo products contain ingredients such as talc, parabens, phthalates, isobutane, which have been linked to cancer and hormone disruption.
Can I add essential oil?
Yep. Many store-bought products use lavender essential oil, tea tree essential oil, or another oil in their formulas. It can definitely make the scent more appealing if you feel like the cocoa powder is a bit overpowering.

Something to be aware of, though, is that since it's a dry powder instead of an oil-based product the essential oils more prone to oxidation. Oxidized essential oils can irritate the scalp, so if you have very sensitive skin or think it will take you a super long time to use up a batch you may want to skip them.

With that said, the amount 'd recommend for a full batch (9-12 drops of essential oil) is pretty small and most likely won't cause an issue either way.
How often can I use homemade dry shampoo?
Most sources I have read say it's best to use 1-2 days in a row (3 at the most) before washing.
Can I use baking soda as a dry shampoo?
Some formulas, including the organic dry shampoo above, use baking soda in their formulas. It works well for some people but can cause scalp irritation for others. Because there are so many other ingredients that work just as well, I haven't experimented with using it in my recipes and therefore can't offer any guidance on how much to use in a batch.
Can I use baby powder as a dry shampoo?
Yes, but I'd opt for something like this Goddess Garden Organic Baby Powder that is talc-free. Here's why:

Johnson & Johnson is fighting over 15,000 lawsuits which claim that the talc in their products was contaminated with asbestos. Many plaintiffs later developed cancer which they say was caused by the exposure.

The company says that its product is safe but recently recalled some baby powder due to "trace" asbestos contamination.

Also, the other main ingredient in some popular baby powders is "fragrance," which can include a variety of endocrine disruptors.
FREE Ebook: DIY Body Care Gifts Made Simple
Do you want to give gorgeous, handcrafted gifts for family and friends, without spending a bunch of time on them?
Then I'd love to give you a free copy of DIY Body Care Gifts Made Simple – my step-by-step guide to making gorgeous handcrafted gifts without stressing yourself out – as a gift for signing up for my newsletter. I'll show you how to make vintage labels, luxurious lotion bars, lip balms, sugar scrubs, body sprays and more like a pro. Sign up for my newsletter and you'll be redirected to the download page immediately!