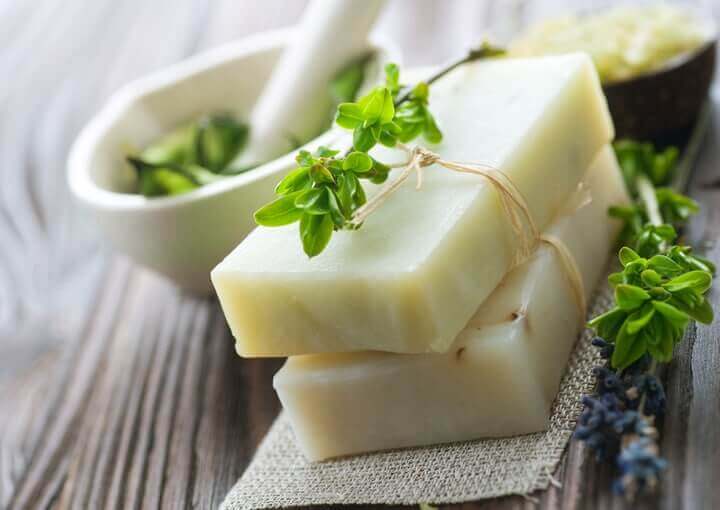 Okay, so I heat the oils to match the temperature of the lye solution, sprinkle in a little fairy dust, hop up and down three times and bark like a seal?"
The first time I stood in my kitchen and tried to make soap, I'm pretty sure that's what my instructions said. Soap making seemed just slightly less difficult than building a functional car out of raisins, and I wasn't sure my trusty crockpot and I were up for the challenge.
There are so many myths about soap making, like whether or not the mixture needs to reach "gel stage" and how long bars of freshly made soap need to cure. But, really, the biggest myth of all is…
Myth #1: Making Soap Is Difficult
According to Anne Watson, author of Smart Soapmaking, the extensive details given in soap making instructions are there so you won't be left wondering about anything. She writes that "If you were describing how to make pancakes, you could write pages of details. That doesn't mean it's hard to make pancakes." And she's right. My trusty crockpot and I made it through just fine, and chances are yours is up for the task as well.
Of course, sometimes instructions include myths that do make soap making seem difficult. Anne covers a lot of them in her book, which I highly recommend. Here are a few of the most common ones: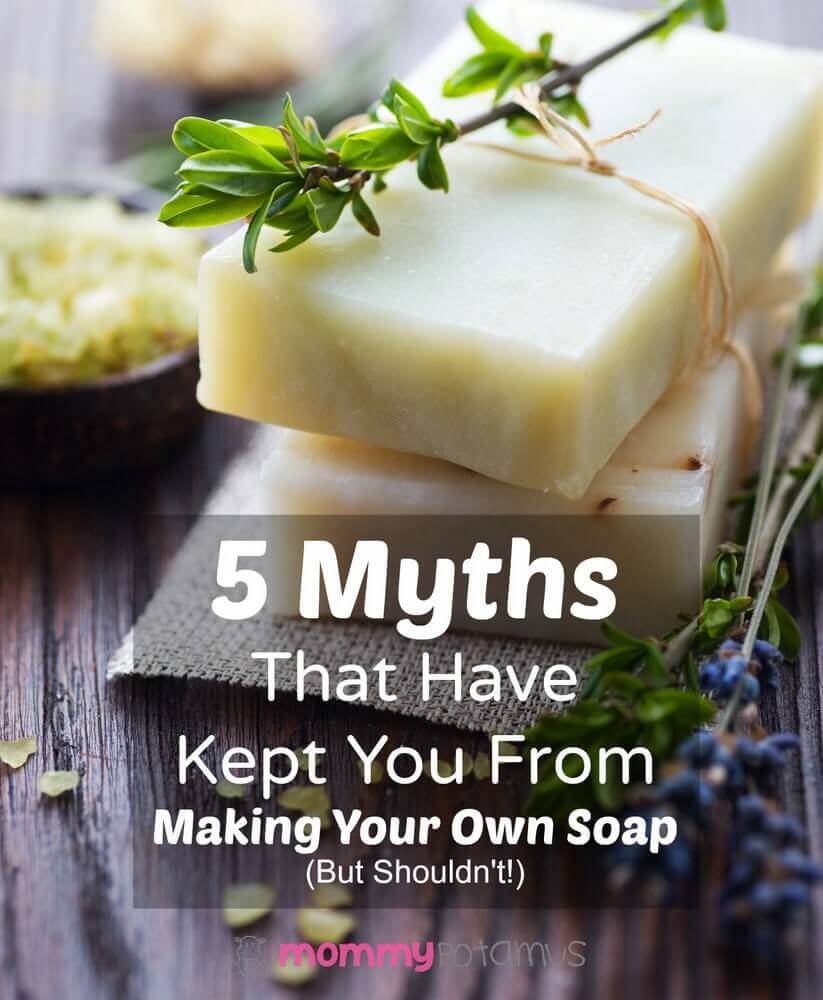 Myth #2: You Can Make Soap Without Lye
So here's the skinny on fats and lye: Both are needed to cause a chemical reaction called saponification – aka making soap. As Marie of Humblebee & Me put it, making soap without lye "is like trying to make a baking soda and vinegar volcano without the vinegar. No vinegar and you've just got a pile of baking soda. No lye, and you've just got a bucket of fat."
Unlike modern chemicals, lye is a naturally occurring substance that has been used for thousands of years. (source) When our great-grandmothers made soap, they got their lye by burning hardwood ashes. Unfortunately each batch was a little different, so it was hard to know exactly how much to mix into a recipe. If too much lye is used, some would be left over in the final product, which could burn skin. If too little lye is used the "soap" would be mostly oil.
These days soapmakers buy lye from the store, which is exactly the same each time. Using store bought lye ensures that recipes work out right.
Myth #3: Soap Making Is Dangerous
Whenever I share a soap recipe, I always get a few comments from people who don't want to "mess around with lye." Apparently Anne does, too, because here's what she had to say:
"I don't know why, but nearly everyone says 'mess around with lye,' as if soapmaking involved slinging the stuff all over the place. I assure you, it doesn't. You stir some lye into water, and mix the lye solution with fat. I have yet to make a mess doing that. And I have yet to get burned.
Of course, you can. If you're careless with lye, you may well get hurt. If you're careless riding a bicycle, you may get hurt, too. This doesn't keep many people from riding bicycles. It just makes them take reasonable care when they ride. They wear protective gear and pay attention to what they're doing."
I treat lye like I would undiluted bleach (if we used it). I wear long sleeves, gloves and protective eye gear. I store it out of reach of children and pets, and do not leave it unattended when I'm making soap. I also make sure I can devote my full attention to what I'm doing, so I wait until the potami are napping or spending time with my husband.
Myth #4: You Need Lots Of Special Equipment To Make Soap
"Aside from a couple of special items, soapmaking uses more or less the same tools that cooking does. Many soapmakers use their regular kitchen equipment, and do it safely. Yes, you're using lye, but lye isn't plutonium. It's easily neutralized, diluted, and removed. If you wash your equipment carefully, there's no reason not to use your kitchenware. 'Carefully' is the key word here – you don't want soap in the soup, or soup in the soap." (Source: Smart Soapmaking)
So what is a careful approach? Here's what Anne recommends:
1. Leave your protective clothing/glasses on while you wash your utensils by hand before loading them into the dishwasher. Don't skip the initial rinse unless you want to turn your floor into a sudsy slip-n-slide. (Which, to be fair, is seriously fun. Ask me how I know.) If you're not using a dishwasher, wash everything twice, making sure to thoroughly rinse any pot handles and rims.
2. Wipe down your work area with vinegar and a paper towel.
3. Wash your hands thoroughly with your gloves still on, then remove them along with your goggles.
Here's one thing I would add: Anne's recipes are for hot process soap, which does not use a crock pot. For hot process recipes that do, it may be wise to have a dedicated one just for making soap, because over time the lye solution may wear down the enamel. I used my normal crock pot for years without having this problem, but I have heard it may happen.
Myth#5: You Need Lots Of Exotic Ingredients To Make Soap
Totally not true. My coconut oil soap recipe calls for just three ingredients, and most of the other recipes I use aren't fancy either.
Bonus Myth: You Don't Need To Make Soap
Okay, yeah, you can technically buy it at the store. But seriously, you need to do this at least once. If not because handmade soap is oh-so-much better, then at least because when you give some away as a gift people will look at you like you built a car out of a box of raisins.
Here are some soap recipes to try:
FREE Ebook: DIY Body Care Gifts Made Simple
Do you want to give gorgeous, handcrafted gifts for family and friends, without spending a bunch of time on them?
Then I'd love to give you a free copy of DIY Body Care Gifts Made Simple – my step-by-step guide to making gorgeous handcrafted gifts without stressing yourself out – as a gift for signing up for my newsletter. I'll show you how to make vintage labels, luxurious lotion bars, lip balms, sugar scrubs, body sprays and more like a pro. Sign up for my newsletter and you'll be redirected to the download page immediately!