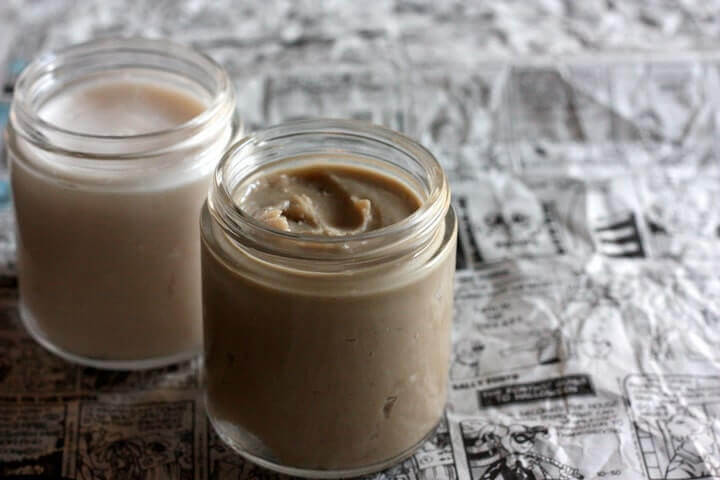 Rashes Are The Pits
And unfortunately, my beloved "man stink killer" deodorant recipe can sometimes cause irritation for people with sensitive skin. Why is that, and is it really all that important to ditch the store-bought stuff anyway?
Why, I'm so glad you asked. 
Why Conventional Deodorants Stink
I could write a whole post about why I ditched the store-bought stuff (and maybe I will!), but here's one reason:
Breast cancer most often occurs in the upper outer quadrant – just under where women rub deodorant on. In a 2012 study, 99% of breast cancer samples analyzed contained parabens – a common ingredient in deodorants. Some say there is no link and that the increased rate of cancer in this quadrant is because it contains the most epithelial tissue.
However, it is interesting that in places like Scotland, the rates occurring in the upper outer quadrant went from 38.3% in 1980 to 54.7% in 2001. "Any increase in the disproportionality of breast cancer in the upper outer quadrant would be inconsistent with an explanation relating to the greater amount of target epithelial tissue in that region but does parallel the increasing use of cosmetics in the underarm area," write the study's authors. (source, emphasis mine)
And then there's this: According to the Campaign For Safe Cosmetics, parabens "are known to disrupt hormone function, an effect that is linked to increased risk of breast cancer and reproductive toxicity. Parabens mimic estrogen by binding to estrogen receptors on cells. They also increase the expression of genes usually regulated by estradiol (a natural form of estrogen); these genes cause human breast cancer cells to grow and multiply in cellular studies [9]. Parabens are also linked to cancer, reproductive toxicity, immunotoxicity, neurotoxicity and skin irritation [10]."
Personally, I think it's worth it to make my own in just a few minutes. It's inexpensive and I can use safe, food-grade ingredients I already have in my pantry.
But What's The Deal With Homemade Deodorant Causing Rashes?
Remember that saying, "Strong enough for a man, but ph balanced . . . "
You totally finished that sentence, didn't you? Well, it's true. Underarm rashes are often caused by a pH imbalance – a disruption in the naturally occurring acid mantle that acts as a skin barrier to bacteria and viruses. (source) Women tend to have a slightly lower pH than men, but all of us are in the range of 4.5 to 6.2, which is acidic. (source 1, source 2) Sometimes homemade deodorant is too alkaline for our personal pH, but no fear! The recipes below have a pH that is more compatible with sensitive skin.
Sometimes, though, it's a detox reaction rather than a pH issue. Though our primary detox pathways are through the liver, kidneys, colon and lymph system, our skin and lungs also assist with detoxification. It makes sense that if we've been applying a deodorant containing parabens, aluminum, propylene glycol, and/or triclosan, our body may begin working to eliminate it once we switch. If you think this might be your issue, my friend Katie of Wellness Mama has a great article on how to detox your armpits.
Lastly, in some instances, it's an allergic reaction. For example, some folks who are unknowingly sensitive to corn may have trouble with a cornstarch-based deodorant.
Fortunately, the soothing recipes below are helpful no matter the reason.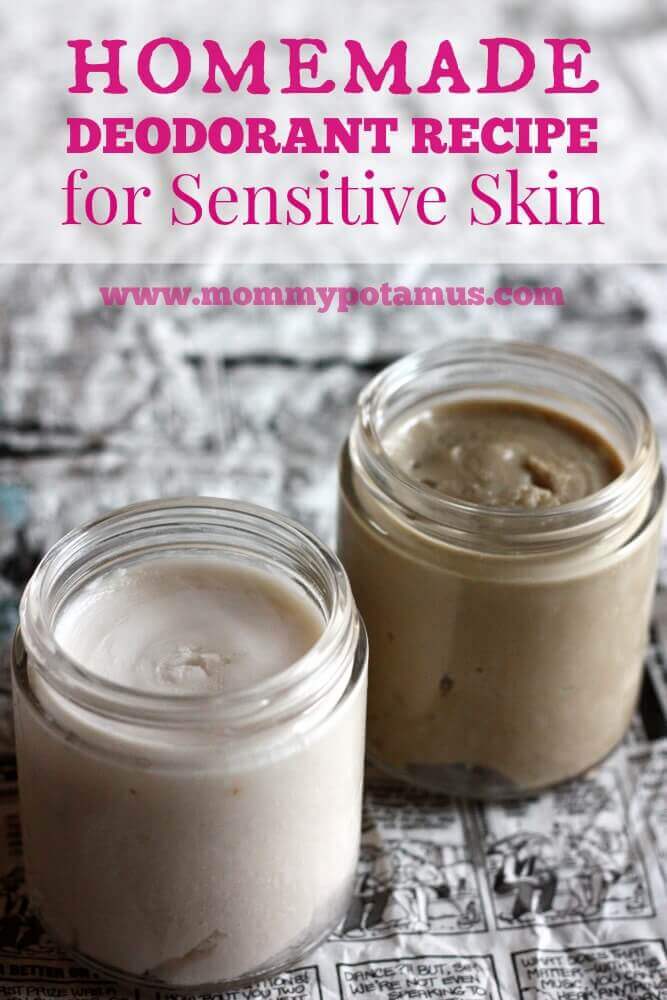 Homemade Deodorant For Sensitive Skin ~ Basic Recipe
This is my tried-and-true man-stink killer recipe with a few tweaks. You probably have the ingredients needed to make in your pantry right now.
Ingredients
3/4 cup arrowroot powder/non-GMO cornstarch
1/4 cup baking soda
4-6 tablespoons melted coconut oil
Instructions
1. Combine baking soda and arrowroot powder/cornstarch.
2. Add four tablespoons melted coconut oil and mix with a fork. Continue adding coconut oil until the deodorant reaches your preferred consistency.
3. Transfer mixture to a jar with a tight fitting lid.
To Use
Apply a small amount to underarms with your fingertips as needed.
Homemade Deodorant Recipe For Sensitive Skin (Baking Soda Free)
This is a gentle formula that works well for those that are sensitive to baking soda. Diatomaceous earth is a powder made from fossilized phytoplankton. It's rich in silica and highly antimicrobial, which is why it works so well. It's pH can vary depending on where it is sourced from, but it is typically lower than baking soda.
Ingredients
Instructions
1. Combine diatomaceous earth and arrowroot powder/cornstarch.
2. Add six tablespoons melted coconut oil and mix with a fork. Continue adding coconut oil until the deodorant reaches your preferred consistency.
3. Transfer mixture to a jar with a tight fitting lid.
To Use
Apply a small amount to underarms with your fingertips as needed.
Want a FREE Ebook Full of Homemade Body Care Gift Tutorials?
Do you want to give gorgeous, handcrafted gifts for family and friends, without spending a bunch of time on them?
Then I'd love to give you a free copy of DIY Body Care Gifts Made Simple – my step-by-step guide to making gorgeous handcrafted gifts without stressing yourself out – as a gift for signing up for my newsletter. I'll show you how to make vintage labels, luxurious lotion bars, lip balms, sugar scrubs, body sprays and more like a pro. Sign up for my newsletter and you'll be redirected to the download page immediately!