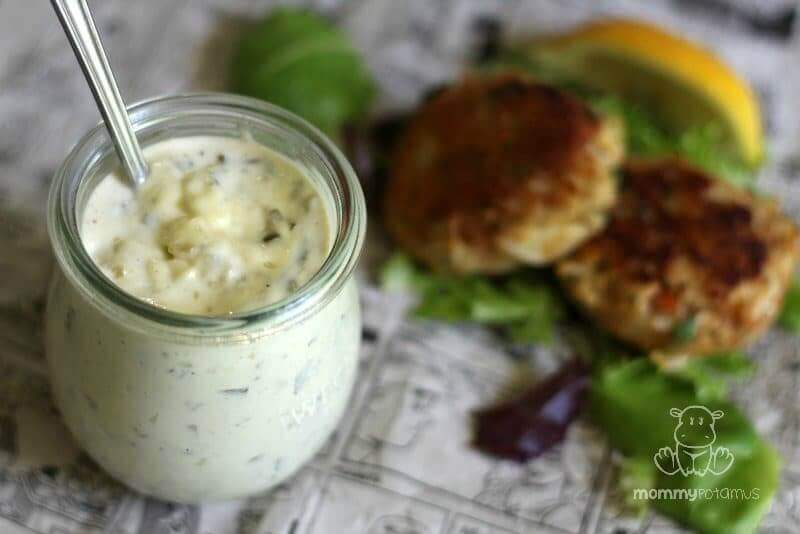 In my house, this quick ketchup practically makes recipe fails launch themselves into the mouths of the my kids, but my husband is not a superfan. His favorite condiments all center around one quality- creaminess. Whether it's homemade ranch dressing, chipotle mayo or tartar sauce served over paleo crab cakes, creamy wins every time.
This real food version of tartar sauce holds a lot of memories for him – long ago cafeteria dinners with his grandma where a balanced meal consisted of fried fish, steamed corn, macaroni, and a dinner roll. Not exactly a well-balanced meal, but the memories are priceless.
As a boy, he wasn't an adventurous eater. But you could get him to try almost any seafood with a dab of tartar sauce. Though he's pretty much willing to try anything these days, there's still a certain magic to this beloved staple. I hope your family loves it as much as we do.
Tartar Sauce Recipe
Instructions
Mix all ingredients together and serve.
Nutrition
Calories:
0
kcal
|
Carbohydrates:
0
g
|
Protein:
0
g
|
Fat:
0
g
|
Saturated Fat:
0
g
|
Polyunsaturated Fat:
0
g
|
Monounsaturated Fat:
0
g
|
Trans Fat:
0
g
|
Cholesterol:
0
mg
|
Sodium:
0
mg
|
Potassium:
0
mg
|
Fiber:
0
g
|
Sugar:
0
g
|
Vitamin A:
0
IU
|
Vitamin C:
0
mg
|
Calcium:
0
mg
|
Iron:
0
mg