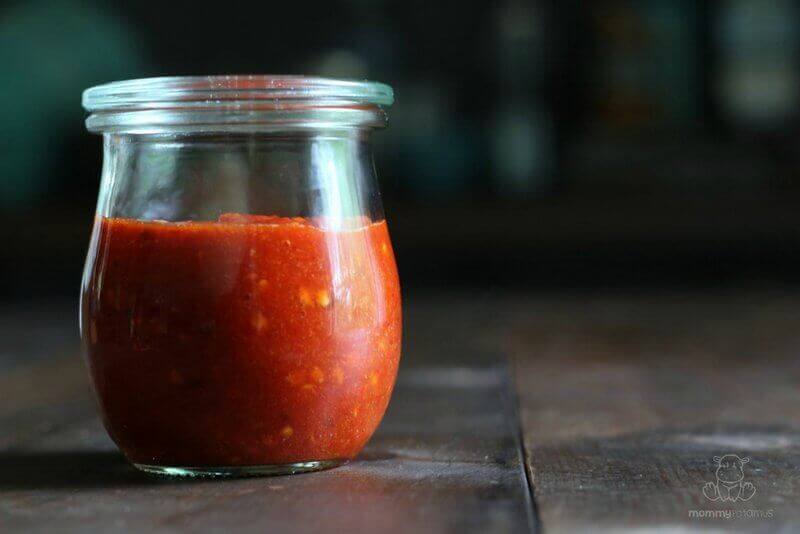 To the pyro-gourmaniacs, the lovers of all things that tickle the tongue with fiery goodness, I come with a gift. This simple hot sauce recipe is perfect over burritos, eight layer dip, and even eggs, but that's not the only reason to love it.
In addition being rich in capsaicin – which is though to be anti-inflammatory, helpful for relieving pain, and immune boosting – it will make you more athletic.
I mean cooperative. Or empathetic. Or something.
I should probably back up here. According to Epicurious.com, a "recent study indicated that people who ate a very spicy bird's eye chile pepper prior to playing a game were more motivated to work as a group, even if it meant winning less money for themselves."
The idea is that they developed a sense of camaraderie by going through something intense together. So if you're up for that, make this sauce to share with someone you love. (Or better yet, if you haven't finished your own plate in years because it always looks more delicious than the identical thing on everyone else's plate, slather it on and cross your fingers that no one else can take the heat. See how diabolical I am? Muahahahahaha.)
Or just make it because it rocks. Seriously, I barely got the final jar photographed before I inhaled it. Yum!
Homemade Hot Sauce Recipe
Ingredients
1

lb

peppers

(I like to blend red chilis with something slightly spicier)

4 -6

cloves

garlic

6

tbsp

vinegar

2

tbsp

lime juice

2

tsp

rapadura

(or sub honey / maple syrup)

1

tsp

sea salt

(to taste)

1

pinch

cayenne pepper

(to taste)
Instructions
Pop peppers into the oven and broil on high until the top of the outside is black and blistered – mine usually take about 10-12 minutes.

Gently tug on the stems – the tops will come right off. Then pinch the blistered skin and peel it away. If desired, de-seed them to reduce the heat of the final product. (I didn't and my sauce wasn't overly spicy, but I sometimes do if the peppers are particularly hot.)

Add peppers, vinegar, lime juice, sweetener (rapadura, honey, or maple syrup), salt and four cloves of garlic to a food processor and puree until smooth.

Taste and add optional cayenne pepper and additional salt and sugar, and extra cloves of garlic if desired.

Transfer mixture to a clean jar with a tight-fitting lid and store in the fridge for up to one month.
Nutrition
Calories:
0
kcal
|
Carbohydrates:
0
g
|
Protein:
0
g
|
Fat:
0
g
|
Saturated Fat:
0
g
|
Polyunsaturated Fat:
0
g
|
Monounsaturated Fat:
0
g
|
Trans Fat:
0
g
|
Cholesterol:
0
mg
|
Sodium:
0
mg
|
Potassium:
0
mg
|
Fiber:
0
g
|
Sugar:
0
g
|
Vitamin A:
0
IU
|
Vitamin C:
0
mg
|
Calcium:
0
mg
|
Iron:
0
mg