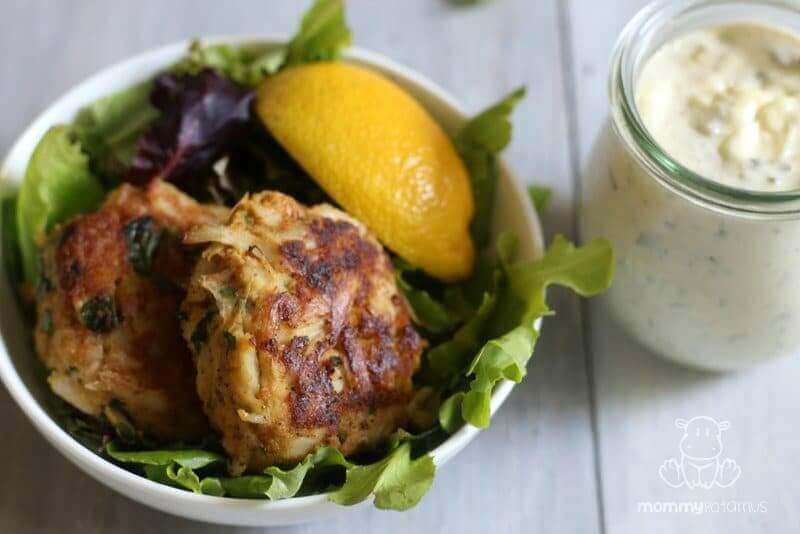 Most days my husband and I stick to local fare, like egg drop soup made from the golden-yolked goodness our hens lay, but when he wants to see me do my happy dance (which sadly, is a cross between the funky chicken and macarena), he brings home something special.
Like crab. And crab. Oh, and crab.
Because, yeah, seafood is my love language.
My husband knows that, which is why he put two pounds of crab and a vat of clarified butter in front of me on the night he asked me to marry him, and why he's put up with my sometimes hilariously disastrous attempts to recreate real-food versions of old restaurant favorites. (Purple fondue, anyone?)
Fortunately, his patience has paid off in the form of blackened shrimp and scallop fondue, shrimp bisque, blackened salmon with pineapple salsa, shrimp creole, and now crab cakes.
As you may have noticed, seafood is not cheap, so it's taken years to get things right. Fortunately, now that we save more on staples with Thrive Market we can prepare more special meals while staying within our budget.
This recipe is an ode to my particular love for the the moist, tender texture of authentic Maryland crab cakes dipped in creamy tartar sauce. The secret is coconut flour, which keeps them together without the heaviness of breadcrumbs. Full of lemon zest and bright, fresh herbs, we love them served over lettuce with homemade tartar sauce on the side.
Crab Cake Recipe (Gluten-Free, Paleo)
Instructions
Combine the crab meat in a large bowl with the mayonnaise, mustard, lemon juice and zest, coconut aminos, apple cider vinegar, spices, salt, and herbs. Mix gently with your hands until well combined, taking care not to break up the lumps of crab up too much. Mix in egg and coconut flour. Refrigerate mixture for 30 minutes to an hour so flavors can combine.

Just before cooking, preheat oven to 350 degrees and line a baking sheet with parchment paper.

Heat a tablespoon of coconut oil in a skillet over medium heat. Form crab batter into fairly compact 1/4 cup patties and when oil is hot, taking turns, carefully place crab cakes in pan and fry until browned, about 3 minutes. Carefully flip crab cakes and fry on other side until golden brown, about 3 minutes. Place on baking sheet and put in oven to cook through, 5 minutes. Serve with homemade tartar sauce or lemon on the side.
Nutrition
Calories:
0
kcal
|
Carbohydrates:
0
g
|
Protein:
0
g
|
Fat:
0
g
|
Saturated Fat:
0
g
|
Polyunsaturated Fat:
0
g
|
Monounsaturated Fat:
0
g
|
Trans Fat:
0
g
|
Cholesterol:
0
mg
|
Sodium:
0
mg
|
Potassium:
0
mg
|
Fiber:
0
g
|
Sugar:
0
g
|
Vitamin A:
0
IU
|
Vitamin C:
0
mg
|
Calcium:
0
mg
|
Iron:
0
mg