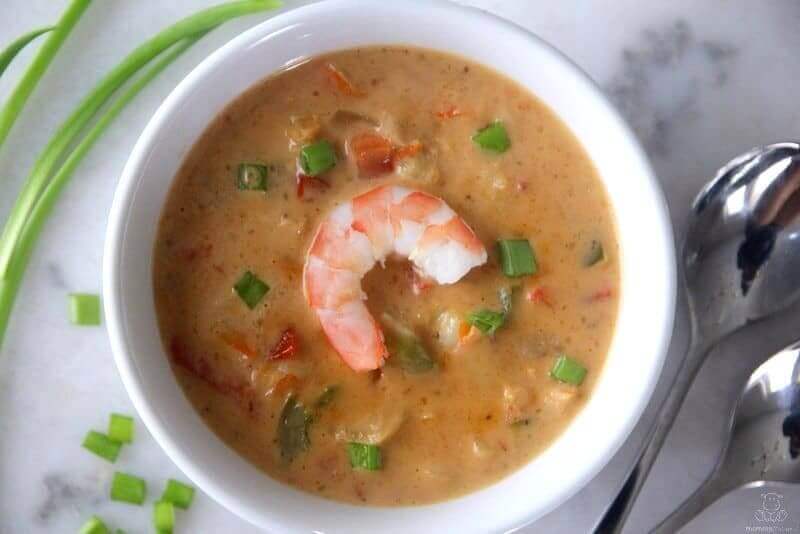 Creamy and luxurious, this shrimp bisque is a copycat version Pappadeaux Seafood Kitchen's crawfish bisque, which just so happened to be one of my top two favorite meals when I waited tables there during college. (This seafood fondue was the other.)
Somewhere between all the double shifts and the late night closings I befriended one of the cooks, and although he didn't give me the exact recipe, he gave me some hints for which I am most grateful.
Unlike most of my recipes – like this quick egg drop soup and these chicken nuggets – this one takes a little time to prepare, but it's oh-so-worth-it and nothing is wasted. Shrimp shells are simmered with butter and paprika to create a flavorful, briny broth that serves as the base for the soup. Rich cream is then added along with bay seasoning, ripe tomatoes and a touch of sherry with chopped shrimp folded in. It's so good just typing this inspired me to add it onto next week's meal plan – I hope you love it as much as we do.
Also, quick tip: Stash an extra bowl for yourself in the back of the fridge for later. It's yummy cold, too. 🙂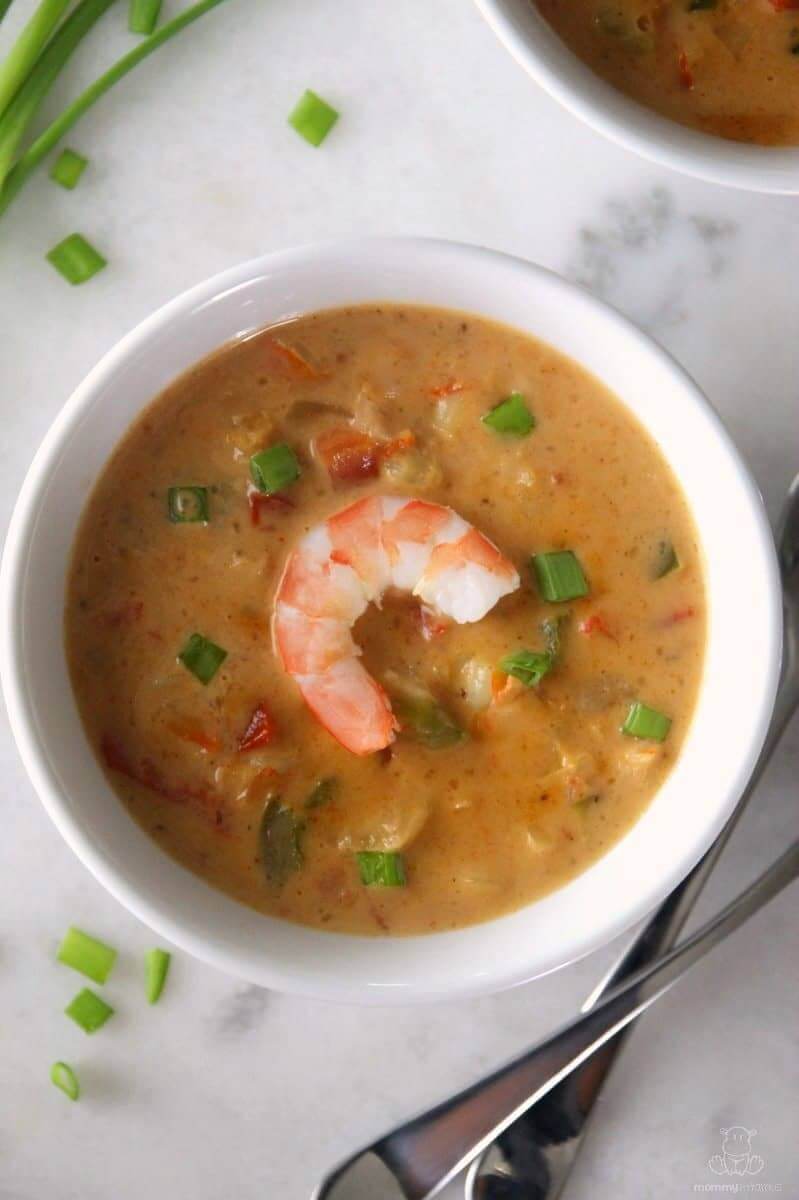 Shrimp Bisque
Instructions
Steaming shrimp inside the shell makes them tender rather than rubbery, so to devein them while keeping the shells on I use a clean pair kitchen scissors to cut down the back of the shrimp. With the top area exposed, I can usually use my scissors to remove anything I see, or another option is simply to rinse them after trimming.

Bring water to a boil and place half the shrimp inside a steamer basket. Cover and steam until they turn pink – about 4-6 minutes – tossing a few times to make sure that the ones at the bottom don't overcook. Chill shrimp immediately to keep them from cooking further.

Peel the shrimp once they have cooled. Set aside the peels for stock, then place the shrimp back in the fridge.

Before you start the stock, you're going to make a roux, which will thicken the bisque.

Add 6 tablespoons butter and 6 tablespoons arrowroot flour to a pan and cook over low/med heat for 4-5 minutes, then pour the roux into a small container and set aside. 

In a large pot, add 2 tablespoons butter, shrimp shells, paprika, and bay seasoning. Sautee on low for 2-3 minutes, mashing a little as you stir to crush the shells.

Next, add in 5 cups water or chicken broth and bring to a boil. When water reaches a boil reduce the heat, cover, and allow to simmer for 15 minutes. While the shells are simmering, set aside several whole shrimp for garnish (as many as you will need for serving) then chop the rest into pieces.

When the 15 minutes is up, strain out the shells and return broth to the pot. Add in onion, green bell pepper, tomato paste, tomatoes, and cream. Bring to a boil, reduce heat and simmer for 15 minutes, then add in sherry and chopped shrimp and simmer for an additional 5 minutes.

Last, whisk the roux (it has probably separated a little) and pour it into the pot while stirring constantly – I use a whisk to stir. Simmer (uncovered this time) for another 5 minutes. Remove from heat and add salt to taste. I start with 1 teaspoon and increase in ½ teaspoon increments as needed.
Nutrition
Calories:
3854
kcal
|
Carbohydrates:
98
g
|
Protein:
298
g
|
Fat:
247
g
|
Saturated Fat:
144
g
|
Cholesterol:
4162
mg
|
Sodium:
23284
mg
|
Potassium:
3499
mg
|
Fiber:
11
g
|
Sugar:
19
g
|
Vitamin A:
10415
IU
|
Vitamin C:
297.7
mg
|
Calcium:
2492
mg
|
Iron:
37
mg