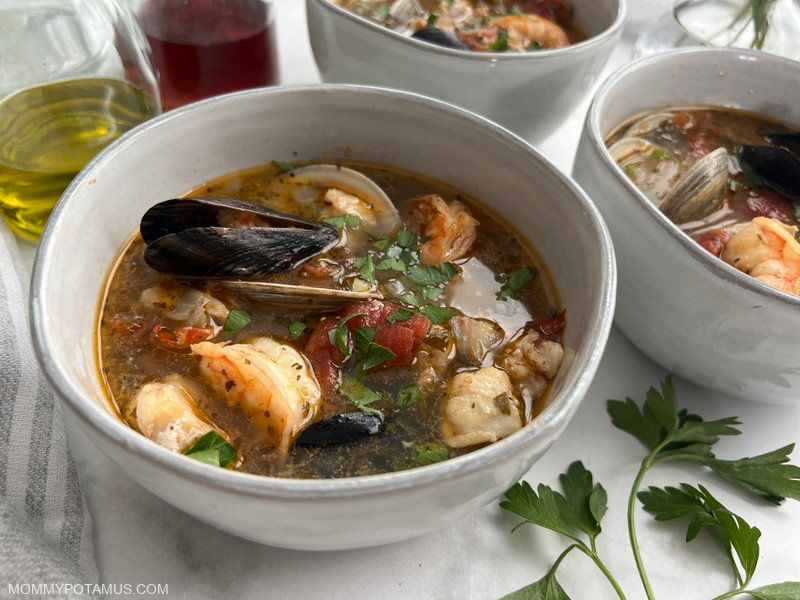 For some people there is "Soup Season," but for me there's a soup for every season. I love this creamy shrimp bisque in the fall, and this spring vegetable stew when the weather warms up. Of course, some soups and stews are perfect for any time of year. This recipe, for example, is a year-round favorite that I serve when I want a meal to feel extra special.
Also known as cioppino (pronounced chuh-pee-no), this famous seafood stew is a staple of San Francisco's Italian-American community. Over one-hundred years ago, fisherman created it as a way to use the fresh catch that was left over at the end of the day. Everything was added into a community pot – clams, mussels, fish, crab, etc. – which was then simmered in tomatoes, broth, and white wine.
Over time it caught on, making its way into some of the best restaurants in the area. These days, you can find many variations throughout the city. My hearty version is brimming with the flavors of the sea -tender shrimp, plump mussels/clams, and flaky fish – all simmered in an aromatic, buttery white wine tomato base.
If it sounds overly complex, don't worry – it's much easier to make than it might seem!
That's a good thing, because in addition to being tasty it also makes a beautiful table centerpiece for gatherings. There's something magical about sharing a communal pot and enjoying good food with good company . . . ideally with lots of warm, crusty bread to mop up all the delicious broth!
Quick Note On Substitutions
One of the great things about this stew is that it's very versatile – you can follow the recipe as it's written or adapt it to your taste buds and/or budget. My recipe includes shrimp, white fish, clams and mussels, but you will often also find some mix of the following ingredients in other versions:
scallops
crab
lobster
calamari
shucked oysters
So let's say you don't love shrimp. No problem, you can substitute scallops or a combination of options like oysters and calamari. Or if you can't find fresh mussels/clams you can:
Leave them out and use one cup of a different meat instead (lobster or crab would be delicious)
Use canned clams instead – Just add them in after simmering since they're already cooked. Also, you can use the juice they come in to replace some of the chicken broth for extra flavor.
The meat proportions don't have to be exact, so feel free to experiment. One quick note, though: If you use cooked crab meat, add it just before serving. If it cooks too long it tends to "dissolve" into the stew and although the flavor is still excellent you don't get the delicious meaty chunks that make it so satisfying.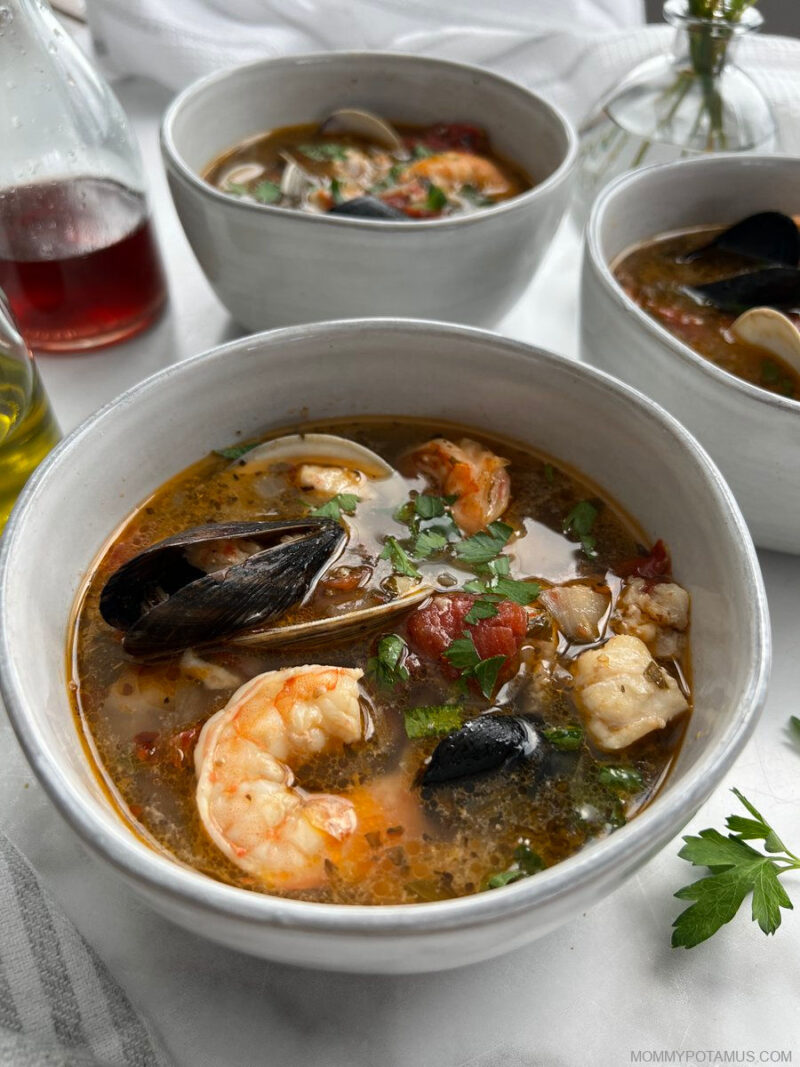 Cioppino (Seafood Stew Recipe)
Ingredients
Soup Base Ingredients
8

tbsp

butter

(or more to taste)

4

tbsp

virgin olive oil

4

cups

diced yellow onion

1

cup

minced fresh parsley

(plus more for garnish if desired)

5-6

cloves garlic, minced

(about 2 tablespoons)

28

oz.

stewed tomatoes

(liquid drained)

4-6

cups

chicken broth or seafood stock, divided

2

cups

dry white wine

1

tbsp

dried basil

½

tsp

dried thyme

½

tsp

dried oregano

¼-½

tsp

red pepper flakes

salt to taste

(I usually use about 1½ – 2 tsp if I'm using unsalted broth)
Seafood Additions
1½

pounds

white fish fillets, cut into bite-size chunks

(I usually use sole, but cod and haddock will work too)

2

pounds

large shrimp, peeled and deveined

(You can leave the tails on to make the meal fancier or take them off. I take them off.)

15-20

small clams

(scrubbed)

18-24

mussels

(debearded and soaked in fresh water for 20 minutes)
Instructions
Melt the butter in a large stockpot or enameled dutch oven. Add the olive oil, onions, parsley and garlic and sauté over medium heat for 3-4 minutes.

Using clean hands, break the tomatoes into chunks and add them to the pot, the pour in 4 cups of chicken broth and 2 cups of wine.

Add in the bay leaves, thyme, basil and oregano, then bring to a boil. Reduce heat and simmer on low for 30 minutes.

When the soup base has been simmering for half an hour, add in the clams, mussels, shrimp and fish. If the meat is not fully submerged in the liquid after you press everything down, add the additional 2 cups of chicken broth. If still not fully covered, add water until all the meat is under the liquid. Return liquid to a boil and then reduce to back to low/medium heat.

Simmer for 5-7 minutes, or until the clams and mussels have opened and the shrimp/fish is cooked. Discard any clams/mussels that don't open.

Add 1 teaspoon of salt, then taste and add more if needed. I usually add around 2 teaspoons when I start with unsalted broth. If you desire a really rich texture you can also add a little additional butter at this point.

Ladle into bowls, garnish with parsley if desired, then serve.
Notes
Calculations include sole, littlneck clams, and unsalted broth. 
Nutrition
Calories:
314
kcal
|
Carbohydrates:
13
g
|
Protein:
27
g
|
Fat:
15
g
|
Saturated Fat:
6
g
|
Polyunsaturated Fat:
1
g
|
Monounsaturated Fat:
6
g
|
Trans Fat:
0.3
g
|
Cholesterol:
172
mg
|
Sodium:
410
mg
|
Potassium:
687
mg
|
Fiber:
2
g
|
Sugar:
5
g
|
Vitamin A:
823
IU
|
Vitamin C:
17
mg
|
Calcium:
127
mg
|
Iron:
3
mg
More Delicious Seafood Recipes
Easy Salmon Patties – Golden on the outside and moist and flavorful on the inside, these salmon patties are loaded with omega-3's, selenium, and the powerful antioxidant astaxanthin. My kids ask for them all the time!
Scallop Rolls With Chipotle Sauce – The mild sweetness of scallops pairs perfectly with the smokey finish of chipotle peppers and rice (or cauliflower rice).
Zesty Shrimp Creole – Make it dairy-free by substituting coconut oil or sustainably harvested palm oil for butter.
Mediterranean Zucchini Pasta –The mild flavor of the zucchini noodles in this recipe really makes the basil, sundried tomatoes and parmesan flavors pop. It's so easy, satisfying and delicious! Also, if your kids are like mine they'll love making the noodles, which means that step pretty much takes care of itself.
Paleo Crab Cakes – Seasoned with lemon zest and bright, fresh herbs, my kids love these crab cakes served over lettuce with homemade tartar sauce on the side.
Blackened Salmon Recipe – This easy blackened salmon recipe is quick and delicious, and can be made both mild and extra fiery depending on your preference.
Blackened Shrimp & Scallop Fondue – This is one of my ALL TIME FAVORITE RECIPES. Blackened shrimp, sweet scallops, wild mushrooms and tender spinach are folded into a white wine cream sauce and topped with melty cheese.