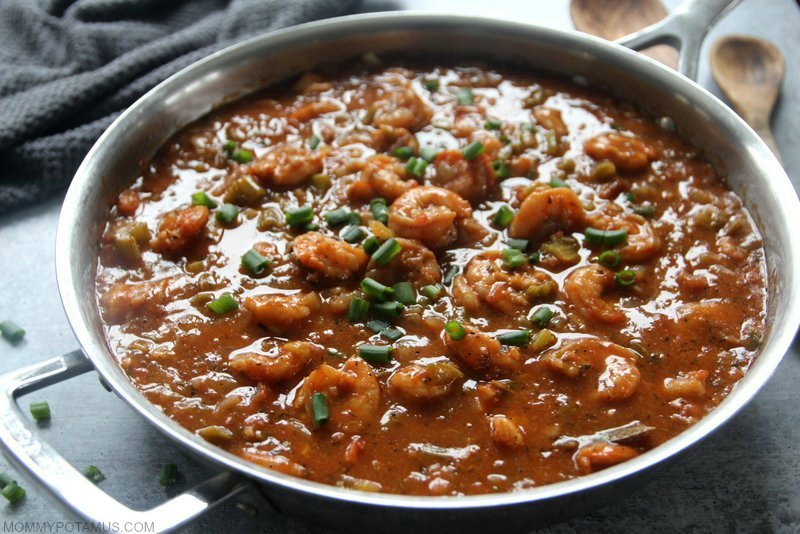 Once upon a time, I ate my way through New Orleans' French Quarter . . . the famous home of fried beignets, dirty rice, shrimp creole and more. Although I loved all of my experiences there – especially the pontoon boat swamp tour and the live music – what I remember most is the food.
That's probably why when it came time for me to get a job waiting tables in college, I only applied to one place – the local cajun restaurant.
Many bowls of creole later, I made the transition to a gluten-free diet and decided to recreate old favorites with ingredients that work for my family. I hope you love the deep, buttery base and bold, zesty tomato kick of this shrimp creole recipe as much as we do. And don't worry, there's a dairy-free option if you need it that still delivers on richness and flavor.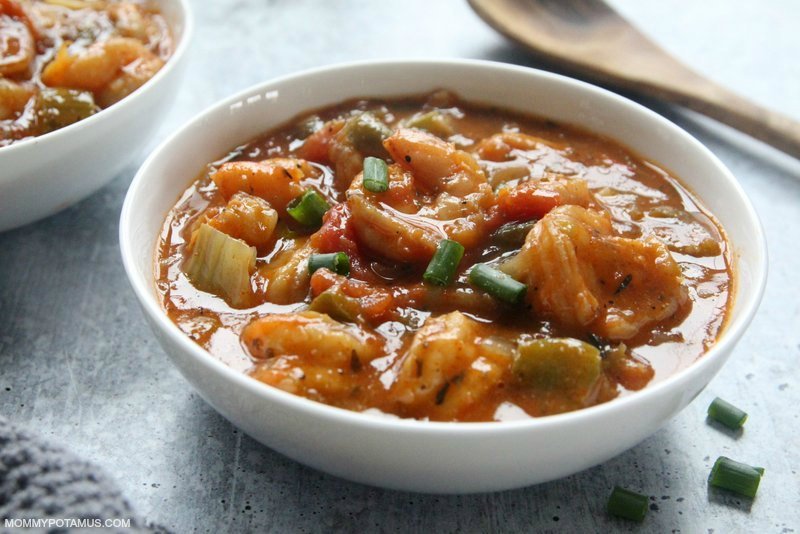 Shrimp Creole Recipe (Gluten-Free, Dairy Optional)
The deep, buttery base and bold, zesty tomato kick of this shrimp creole recipe will have you returning for bowl after bowl.
Instructions
Prepping Your Tomatoes:
If you're using fresh tomatoes: Peel and quarter the tomatoes, then squeeze them in your fist to remove excess juice. Next, roughly chop them into medium-size chunks. You can use a food processor instead of chopping if you prefer.

If you're using whole, peeled tomatoes: Drain the liquid from the tomatoes and roughly chop them into medium-size chunks. You can use a food processor instead of chopping if you prefer.
How To Make Shrimp Creole:
In a large saucepan, melt butter or coconut oil over medium heat.

Add the onions, peppers, and celery and saute until they are soft (about 6 to 8 minutes).

Stir in the bay leaves, tomatoes, garlic, and 1/4 cup water or chicken broth.

Bring the mixture up to a boil and reduce to a simmer.

Add the Worcestershire and hot sauce and continue simmering for about 15 minutes. If the mixture becomes too dry add some water.

While the mixture is simmering, measure out the creole seasonings (paprika, garlic powder, black pepper, onion powder, cayenne pepper, oregano, thyme, salt) and mix them together. Place them in a bowl with the shrimp and toss until the shrimp are well-coated.

Place the shrimp in the pan and  cook for 5-8 minutes or until the shrimp turn pink and curl up.

Whisk the arrowroot flour and water together and add it to the saucepan.  Stir in the parsley if using. Continue to cook for 4 to 6 minutes.

Remove the shrimp creole from heat and add salt, hot sauce or additional Worcestershire sauce sauce if desired. It should already be somewhat thick, but will continue to thicken as it cools enough to comfortably eat.

Place rice or cauliflower rice into individual bowls and top with shrimp creole. Sprinkle with green onions (if using).
If You're Making Cauliflower Rice:
Cut the 1-2 heads cauliflower using the method shown in this post. Place the cauliflower florets in a food processor and pulse until it's roughly the size of rice, then steam it for a few minutes. It's ready when it's firm but not crunchy.
Notes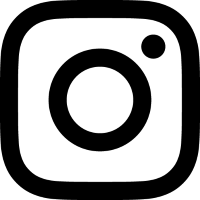 Tried this recipe?
Mention @mommypotamus or tag #mommypotamus!
Nutrition
Calories:
1873
kcal
|
Carbohydrates:
87
g
|
Protein:
155
g
|
Fat:
104
g
|
Saturated Fat:
60
g
|
Cholesterol:
1955
mg
|
Sodium:
13465
mg
|
Potassium:
3346
mg
|
Fiber:
23
g
|
Sugar:
35
g
|
Vitamin A:
13803
IU
|
Vitamin C:
255
mg
|
Calcium:
1339
mg
|
Iron:
23
mg
More Cajun Inspired Recipes
Dirty Rice – Ground pork, cajun spices, bacon and minced chicken livers (promise you can't taste them) give this deeply flavorful rice it's signature dirty appearance. When I make it I always put leftovers in the fridge for another meal . . . and then eat it before that meal arrives. 🙂
Blackened Shrimp & Scallop Fondue – Blackened shrimp, sweet scallops, mushrooms and tender spinach are folded into a white wine cream sauce and topped with melty cheese. So good!
Chicken & Sausage Jambalaya – I highly recommend using andouille sausage in this recipe. It's delish!
Homemade Cajun Seasoning – Zesty, savory and so delicious, this seasoning is amazing as a dry rub for pan-seared meat, sprinkled on hot french fries, stirred into homemade ranch dressing, and in so many other dishes that might surprise you.