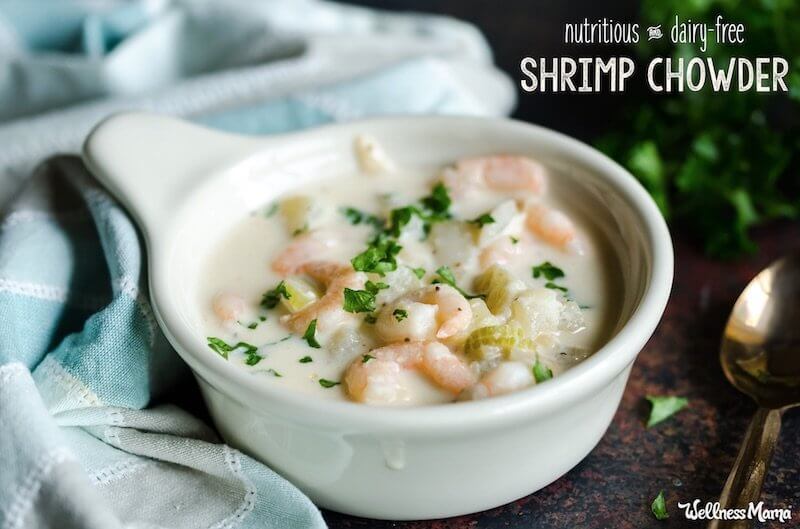 There's nothing better on a cold day than a hearty soup or chili to warm the body (and spirit!). This shrimp chowder recipe does just that. It's also a nutritious meal rich in healthy fats, protein, and vital nutrients that help support optimal health.
What is Shrimp Chowder?
A chowder is a rich, creamy soup that often includes seafood or corn with potatoes and onions. Shrimp chowder is the shrimp version of this soup. Chowder probably originated in England or France but made its way to America with early settlers. In fact, chowder has become a symbol of New England because of its simplicity (it was available to the masses), and how it can bring the community together. As settlers pushed westward, away from seafood sources, they began to experiment with different ingredients like corn or chicken.
Is Shrimp Healthy?
Shrimp that is farmed is best avoided. Farmed shrimp are often raised in unhealthy environments in areas of China or Thailand. Many shrimp are raised in very small ponds or tanks, making fecal contamination likely. These shrimp are not necessarily eating their natural diet and may be fed antibiotics to ward off disease. But wild-caught shrimp in moderation can be healthy.
Shrimp has a number of important nutrients that the body needs and some are not easily found in non-seafood protein sources. These include:
selenium
B12
phosphorus
choline
copper
iodine
Shrimp is also a good source of cholesterol. Dietary cholesterol doesn't cause heart disease as we are often told. Cholesterol is important for many processes in the body, including the following:
Formation and maintenance of cell walls
Insulation for nerve cells
Digestion of fats
Creates Vitamin D
Creation of hormones
Repairing inflammation
Bottom Line: In moderation, wild-caught shrimp is a healthy food that provides important nutrients not easily found outside of seafood (like iodine).
Want More? Similar Recipes to Try
If you love seafood, check out these other recipes:
Zesty Shrimp Creole – Make it dairy-free by substituting coconut oil or sustainably harvested palm oil for butter.
Mediterranean Zucchini Pasta

–

The mild flavor of the zucchini noodles in this recipe really makes the basil, sundried tomatoes and parmesan flavors pop. It's s

o easy, satisfying and delicious! Also, if your kids are like mine they'll love making the noodles, which means that step pretty much takes care of itself.

Paleo Crab Cakes

–

Seasoned with lemon zest and bright, fresh herbs, my kids love these crab cakes served over lettuce with homemade tartar sauce on the side.

Blackened Salmon Recipe

– This easy blackened salmon recipe is quick and delicious, and can be made both mild and extra fiery depending on your preference.
Next, I want to try this Roasted Lemon Garlic Shrimp Recipe from A Whole New Twist.
Healthy Shrimp Chowder Recipe
An easy to make, hearty chowder with shrimp, potatoes, and onion.
Equipment
vegetable peeler

chopping knife

large stock pot

stirring spoon
Instructions
Peel and dice potatoes or chop cauliflower into bite size pieces.

In a large stock pot, melt butter over medium heat.

Add the potatoes or cauliflower and cook, stirring occasionally until they start to soften, about 8-10 minutes.

While the potatoes/cauliflower are cooking, slice the celery and finely dice the onion.

Add the celery and onion to the stock pot and cook, stirring occasionally, an additional 8-10 minutes.

Add the white wine, scraping the bottom of the pot.

Reduce the heat to low and add all the remaining ingredients, heating and stirring occasionally until heated through.

If desired, sprinkle with hot sauce to serve.
Notes
Feel free to use whichever vegetables you like best in your chowder.
Nutrition
Serving:
1
cup
|
Calories:
333
kcal
|
Carbohydrates:
8.8
g
|
Protein:
42.6
g
|
Fat:
12.7
g
|
Saturated Fat:
6.9
g
|
Polyunsaturated Fat:
0
g
|
Monounsaturated Fat:
0
g
|
Trans Fat:
0
g
|
Cholesterol:
304
mg
|
Sodium:
650
mg
|
Potassium:
0
mg
|
Fiber:
0.8
g
|
Sugar:
2.5
g
|
Vitamin A:
0
IU
|
Vitamin C:
0
mg
|
Calcium:
0
mg
|
Iron:
0
mg
What is your favorite way to eat shrimp?