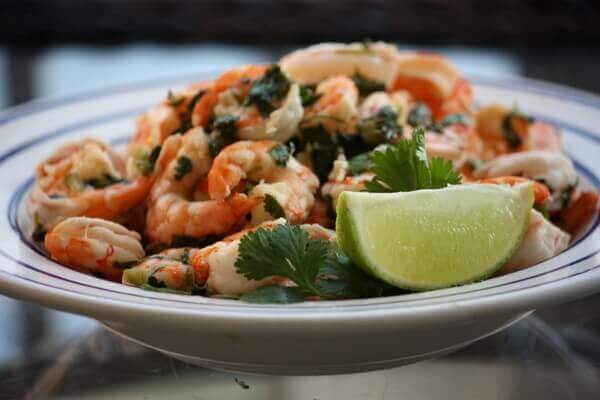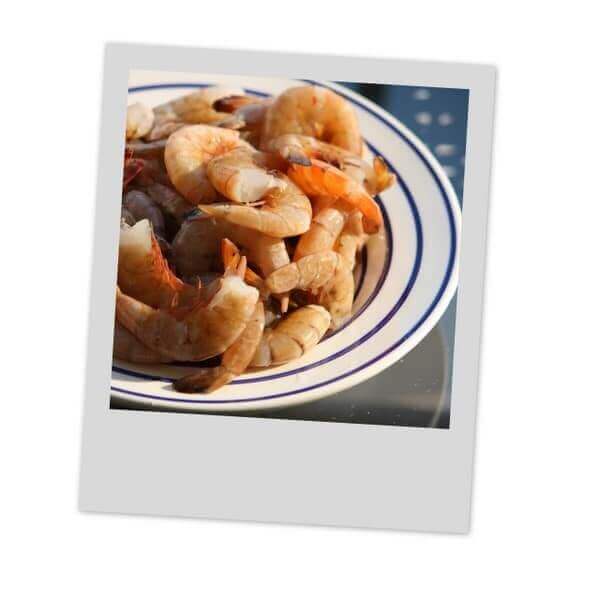 Friends Don't Let Friends Eat Imported Shrimp
. . . says the sign behind the counter. A man with warm eyes and weathered hands doles two scoops into a bag. "Don't worry about the ice, those shrimp won't last five minutes in my kitchen," I say, and it's done.
Back home I know the faces of those who sell me meat, milk and produce, so there is a certain charm in buying these sweet morsels directly from the man that caught them. Still, I'm not above raiding the Whole Foods freezer back home and wherever you are, I hope you won't be either.
Shrimp Are Powerhouses of Nutrition
They're rich in selenium (a trace mineral with cancer prevention properties), mood boosting tryptophan, Vitamins D & B12 plus iron and phosphorous. And, they're oh-so-very-yummy! My husband LOVED this spicy, tangy dish so much he actually stopped mid-dinner to take a pic and tweet about it. Success!
Note: I used to be afraid to eat seafood due to the mercury/contamination factor, but I've since learned that most seafood is rich in selenium, which binds with mercury and prevents absorption. My rule of thumb is to select seafood listed as low in mercury by the Seafood Watch Program and then eat as much as possible 🙂
Spicy Cilantro Lime Shrimp
Instructions
In a medium mixing bowl, whisk together coconut oil, lime juice, minced garlic and cilantro

Peel and devein shrimp (for a video tutorial on this click

here

)

Place shrimp in the mixing bowl with the other ingredients and marinate for 1-2 hours

Place a little marinade in a nonstick skillet (I use cast iron) and heat to medium high. When the pan is hot add the shrimp with a little more marinade, reduce heat to low medium and stir frequently. The shrimp are ready when they have turned pink (about 3-5 minutes)

Season generously with cayenne and add a pinch of salt
Nutrition
Calories:
0
kcal
|
Carbohydrates:
0
g
|
Protein:
0
g
|
Fat:
0
g
|
Saturated Fat:
0
g
|
Polyunsaturated Fat:
0
g
|
Monounsaturated Fat:
0
g
|
Trans Fat:
0
g
|
Cholesterol:
0
mg
|
Sodium:
0
mg
|
Potassium:
0
mg
|
Fiber:
0
g
|
Sugar:
0
g
|
Vitamin A:
0
IU
|
Vitamin C:
0
mg
|
Calcium:
0
mg
|
Iron:
0
mg
Enjoy!