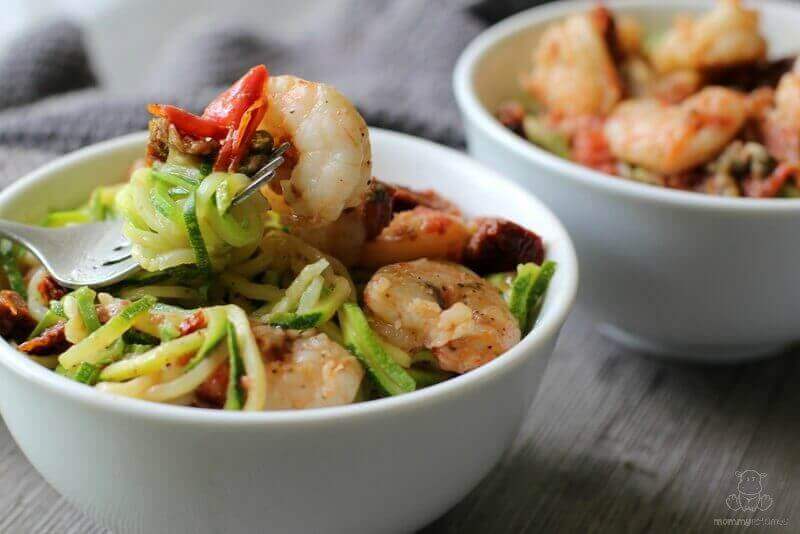 So, it turns out you can't turn a zucchini into a battery or elect it as Mayor. This time of year, as zucchini starts taking over gardens and farmer's markets, there's only one thing to do . . . eat it fifty delectable ways. Oh yes, it's possible! Forget mushy steamed zucchini, we're talking zucchini pizza crust, zucchini noodle recipes like zucchini pasta carbonara, skillet pesto chicken, gluten-free zucchini bread, and this bold and zesty Mediterranean zucchini pasta.
Now, as I mentioned in this cauliflower "mashed" potato recipe, it really annoys me when a food **looks** like an old favorite but doesn't taste anything like it. To say I was skeptical about the whole zucchini noodle thing would be an understatement, but I absolutely love this dish! It's so satisfying, and the mild flavor of the zucchini allows the basil, sundried tomatoes and parmesan to really pop.
I'm not saying it's "meaning of life, the universe, and everything" happiness in a bowl, but it just might "Oh my gosh maybe this is how noodles were meant to be" happiness. I hope your family loves it as much as we do!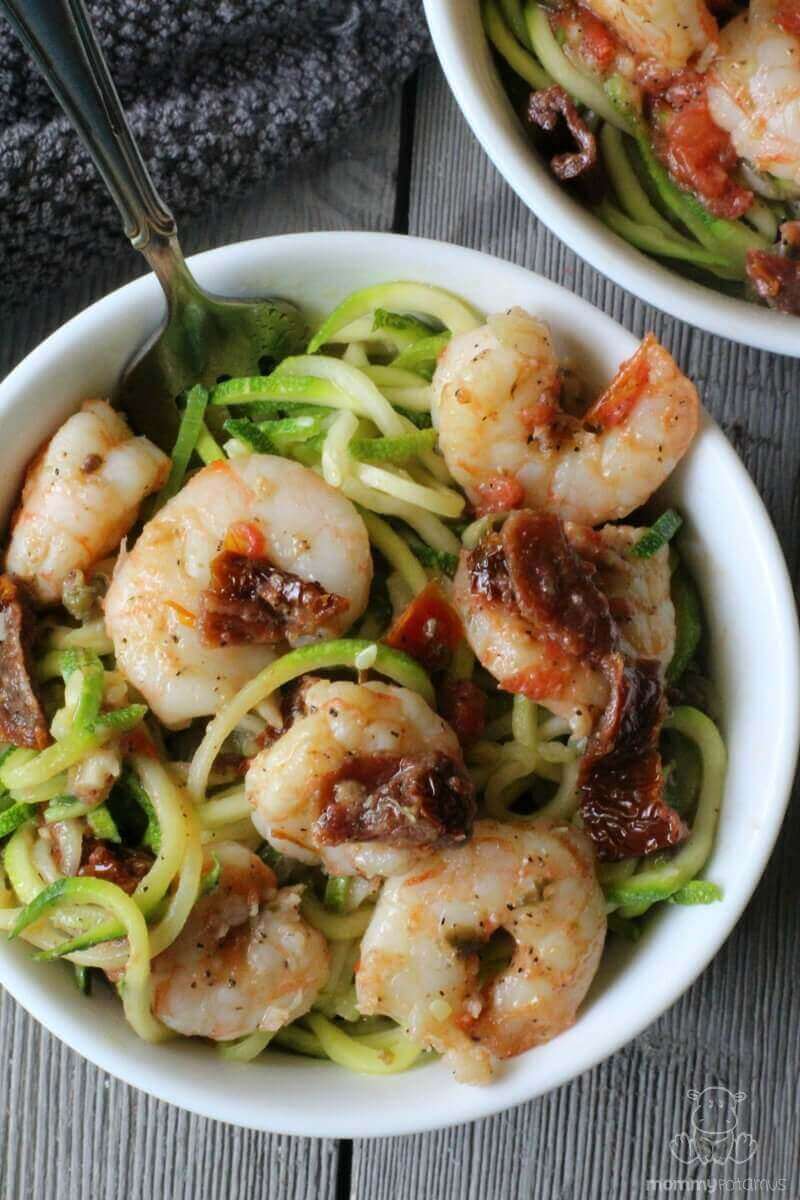 Mediterranean Zucchini Noodle Recipe
Instructions
Spiralize the zucchini into noodles - I bought this spiralizer and love how easy it is to use. Easy enough for my kids to use, actually, and since my kids think it's fun to make the noodles and I'm not one to turn away help in the kitchen, I guess you could say this part takes care of itself now.

Add the olive oil and butter to a large pan and sauté the noodles over medium heat for 5-7 minutes, or until they reach the level of tenderness your prefer. Leaving the butter/olive oil in the pan, remove the noodles from the pan and place them in a serving bowl.

Add the shrimp, sundried tomatoes, garlic, basil, tomato, capers, and salt and pepper to the pan and sautee until the shrimp are pink and cooked through.

Spoon the shrimp mixture and butter/olive oil sauce over the pasta, sprinkle with parmesan, and serve.
Nutrition
Calories:
0
kcal
|
Carbohydrates:
0
g
|
Protein:
0
g
|
Fat:
0
g
|
Saturated Fat:
0
g
|
Polyunsaturated Fat:
0
g
|
Monounsaturated Fat:
0
g
|
Trans Fat:
0
g
|
Cholesterol:
0
mg
|
Sodium:
0
mg
|
Potassium:
0
mg
|
Fiber:
0
g
|
Sugar:
0
g
|
Vitamin A:
0
IU
|
Vitamin C:
0
mg
|
Calcium:
0
mg
|
Iron:
0
mg