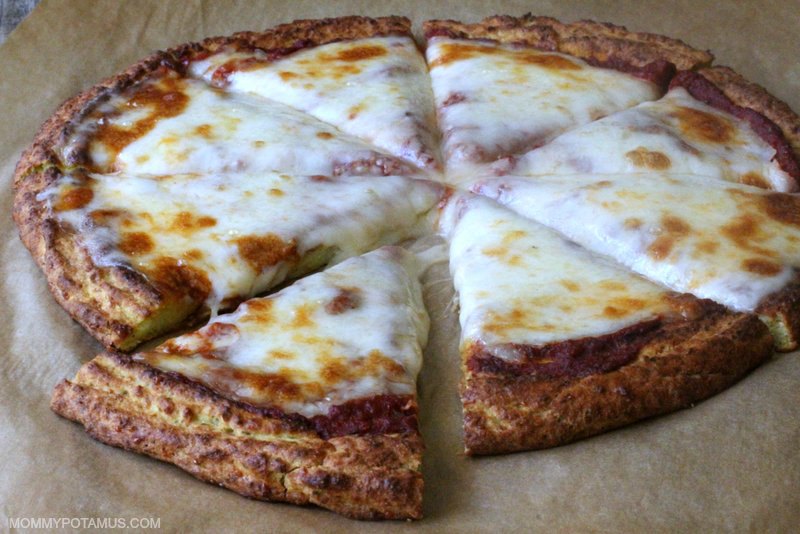 There is a situation in my garden – one I didn't really think was possible given my track record with plants. (I once killed a cactus named Frank. A CACTUS.)
Anyway, back to the situation: Stuff is growing everywhere. It's been a challenge to figure out how to use the buckets of cucumbers we just harvested (thanks for your tips!), but when it comes to summer squashes like zephyr and zucchini, I know just what to do.
We're talking zucchini pasta carbonara, shish kabobs, Mediterranean zucchini pasta, soup and breakfast fritters. And of course, PIZZA. 
This naturally gluten-free zucchini pizza crust is very similar to my cauliflower pizza crust, but the ratios have been adjusted to account for the extra moisture present in squash. It's the perfect way to use up extra zucchini, just ask my kids. 🙂
I recommend serving it up with my no-cook homemade pizza sauce. Enjoy!
The trouble is, you cannot grow just one zucchini. Minutes after you plant a single seed, hundreds of zucchini will barge out of the ground and sprawl around the garden, menacing the other vegetables. At night, you will be able to hear the ground quake as more and more zucchinis erupt." – Dave Barry
Zucchini Pizza Crust Recipe
This golden brown zucchini pizza crust is easy to make and super delicious. It's the perfect way to use up extra zucchini.
Equipment
large baking sheet

silicone spatula
Instructions
Place a large baking sheet in the oven and preheat oven to 450°F.

Shred zucchini with a cheese grater.

Mix zucchini in food processor with salt, onion powder, coconut flour, cassava flour, cheese, and eggs until it resembles applesauce.

Using a silicone spatula, spread the mixture into the shape of a pizza crust on parchment paper. The crust should be 9-10 inches wide - any bigger and it will be challenging to flip. I like to make the edges a little thicker so that it looks like a traditional crust.

Slide the heated baking sheet under the parchment paper and place the crust in the oven. Bake for about 15 minutes.

Remove the crust from oven and place a sheet of parchment paper over the top. With oven mitts on both hands, pull the parchment paper the crust is resting on toward you. It should be slightly off the baking sheet. Place one hand underneath the crust and one hand on top, then flip the crust and place it back on the baking sheet.

Place the baking sheet back in the oven and bake for about 10 more minutes.

Remove the crust from the oven and add pizza toppings. Switch your settings from Bake to Broil and remove the pizza when the pizza is melted.
Notes
Toppings not included in nutrition facts.
Nutrition
Calories:
738
kcal
|
Carbohydrates:
77
g
|
Protein:
38
g
|
Fat:
30
g
|
Saturated Fat:
16
g
|
Cholesterol:
535
mg
|
Sodium:
1204
mg
|
Potassium:
872
mg
|
Fiber:
15
g
|
Sugar:
12
g
|
Vitamin A:
1587
IU
|
Vitamin C:
47
mg
|
Calcium:
517
mg
|
Iron:
8
mg
More Gluten-Free Pizza Crust Recipes
Cauliflower Crust Pizza – This simplified cauliflower pizza crust doesn't require any pre-cooking, steaming, squeezing, or double back-handsprings.It takes only a few minutes of hands-on time and holds together beautifully!
Cassava Pizza Crust – This cassava pizza crust is easy to make, holds together well and has the doughy texture of traditional pizza.