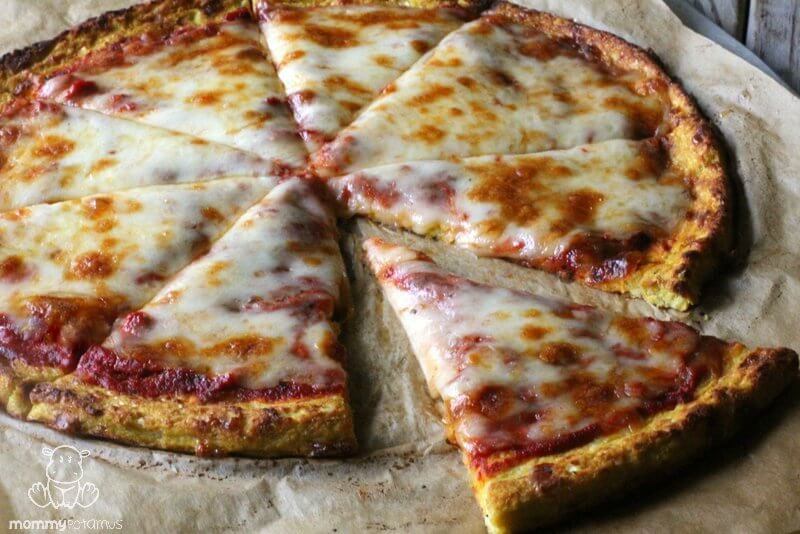 So, you LOVE pizza, but not all the complicated steps usually needed to make a healthy, gluten-free version? Oh, and you especially don't love scalding your hands while trying to wring water out of steamed cauliflower over the sink? I get it. Skipping recipe steps is practically an art form in my kitchen. Sometimes it works out – like with these quick chicken nuggets – sometimes not so much.
Recently I've been working on a simplified cauliflower pizza crust that doesn't require any pre-cooking, squeezing, or double back-handsprings. You see, Friday night at my house is family meeting night – each of us takes a few minutes to talk about what worked in our family that week, what didn't, and then we decide together what we're going to improve for the next week. It's supposed to be a relaxed, fun evening, and fun equals pizza, right? (RIGHT!)
This Friday-night-friendly recipe requires very little hands-on time, holds together beautifully, and goes perfectly with my no-cook homemade pizza sauce. I hope your family loves it as much as we do!

Cauliflower Pizza Crust Recipe
Ingredients
1

very large or two small cauliflower heads

2

tablespoons

coconut flour

1/2

cup

mozzarella cheese

plus more for topping

2

large eggs

1/4

teaspoon

unrefined sea salt

1/2

teaspoon

onion powder

pizza sauce

toppings

your choice
Instructions
Place a large baking sheet in the oven and preheat to 450F.

Remove stem from cauliflower and break florets small/medium pieces. I use my hands to do this as I place the florets in my food processor.

Grind cauliflower in food processor until the texture resembles small pieces of rice.

Measure out 2½ cups of cauliflower "rice" and place it in a bowl.

Sprinkle salt, onion powder, coconut flour and cheese over the cauliflower. Add eggs and stir until the ingredients are thoroughly mixed.

Form mixture into a ball and press into the shape of a pizza crust on parchment paper. The crust should be 11-12 inches wide.
Slide heated baking sheet under the parchment paper and place crust in the oven. Bake for about 25 minutes. The crust should develop some golden-brown flecks when it's ready for the addition of toppings, like this:
Add toppings and bake for an additional 8-10 minutes. I like to switch my oven settings from Bake to Broil for the last couple of minutes so that the mozzarella browns a little bit.