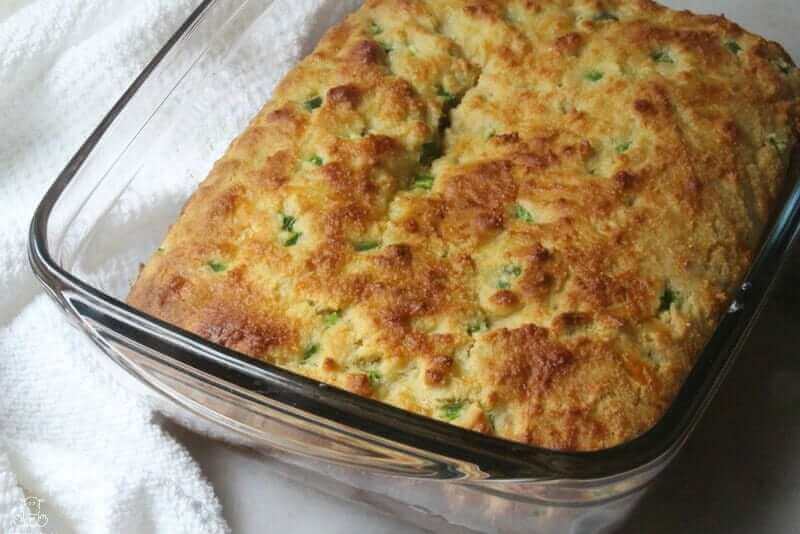 This sweet and savory cheddar jalapeño cornbread tastes like the real deal even though it's actually corn-free. You see, I love corn but it doesn't love me back, so I limit my intake to the occasional movie night with popcorn. Like this basic cornbread recipe, it's pretty much mistake-proof and goes perfectly with homemade chili, Instant Pot chicken soup, buffalo wings and zesty shrimp creole.
It even compliments breakfast dishes like these breakfast sausages and maple syrup. Although it packs a lot of flavor, it's not too spicy for my four-year-old – I just make sure to thoroughly de-seed the jalapeños and remove the internal stem before chopping.
If you've had jalapeño cornbread before, you know it's delicious, but it's even better with everyone's favorite go-to upgrade: CHEESE! Something magical takes place when you pull apart a slice of cornbread and the melted cheese stretches into delightful cheesy strings. Slightly sweet? Check. Spicy and savory? Check. Melty and Cheesy? Check. This recipe basically checks all the best flavor boxes.
Also, quick note: Although sharp cheddar is recommended because it makes the flavor of the jalapeños pop, you can use whatever you have on hand. I've tried this jalapeño cornbread recipe with both mozzarella and muenster, and both were gobbled up in no time.
Jalapeño Cornbread Recipe
Instructions
Preheat your oven to 350F. Place the almond flour, baking soda and salt in a medium bowl and stir to combine. In a separate bowl,  add eggs, honey, apple cider vinegar, cheese and jalapeno and stir together. Pour the liquid into the almond flour mix and stir until well-combined. Spread batter evenly in a well-greased 8-9 inch pie plate or 2.75 quart casserole dish. Bake for 25 minutes, or until a knife comes out clean.
Nutrition
Calories:
2595
kcal
|
Carbohydrates:
82
g
|
Protein:
124
g
|
Fat:
212
g
|
Saturated Fat:
51
g
|
Cholesterol:
833
mg
|
Sodium:
3101
mg
|
Potassium:
484
mg
|
Fiber:
31
g
|
Sugar:
30
g
|
Vitamin A:
2980
IU
|
Vitamin C:
35.6
mg
|
Calcium:
1913
mg
|
Iron:
14.8
mg