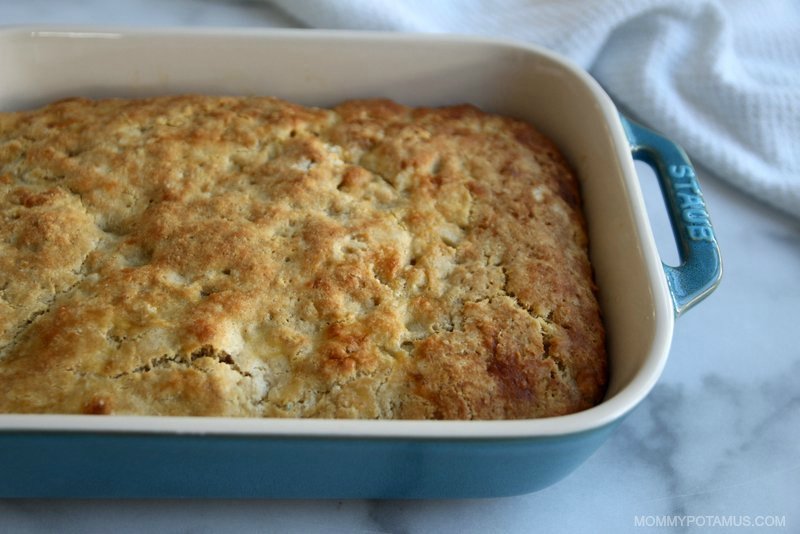 When I was growing up in Texas, cornbread was served hot out of the oven, with a giant blob of margarine and a drizzle of honey on top. In this "cornbread" I've switched things up, replacing the fake butter with the real deal, but leaving out the corn.
Although my family does occasionally eat some grains, this grain-free version is so satisfying that I that I don't even miss regular cornbread. Actually, I think I like this recipe better because it's pretty much mistake-proof. When making regular cornbread you have to be careful not to overmix, or the texture will be come dry and crumbly. This recipe turns out light and moist even when I make it on a busy night when I'm only halfway paying attention. (As you know, the best time for a child to ask how electricity works is while you're making dinner!)
I'll be serving this cornbrea alongside my gluten-free homestyle stuffing, homemade cranberry sauce, pumpkin pie, cauliflower mashed "potatoes", broccoli slaw and pastured turkey this holiday season – or I'll be adapting it into a stuffing recipe. Either way, bring on the holidays!
"Cornbread" Recipe (Gluten-Free, Paleo)
Instructions
Preheat your oven to 350F. Place almond flour, baking soda and salt in a medium bowl and mix. In a separate bowl, add eggs, honey, apple cider vinegar and butter and whisk until well combined. Add the liquid to the dry ingredients and stir until combined. Spread batter evenly in a well-greased 8-9 inch pie plate or a 2.75 quart casserole dish. Bake for 25 minutes, or until a knife comes out clean.
Nutrition
Calories:
2101
kcal
|
Carbohydrates:
78
g
|
Protein:
82
g
|
Fat:
178
g
|
Saturated Fat:
30
g
|
Cholesterol:
715
mg
|
Sodium:
2161
mg
|
Potassium:
243
mg
|
Fiber:
30
g
|
Sugar:
28
g
|
Vitamin A:
1650
IU
|
Calcium:
687
mg
|
Iron:
13.7
mg