Easy As Pie – Isn't that an oxymoron?
Like an open secret or an authentic replica? Growing up, I watched my mom and three aunts roll, dust, and whip their way to pie perfection. Flaky crusts, sumptuous filling and satisfied bellies were the order of the day. Sometimes two words just don't seem to mix, and "easy" and "pie" were on that list for me.
A few years and multiple complications later – like learning to bake without refined sugar or gluten – it seemed almost impossible. But trust me, it's so much easier than you might think.
It's as easy as . . . pie.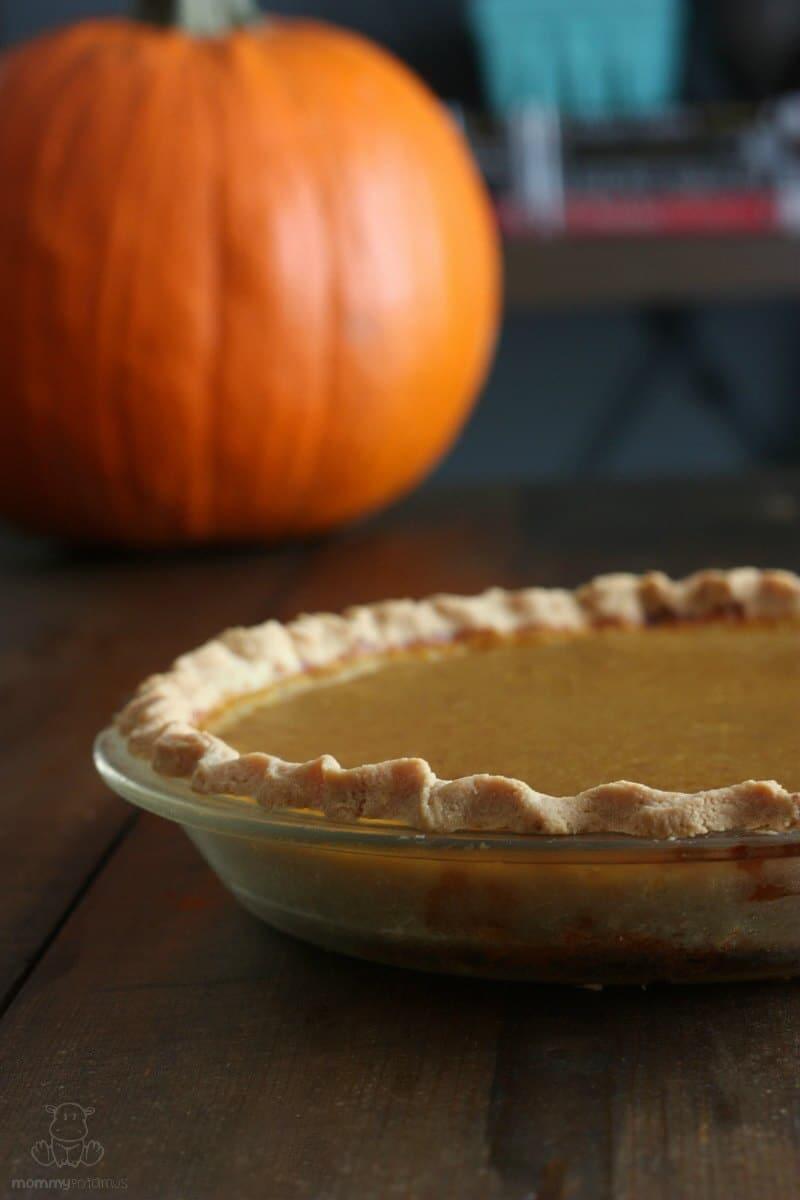 This is the fourth year I've made gluten-free pumpkin pie for the holidays, and it has become one of my favorite simple pleasures. My hope is that with this recipe it will become one of yours, too. Pair it with my grain-free homestyle stuffing, thick and creamy gravy, and roasted pastured turkey for a sumptuous fall feast.
Oh, and just for fun . . .
I've recorded a quick tutorial on how to crimp your pie crust to make it more decorative.

Pumpkin Pie Recipe (Gluten-Free, Paleo)
Instructions
To make the crust:
Preheat oven to 350F. Add almond flour, arrowroot powder and salt to a food processor and pulse a few times to mix. Add egg, vanilla and butter and process until well combined. Roll dough into a ball and place in the center of a 9 inch pie pan. Using your palms and fingertips, spread the dough outward toward the edges of the pan. If desired, crimp the crust using the technique demonstrated in the video above. Brush edges with egg white. Bake for 12 minutes, then remove and allow to cool while you work on the filling.
To make the filling:
Preheat oven to 350F degrees.

Place pumpkin halves cut side down in a baking dish and add 1/4 inch water.

Remove from the oven when you can easily pierce the shell with a fork (about 45 minutes - 1 hour)

Scoop out the flesh and measure out three cups of pumpkin. Place in a food processor or blender and add the coconut milk, eggs, honey and spices. Puree until smooth. 
Putting it all together:
Add filling to pie crusts and bake at 350 for 45 minutes to one hour. If you have one of these pie crust protectors, awesome. If not, lay thin strips of foil over the crust to prevent it from burning.
Nutrition
Calories:
0
kcal
|
Carbohydrates:
0
g
|
Protein:
0
g
|
Fat:
0
g
|
Saturated Fat:
0
g
|
Polyunsaturated Fat:
0
g
|
Monounsaturated Fat:
0
g
|
Trans Fat:
0
g
|
Cholesterol:
0
mg
|
Sodium:
0
mg
|
Potassium:
0
mg
|
Fiber:
0
g
|
Sugar:
0
g
|
Vitamin A:
0
IU
|
Vitamin C:
0
mg
|
Calcium:
0
mg
|
Iron:
0
mg