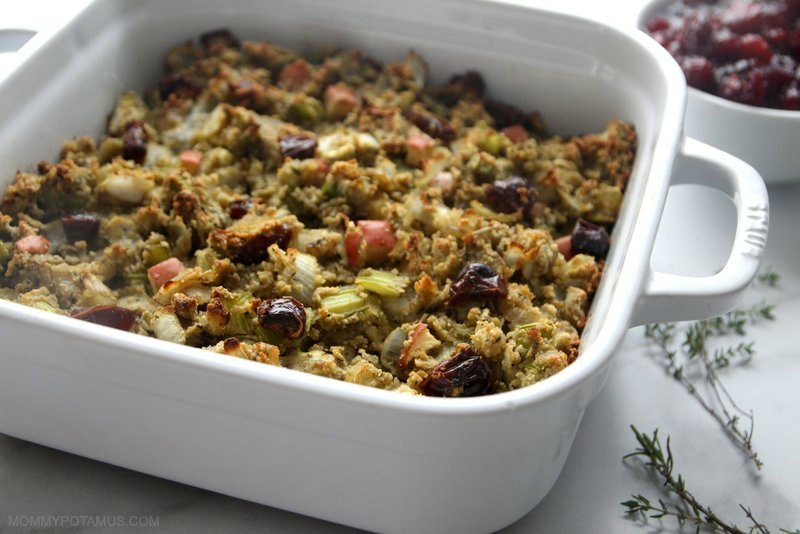 Savoury Sage & Sweet Apples . . .
Make this holiday stuffing a delicious, grain-free alternative to traditional bread-based dishes. We love it with with roasted pastured turkey, creamy grain-free gravy, broccoli and grape slaw, pecan bars, cauliflower mashed "potatoes" and pumpkin pie.
A lot of you seem to love it, too – it's such a delight to read through the reviews you've left over the years! Here are a few in case you're skeptical about giving it a try.
"My mom makes the best cornbread dressing in the South so I needed a grain-free alternative to keep me from being tempted to indulge on thanksgiving. This recipe was incredible! Perfect consistency and texture!" – Shannah
"I have made this recipe for Tgiving every year since we started GAPS in 2012. It is just our small, immediate family and my in-laws. But even though my in-laws eat nothing but processed food when they aren't visiting us, they gobble up (Tgiving pun intended!!!!) this stuffing. Only change I make is substituting diced apple for the dates. Will be making your recipe again this year." – Nancy
"I know this recipe has been out for awhile, but just wanted you to know that I made it for the first time this past Thanksgiving and it was absolutely DELISH! Very easy to put together and tasted even better the next day. Thank you for such a terrific recipe. I will definitely be sharing with my friends and family!" – Demi
Gluten-Free Stuffing Recipe
Note: This serves a small family of 2-3. Double or triple the recipe as needed.
Grain-Free Homestyle Stuffing
Instructions
Preheat oven to 350F

Grease a medium-sized baking dish (If you're using a cast iron skillet or

Xtrema pan

that can go from stovetop to oven, skip this step

Add 2 tablespoons butter/ghee/coconut oil to a saucepan and warm over low/med heat.

Add onion, celery, apple and herbs and saute over medium heat for 5 minutes. Remove from heat.

In a large bowl, add almond flour and dates and mix. (Note: If you have a cast iron or

Xtrema pan

that can go from stovetop to oven, you can just mix everything in the pan.)

Add the lightly beaten eggs to the bowl and mix well.

Add mixture to baking dish and bake at 350F for 45 minutes - 1 hour
Nutrition
Calories:
0
kcal
|
Carbohydrates:
0
g
|
Protein:
0
g
|
Fat:
0
g
|
Saturated Fat:
0
g
|
Polyunsaturated Fat:
0
g
|
Monounsaturated Fat:
0
g
|
Trans Fat:
0
g
|
Cholesterol:
0
mg
|
Sodium:
0
mg
|
Potassium:
0
mg
|
Fiber:
0
g
|
Sugar:
0
g
|
Vitamin A:
0
IU
|
Vitamin C:
0
mg
|
Calcium:
0
mg
|
Iron:
0
mg