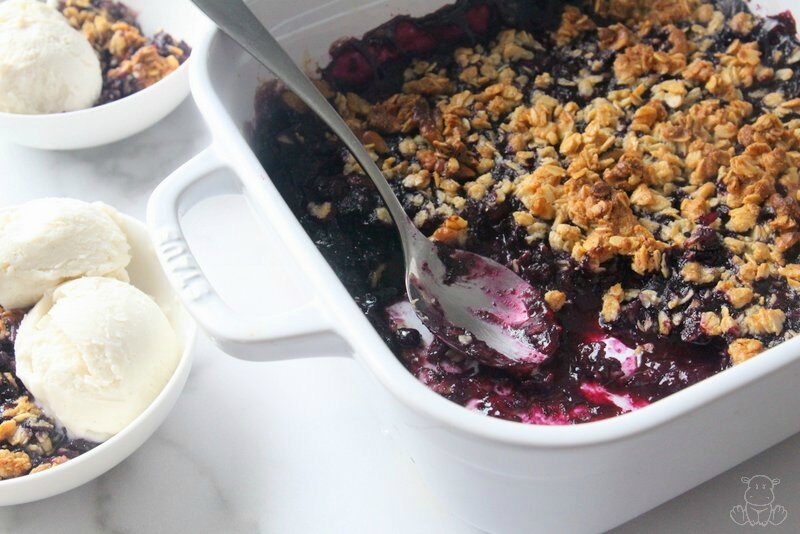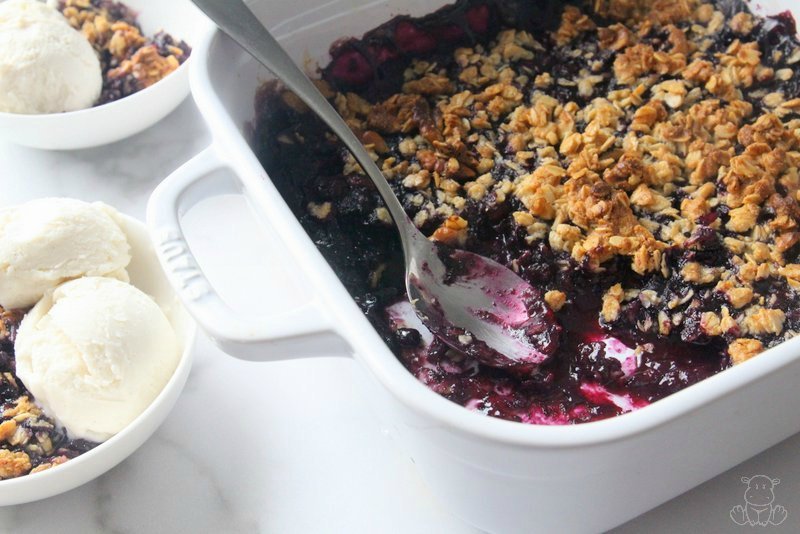 This blueberry crisp is as easy to make as it is delicious. Made with an irresistible crisp topping layered over a juicy, thick blueberry filling, it doesn't require any pre-simmering of the berries so you skip washing an extra pan. You can also mix the blueberry filling directly in your baking dish and skip washing an extra bowl, too. (You know how I love to skip unnecessary steps in recipes!)
For me, the secret to making a good crisp is the ratio of topping to filling – I like a generous amount, so that you get a little crunch with every bite. When you first make the topping and sprinkle it over the filling it may will look a little too generous, though. Don't worry, it will sink in and meld with the filling a little while it's baking.
I usually serve this recipe rustic-style (in other words, all by itself), but on special occasions I'll add a dollop of whipped cream or scoop of vanilla ice cream as well.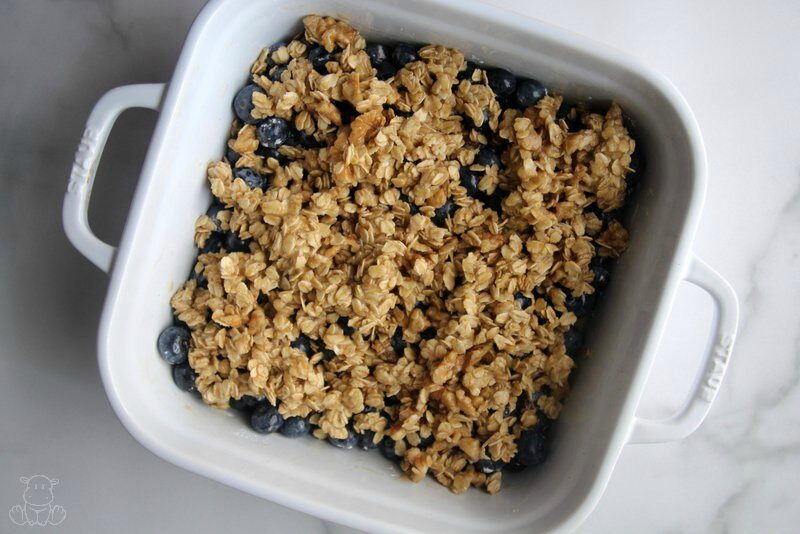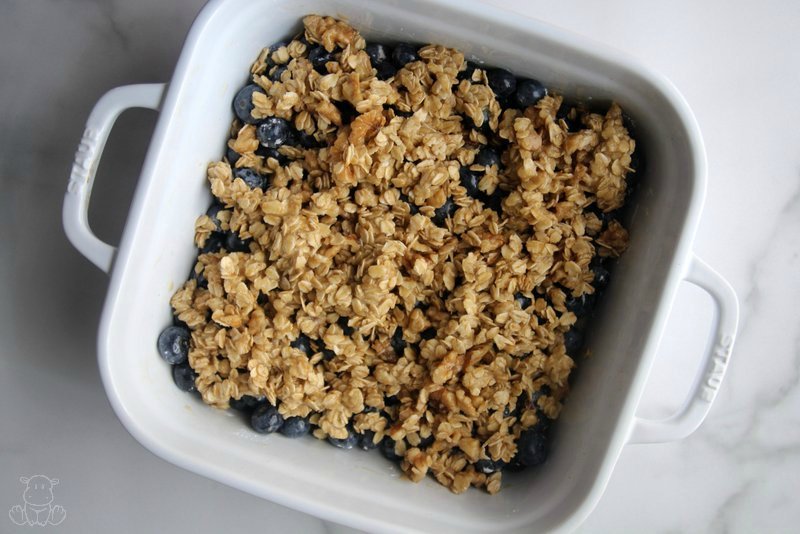 What's the difference between a crisp, a crumble, and a cobbler?
Let's start with what they have in common. They're:
All made with fruit and some kind of topping
Quicker and easier to prepare than pie
Yummy
The difference is in the topping:
A crisp typically has a crunchy topping made with a oats, a sweetener, flour (in our case almond), butter (or coconut oil if you're dairy-free), and sometimes nuts like pecan, walnut or almond. One of the most famous versions is the apple crisp, but there are lighter, summery versions like this strawberry crisp.
A crumble topping doesn't usually include oats or nuts. It's more like a streusel.
Cobbler is usually made with a thick dropped-biscuit or pie dough topping. (We favor the biscuit topping in our peach cobbler.)
Can I use frozen blueberries?
Yes! Both fresh blueberries and frozen blueberries will work, but if you're using frozen you'll need to allow them to thaw. They should be either room temperature or slightly chilled – similar to what fresh blueberries stored in the fridge would be.
Easy Blueberry Crisp Recipe (Gluten-Free)
Made with an irresistible crisp topping layered over a juicy, thick blueberry filling, this blueberry crisp recipe is as easy to make as it is delicious.
Instructions
Preheat your oven to 350F. 

Place the blueberries in an 8×8 casserole baking dish and sprinkle with arrowroot flour. Stir lemon juice into the maple syrup and pour over the blueberries.

Stir the blueberries until they are well-coated with the arrowroot, maple syrup and lemon juice, then set aside. 

In a medium bowl, combine all the dry ingredients needed for the crisp – oats, walnuts, almond flour, and salt. Stir until well-combined.

Add the coconut oil/butter and maple syrup  to the crisp mixture and stir again. 

Scoop spoonfuls of the topping over the blueberry mixture. It's best to leave a little space between the spoonfuls to allow some heat to escape from the blueberry mixture during baking. 

Bake for 45-55 minutes, or until golden brown on top. Allow to cool for 10-15 minutes before serving. 
Nutrition
Calories:
263
kcal
|
Carbohydrates:
34
g
|
Protein:
4
g
|
Fat:
14
g
|
Saturated Fat:
6
g
|
Polyunsaturated Fat:
3
g
|
Monounsaturated Fat:
1
g
|
Sodium:
68
mg
|
Potassium:
160
mg
|
Fiber:
4
g
|
Sugar:
20
g
|
Vitamin A:
37
IU
|
Vitamin C:
7
mg
|
Calcium:
52
mg
|
Iron:
1
mg
Want more blueberry recipes?
Here are a few of my favorites:
FREE: 35+ Delicious Gluten-Free Desserts
As a thank you for becoming a subscriber, I've created a free ebook for you – 35+ Gluten-Free Desserts. Every Sunday you'll get recipes, actionable health tips, and highly-vetted product recommendations delivered fresh to your inbox.
Sign up using the form below.