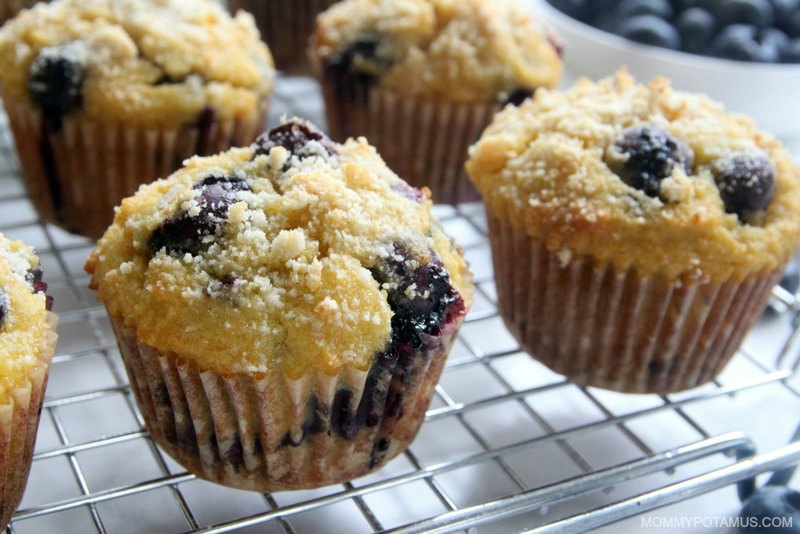 Have you ever strolled through your local grocery store, picked up a bottle Blue #2, corn syrup and sugar and thought "Hey, I should use these to make blueberry muffins!"
Of course not, because unlike some manufacturers, you know that blueberry muffins should contain actual blueberries, not "blueberry bits." (And call me controversial, but pumpkin spice lattes should contain actual pumpkin, too.)
Where was I? Oh right: Making gluten-free blueberry muffins with wholesome ingredients is super easy, and way more delicious than what you get with boxed muffin mixes.
I'm talking plump, delectable blueberries and a moist, cakey batter that fills the kitchen with its lovely aroma as it rises in the oven.
Although I like to use fresh blueberries when they're in season, frozen blueberries work just fine, too. I recommend using them frozen instead of thawed so that they don't stain the batter as you fold them in.
We love these blueberry muffins served warm and slathered in butter – I hope your family does, too!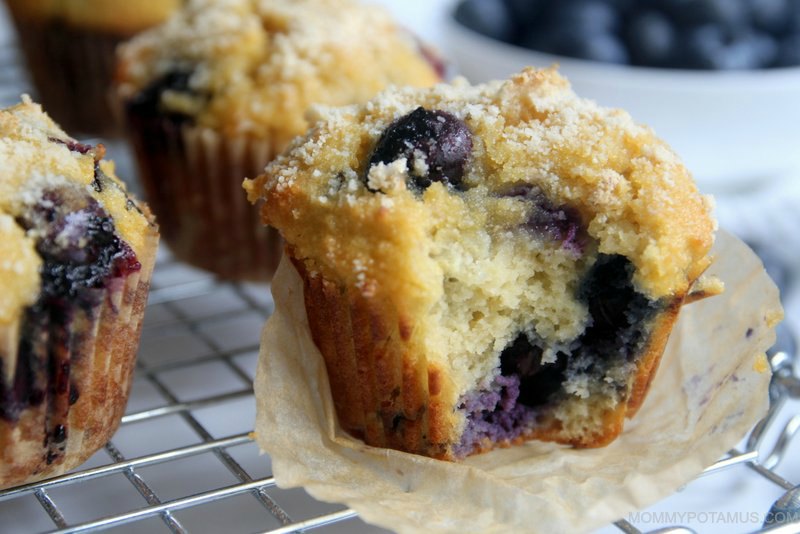 Gluten-Free Blueberry Muffin Recipe
These gluten-free blueberry muffins are super easy and way more delicious than store-bought mixes. I'm talking plump, delectable blueberries and a moist, cakey batter that fills the kitchen with a lovely aroma as it rises in the oven.
Equipment
Standard muffin tin

Unbleached paper liners are optional but recommended.
Instructions
Preheat your oven to 350 degrees Fahrenheit.

After you've measured out 2 cups of almond flour, scoop out 4 teaspoons and place it in a small cup or bowl. Set aside until you're ready to sprinkle it on the tops of the muffins just before baking

In a large bowl combine the remaining  almond flour with the coconut flour, baking powder and salt.

In a separate bowl whisk together the eggs, honey and vanilla, then add the wet ingredients to the dry ingredients and mix thoroughly.

Gently fold in the blueberries with a large spoon or spatula.

Divide the blueberry muffin batter between nine cups.  (You'll want to use approximately 1/3 cup batter per muffin cup.)

Pour the 2 teaspoons oil or melted butter into a small bowl and dip your fingers into it. With lightly oiled hands, pat down the tops of the muffins. 

Sprinkle with the almond flour you set aside.

Place the muffin pan in the oven and bake for 20-25 minutes, or until the tops are springy yet lightly firm. They should feel just the tiniest bit undercooked in the center when pressed. That's perfect - the muffins continue to cook a little while they're resting in the pan after you remove them from the oven. Of you wait until a toothpick comes out completely clean they'll be overcooked.

Allow to cool in the pan for 5 minutes before serving warm or transferring to a wire rack to cool to room temperature.
Nutrition
Serving:
1
muffin
|
Calories:
330
kcal
|
Carbohydrates:
31
g
|
Protein:
12
g
|
Fat:
20
g
|
Saturated Fat:
3
g
|
Cholesterol:
140
mg
|
Sodium:
216
mg
|
Potassium:
140
mg
|
Fiber:
6
g
|
Sugar:
21
g
|
Vitamin A:
212
IU
|
Vitamin C:
2
mg
|
Calcium:
108
mg
|
Iron:
2
mg
Want More Gluten-Free Muffin Recipes?
Here are a few of my favorites:
Strawberry Streusel Muffins – These muffins pair a rich, cakey batter with a crunchy, crumbly streusel topping, and they're surprisingly easy to make.
Lemon Poppyseed Muffins – My daughter and I worked on this recipe for over a month, and she's super proud that her input created the winning batch. The flavor is bright and lemony, and the texture is moist and cakey. So good.
Spiced Banana Walnut Muffins – You can prep these muffins in 5 minutes flat. Makes a great breakfast or back-to-school snack.
Frequently Asked Questions
Below are answers to some of the most commonly asked questions I've received about gluten-free baking:
Can I use my all-purpose gluten-free flour blend instead of almond flour and coconut flour?
Almond flour and coconut flour absorb liquid differently than all-purpose flours, so unfortunately they can't usually be swapped for each other in baking recipes. I haven't tested this recipe with any pre-made blends but my guess is they may turn out too wet, too dry, etc.
Can I use frozen blueberries instead of fresh?
Yes! I suggest using them frozen, because if they're room temperature they'll stain the batter blue as you fold them in.
Can I use applesauce as an egg replacer?
Although I have used applesauce as an egg replacer in some recipes, I haven't tested it in this one. I think it tends to work best in recipes that only use 1-2 eggs. This one uses significantly more and may not hold together as well with applesauce. That said, if you try it please let us know how it works out!