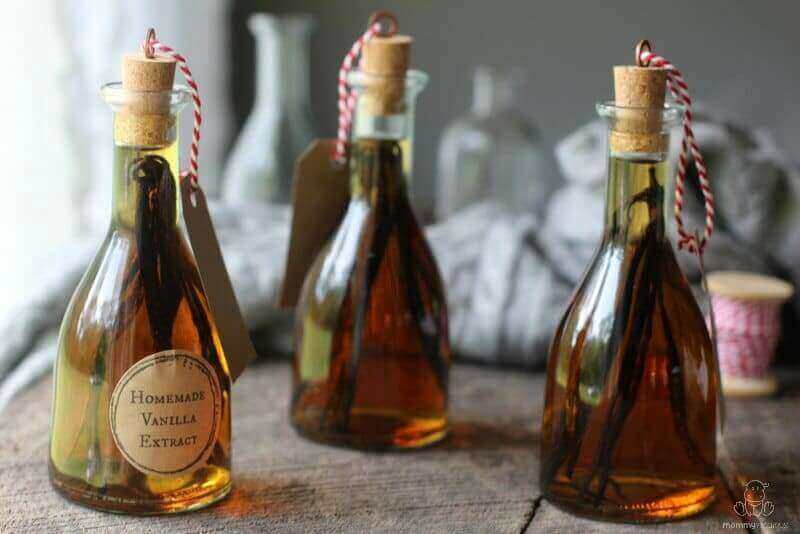 Have you ever wandered into a liquor store with a toddler in tow at eleven in the morning, plopped down a bottle of vodka on the counter and smiled? It yields quite an interesting response, I assure you.
Of course, I had very different plans than the cashier probably guessed – homemade vanilla extract! Not only is it more delicious than store-bought, it's far more affordable. I'm planning to give some away for the holidays this year along with homemade lotion bars and a few other goodies.
Oh, and if you love the idea of a handmade holiday season but dread the thought of a bunch of unfinished projects, this is the tutorial for you! With just a few minutes of your time now, plus at least eight weeks for the extract to ripen, and you'll have amazing homemade gifts that will bring warmth and joy to your holiday events.
If the extract won't be quite ready when you need it, just write "Open me on November 1st!" (or whatever date is appropriate) on the tag.
To make your extract, you'll need four things:
Vanilla beans
80 proof vodka, bourbon, rum, or other alcohol
A bottle
Time
Later on in this article I'll cover how to package your pure vanilla extract beautifully for gifting (including links to everything I used), and answers to FAQs about reusing vanilla beans, making an alcohol-free version, and more.
First, though, let's talk about selecting your ingredients.
A Guide To Choosing Your Vanilla Beans
Making vanilla extract is a super simple process, but if you've ever read up on making extract before you may have felt overwhelmed by the different vanilla bean options out there. Is it better to go with the creamy, bold Madagascar vanilla bean or the rich, smokey Mexican vanilla bean? Or maybe the sweet, floral Tahitian vanilla bean instead?
Here's my take: The rich flavor we associate with vanilla is present in all of them, and while the country of origin does impact the final product it's a relatively small difference. Unless you are a supertaster who can distinguish between a cup of coffee from Brazil and one from Ethiopia, I recommend going with whatever beans sound good to you and is within your budget. Most vanilla extracts sold in grocery stores are made from Madagascar beans, but they're all wonderful.
Another tip is to go with Grade B beans. The way vanilla beans are graded is more about intended purpose than quality. Grade A beans are more moist and plump, which makes them ideal for gourmet cooking and pastry making. Grade B beans, on the other hand, have a lower moisture content which makes them ideal for making extract.
Here are some options to consider:
What kind of alcohol should I use?
Vodka is probably the most common alcohol used to make extract because it is the most neutral in terms of flavor. However, I've also made extract with rum and brandy and they're absolutely delicious. Other options include bourbon and whiskey.
Something to keep in mind is that certain types of alcohol – vodka and bourbon, for example – are sometimes made from genetically modified corn and/or enzymes derived from genetically modified organisms. Manufacturers claim that none of the genetic material makes it through the distilling process to the final product, but to my knowledge that has not been independently verified.
In a report on Kentucky bourbon and GMO's, Grist.com author Twilight Greenaway writes:
This question of the genetic material passing through the distillation process came up repeatedly while I was researching the issue, and while it's an important one, the fact is that neither Brown-Forman, nor the Kentucky Distillers Association (KDA), nor The Alcohol and Tobacco Tax and Trade Bureau (TTB) have made any scientific research public that proves their point. The KDA did not respond to my inquiries either.)" (1)
Organic options are hard to find, but there are certain sources that are still likely to be GMO-free. If you're looking for vodka, Absolut says they're non-GMO. For bourbon, here are a few brands to consider.
Rum, which is derived from sugarcane, would not contain genetically engineered ingredients unless they come from enzymes used in the fermentation process. I contacted one brand, Appleton Estate, and they confirmed that their products are non-GMO.
Tips for Packaging DIY Homemade Vanilla Extract As A Gift
I love gifting pure vanilla extract in gorgeous bottles that can be repurposed later on. Although it's ideal for the vanilla to be completely ready when given, sometimes it's not practical. If the extract needs a few more weeks, I sometimes give it with "Open me on November 1st" (or whatever date is appropriate) written on the tag.
Regarding packaging, here are three of my favorite options.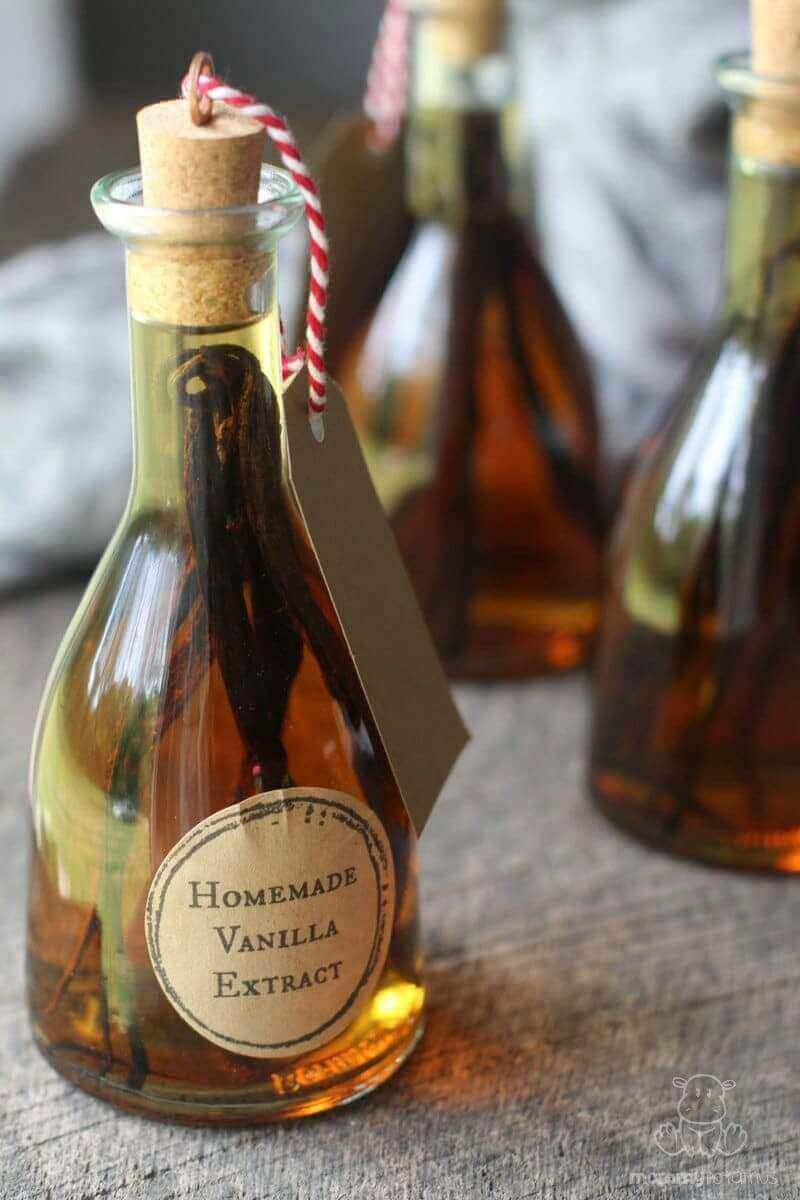 Option 1: Fluted Cork Top Bottles
The recipe below will make two bottles of vanilla extract using the bottles in the above photo. If your vanilla beans are not completely under the rum, vodka, etc. after you place everything in the bottle, add enough additional liquid to cover them.
For this project, I used: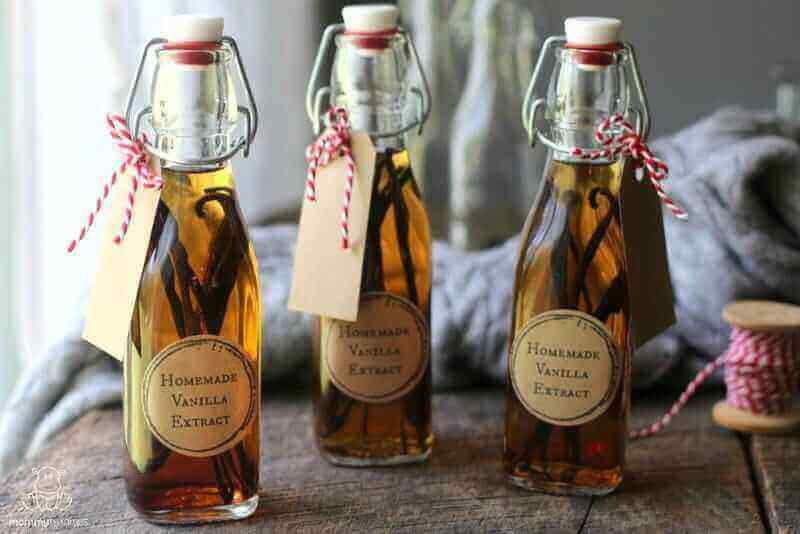 Option 2: Swing-Top Bottles
The recipe below will make two bottles of vanilla extract using these bottles. Just like with the bottles above, if your vanilla beans are not completely under the rum, vodka, etc. after you place everything in the bottle, add enough additional liquid to cover them.
For this project, I used: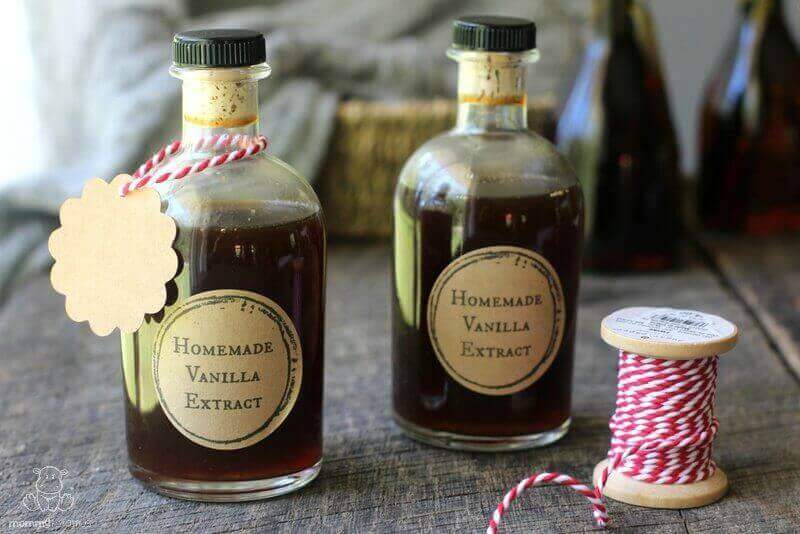 Option 3: Boston Round Bottles
The recipe from this book will make two bottles of vanilla extract using these bottles. You will need to cut the vanilla beans in half to fit them in.
For this project, I used a bottle that isn't available right now, so I've included similar options in the links below:
The recipe below is intended to fill two 8 ounce bottles. To fill two of these larger bottles, add 1 cup alcohol and 5 vanilla beans to the recipe.
Free Download: "Homemade Vanilla Extract" Label Template
If you'd like to recreate the bottles in the photos, I've created a free label template for you.
How To Make Vanilla Extract
Here's how to make vanilla extract with just five minutes of hands-on time and two ingredients. It's so delicious you'll never want to buy store-bought again. 
Equipment
sharp knife

Two 8 ounce jars or one 16 ounce jar
Instructions
A note before getting started:
A note before getting started: Some extract makers choose to split the vanilla bean lengthwise to accelerate the infusion process, while others avoid this step because they feel it makes the extract a bit more cloudy. I've tried both methods and think they both deliver excellent results, so choose whichever approach you prefer.

If you'd like to use split vanilla beans, just use a sharp knife to cut them lengthwise before adding them to your bottle. 
How to make vanilla extract:
Place vanilla beans in a bottle or jar. Pour the liquor over them until they are completely covered. Seal the container and shake well. 

Allow the bottle to infuse in a dark cabinet for at least eight weeks. Give it a good shake every couple of weeks or so. The longer you let the vanilla infuse the stronger the flavor will be. I've allowed some of my batches to age for over a year. 

When the extract has reached the depth of flavor that you prefer, remove the vanilla beans and use them to make vanilla sugar (you'll find instructions in the FAQ section below) or as an addition to your morning coffee. Store your extract in either a dark container or a dark cabinet.
Nutrition
Calories:
1226
kcal
|
Carbohydrates:
13
g
|
Fat:
8
g
|
Sodium:
5
mg
|
Iron:
1
mg
Frequently Asked Questions
Below are answers to the most common questions I've received since I first published this tutorial a few years ago. If you have a question you don't see covered, please ask in the comments below!
Can I reuse my vanilla beans to make a second batch?
Yes you can, but they'll be less potent so I recommend using them alongside some fresh ones. I recommend cutting them in half so that you know which ones are on their second run and which ones can still be reused. Another option is to make vanilla sugar with your used beans. (Recipe below)
What can I do with the vanilla beans once I've made extract?
I add them to my coffee for an extra special morning brew or make vanilla sugar.
How do I make vanilla sugar?
Place sugar (sucanat, maple sugar, or any kind you like) in a food processor. Slice your beans lengthwise, or if you cut them before making extract find the existing slit. Scoop out the seeds and add them to the food processor. Pulse until the seeds are mixed throughout the sugar, then transfer everything to a jar. Cut the remaining vanilla pods into small pieces and add them to the sugar to continue infusing. Seal the jar with a lid and store in a cool, dark area.
Can I make vanilla extract without alcohol?
Yep. You can use glycerin instead of alcohol, but there are a couple of things you need to know. First, glycerin is naturally sweet, so your final product will be as well. Second, it's not as powerful of an extraction medium as alcohol, so I recommend warming it up so that it is hot to the touch (but not boiling) and then pouring it over the beans in a heat-proof jar.

Even with that extra step, it will likely take longer than traditional extract to reach the flavor intensity most people expect. When I tested this recipe using glycerin, I allowed it to infuse for a year.
What is the shelf life?
It should last indefinitely if stored in a cool, dark, dry place.
Is homemade vanilla extract gluten-free?
Yes, as long as the alcohol you use is gluten-free. From what I've ready, all distilled liquors should be gluten-free due to the processing, but some add mash containing gluten back into their finished product to enhance the flavor. Also, some liquors may be stored in barrels that use wheat paste in the wood and such, so it's best to ask the manufacturer if you're avoiding gluten.
Is this a single-fold or double-fold extraction?
Vanilla extract comes in many strengths. Single-fold is what you find in most grocery stores. It made by infusing 13 ounces (by weight) of vanilla beans per gallon of alcohol. Double-fold needs at least 23 ounces of vanilla beans per gallon.

My recipe goes by number of beans rather than weight for two reasons. First, it's easier. Second, in my experience there's some variation in flavor intensity between beans, so sometimes smaller ones pack a bigger flavor punch. For that reason, I just keep infusing until the extract is as strong as I want it to be. Sometimes that takes less time than usual, sometimes it takes more.

Since I don't use weight as my measurement this recipe is not exact, but it's closer to a single-fold. If you want to a stronger extract, just add more. 🙂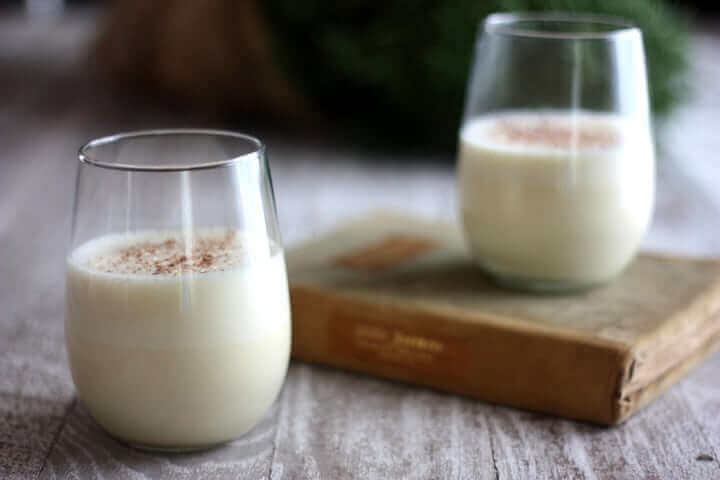 Some of My Favorite Recipes That Use Vanilla Extract
Lemon Bread With Vanilla Glaze – This sweet and tangy lemon bread with vanilla glaze is made with wholesome ingredients, and I've been told by one Starbucks Lemon Loaf lover that's it's just as satisfying as store-bought.
Homemade Eggnog Recipe – Grandma didn't drink eggnog with high fructose corn syrup, artificial flavors, stabilizers and carrageenan, and you don't have to either! Make this quick and easy creamy eggnog recipe instead.
Strawberry Shortcake Biscuits – These biscuits from my friend Kelly's cookbook are so simple and delicious!
Paleo, Gluten-Free Sugar Cookies – Decorated with naturally colored sprinkles and plant-based, natural food dye, these sugar cookies are super easy to make and fun to decorate.
1. Grist (2012) Bourbon of Proof: Is Kentucky's heritage spirit compromised by GMO corn?