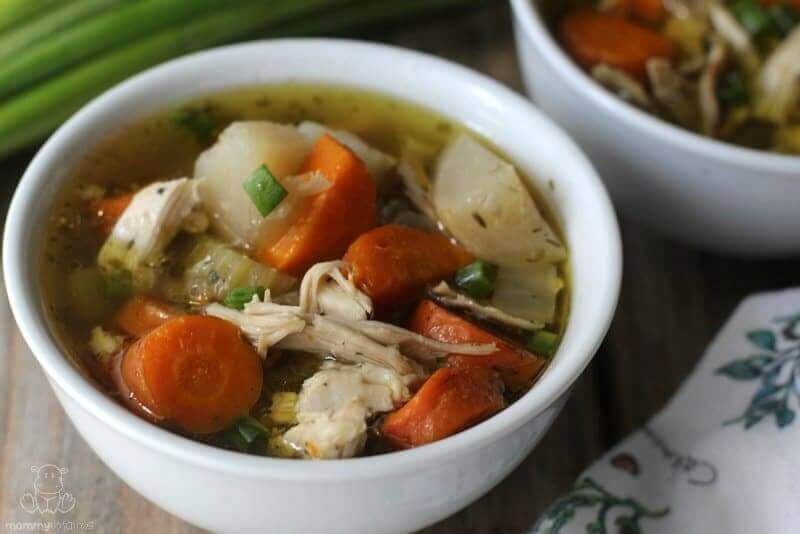 When life gives you pressure, cook with it. <– I'm not sure where I heard that saying for the first time, but it's been my motto since I picked up my beloved Instant Pot last December. Seriously, my IP has become almost like a friend – I even took it on vacation with me. I did not, however, plop it next to me on the beach and hand it a coconut pineapple popsicle, so I guess you could say the IP is a better friend to me than I am to it.
Now, I'll admit that when it first arrived on my doorstep I wondered if it would be easier to, say, build a time machine or earn a doctorate in theoretical physics than figure it out, but fortunately it's much easier to use than I expected. Some friends shared a few tried-and-true recipes to help me get the hang of things, and it's been saving dinner ever since!
Today, I want to share one of my favorite tried-and-true recipes with you. 🙂
This recipe for belly warming chicken soup was declared one of the most satisfying and flavorful ever by my husband, and it was so easy to make! I found it in Dr. Karen Lee's ebook, Easy Instant Pot Paleo Recipes, and she graciously gave me permission to share it with you. (Thank you, Dr. Karen!) If you're looking for delicious ways to simplify mealtimes, I highly recommend you pick up a copy.
Here are some recipes I've made and loved:

From left to right: BBQ Chicken Drumsticks (A bit too spicy for my littles, but no problem. More for me!), Chicken Garam Masala (So much yes to this one), and the Chicken Soup I'll be sharing with you today.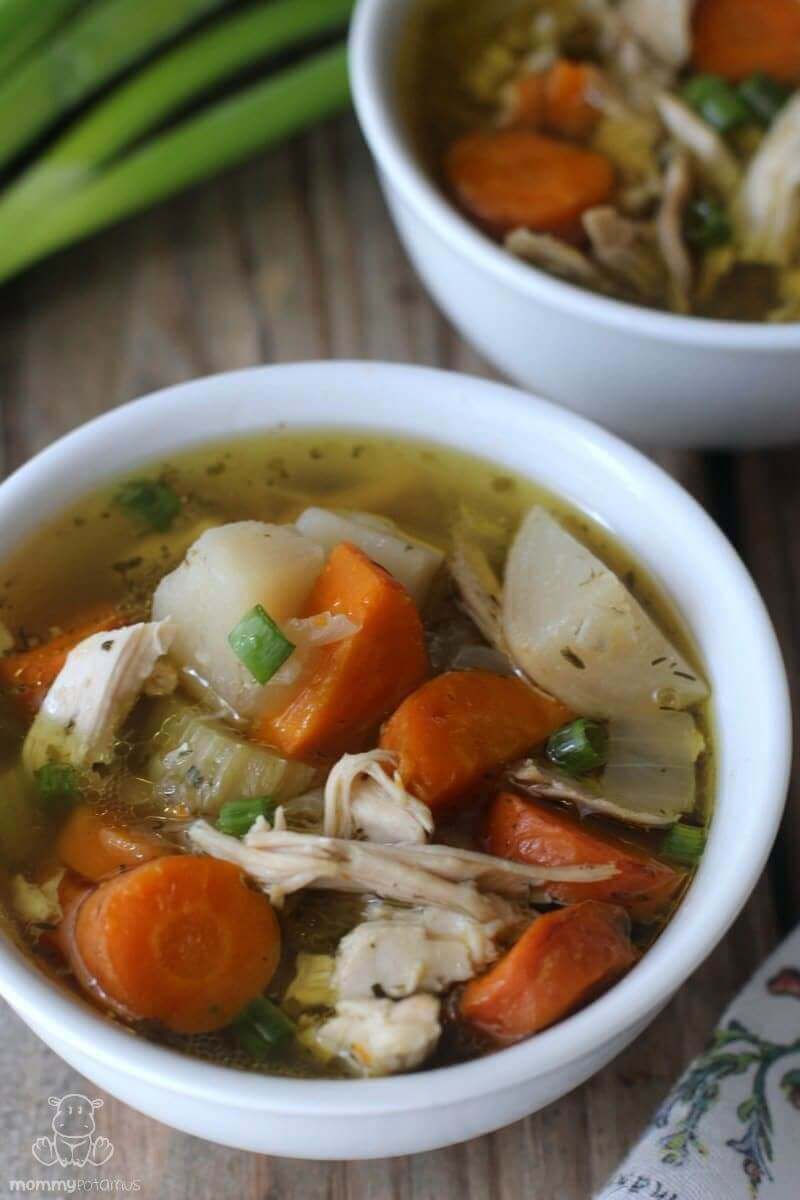 Once you've delighted your family with this recipe, make sure to save the bones for homemade chicken broth. I'll be sharing a tutorial for making it in an Instant Pot next week, but here are some slow cooker instructions for now. Also, if you're not sure what to do with your freshly made chicken broth I have three words for you – egg drop soup.
Instant Pot Chicken Soup Recipe
Ingredients
2-3

lb

pastured chicken

2

carrots

(roughly chopped)

1

celery stalk

(roughly chopped)

¼

cup

turnip or radish

(cut in 2" cubes – I used a little less than ¼ cup chopped daikon radish)

1

tbsp

Italian seasoning

(or equal mixture of dried parsley, oregano, thyme and rosemary)

3

cloves

garlic

(crushed)

1

medium onion

(sliced or diced)

1

tbsp

sea salt

purple onion

(thinly sliced or finely chopped scallion to garnish)
Instructions
In the liner pot, add the vegetables first, then, chicken, and the herbs on top.

Add 4-5 Cups of cold water.

Close the lid tightly and close the vent.

Press "SOUP".

When the timer goes off, release the pressure naturally, using NPR. It may take about 20-30 minutes after the timer goes off for the vent to open.

Open the lid, take out the chicken and debone the meat.

Reserve the bones to make bone broth. Put the meat back to the pot and stir.

Crush the carrots and celery gently against the side of the pot with the back of a spoon.

Salt and pepper to taste.

Before serving, garnish with thinly sliced onions, and scallions.
Nutrition
Calories:
1072
kcal
|
Carbohydrates:
32
g
|
Protein:
85
g
|
Fat:
66
g
|
Saturated Fat:
19
g
|
Cholesterol:
327
mg
|
Sodium:
7398
mg
|
Potassium:
1535
mg
|
Fiber:
9
g
|
Sugar:
12
g
|
Vitamin A:
21076
IU
|
Vitamin C:
32
mg
|
Calcium:
210
mg
|
Iron:
7
mg