"Why are my friends calling themselves Potheads?" <– It wasn't the kind of question I expected to be asking myself while changing diapers, and yet a few months ago it was definitely something I was mulling over. Turns out, they'd just discovered the magic that is the Instant Pot – phew!
Now, I've had a pressure cooker for a few years, but I hadn't developed such a strong relationship with it that I named it or anything. (My slow cooker's name is Betty, if you're wondering.)
Anyway, the lid to my stovetop pressure cooker just so happened to break when the 7-in-1 Instant Pot was on sale, so I decided to give it a whirl. Oh. My. Goodness. I didn't realize how much I was babysitting my old pressure cooker until I pressed a few buttons on my Instant Pot and walked away for an hour.
Since then I've been been on a mission to figure out more ways to use it. This "roast" chicken is one of my current favorites. It's so tender, and I can have it on the table with broth already bubbling away (in the Instant Pot, of course) in less time than it used to take me just to roast the chicken. That means there's more time for Llama Llama Red Pajama and extra snuggles at the end of the day, which is fine by me.
Note: This recipe has been updated to eliminate the need for flipping halfway through.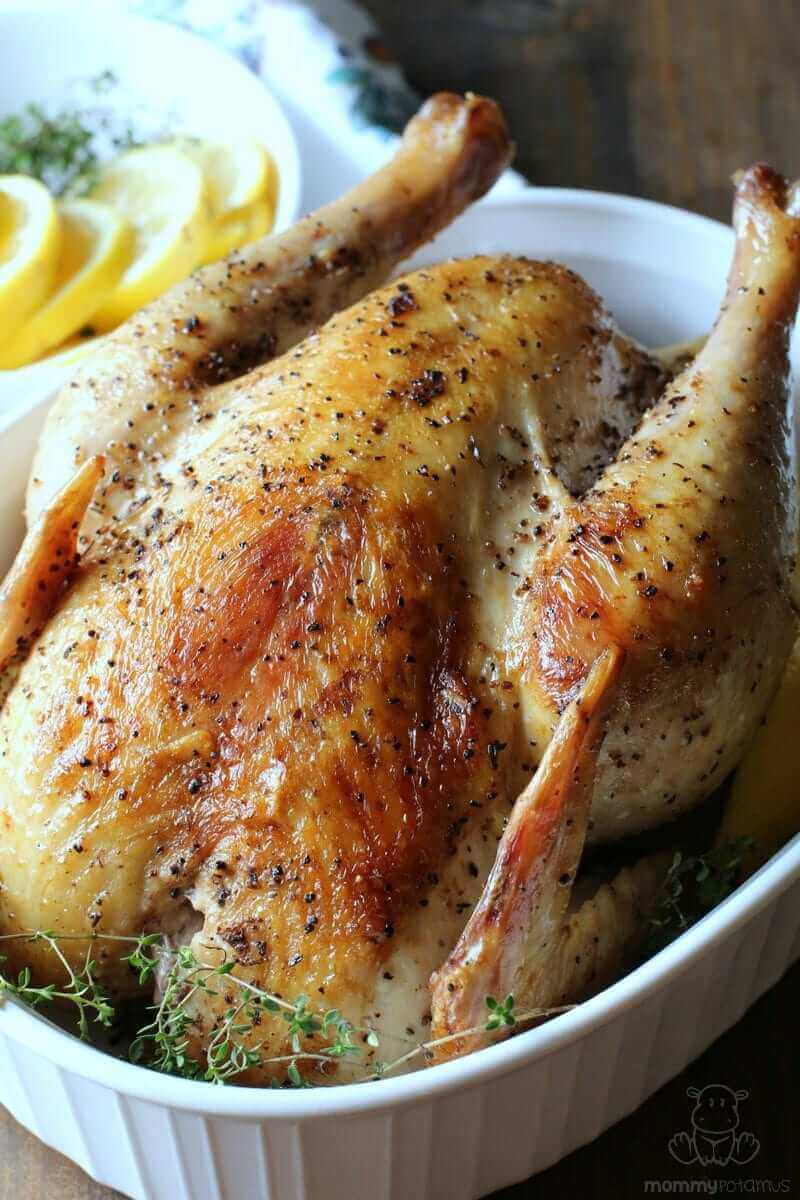 Instant Pot Pressure Cooker Whole Roast Chicken
Instructions
Turn on the sauté setting and add in the coconut oil. When the oil heats up, place the chicken in breast-down and brown. I move mine around a few times to brown the sides as well.

When the chicken is nice and brown, turn it over and place it on the trivet/rack that comes with your pot. Add 1 cup water to the bottom of the pot and sprinkle the chicken with seasoning.

Lock the lid into place and set the valve to "sealing." Select "Poultry" and then increase the type of pressure from normal to high. (If you have the 7-in-1, you can do that by pressing the "Adjust" button.) If your chicken is four pounds you'll want to set the time for 24 minutes. If it's smaller or larger, calculate how much time it should cook by multiplying the number of pounds by 6 minutes. So, a 3 pound chicken would be 18 minutes and a five pound chicken would be 30.

Allow the Instant Pot to depressurize naturally and then serve.
Nutrition
Calories:
1755
kcal
|
Protein:
142
g
|
Fat:
128
g
|
Saturated Fat:
45
g
|
Cholesterol:
571
mg
|
Sodium:
533
mg
|
Potassium:
1440
mg
|
Vitamin A:
1066
IU
|
Vitamin C:
12
mg
|
Calcium:
84
mg
|
Iron:
7
mg