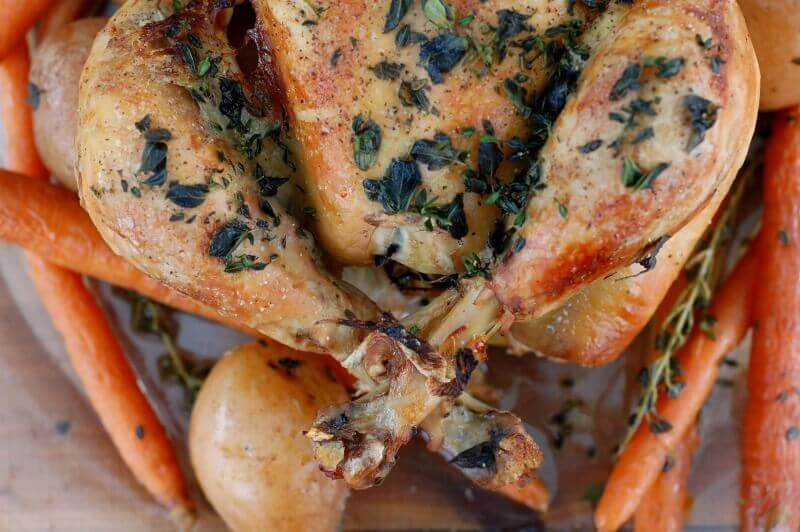 Note from Mommypotamus: Today's guest post comes from Renee Kohley of Raising Generation Nourished, one of my favorite new blog discoveries. Renee specializes in wholesome, nutrient-dense recipes that are deeply flavorful and kid-approved. I know we could all use a few more of those, so I've invited her to be a guest contributor this winter. Welcome, Renee, and thank you for sharing with us!
(Oh, and don't forget to save your chicken bones for broth. Here's my favorite recipe.)
So last weekend it happened
You know, the whole, "when it rains it pours thing?"
Yeah, that.
Not only did my 3-year-old wake up at 2:04 a.m. sharp with the barkiest seal cough you ever heard, but my 17 month old decided it was a fantastic weekend to start pushing through *three* molars. Top that off with the third major blizzard of the winter to dig out of, and we had quite a weekend on our hands.
This weekend I decided we all needed a taste of comfort. After a whirlwind few days where all of our plans got thrown out the window, it seems like a good idea to bring everyone back to a sense of normalcy and feel the comfort of a warm meal.
There is just something about infusing the aroma of fresh herbs into a chicken that makes my whole house calm. I love to slow roast chickens not only because it makes them super delicious and juicy, but because it makes the whole house smell amazing all afternoon.
Most busy weeks I like to do a very simple slow-roasted chicken recipe, but if I'm making one on a weekend where I have some time and access to fresh herbs, I'm doing it this way. The extra herbs down in the pan while the chicken cooks make for an herb-infused gravy like you have never had before.
Change up the fresh herbs to your family's taste! My favorites are thyme and oregano, but rosemary and sage work so great too. Don't be intimidated! Play around with it – you really can't go wrong.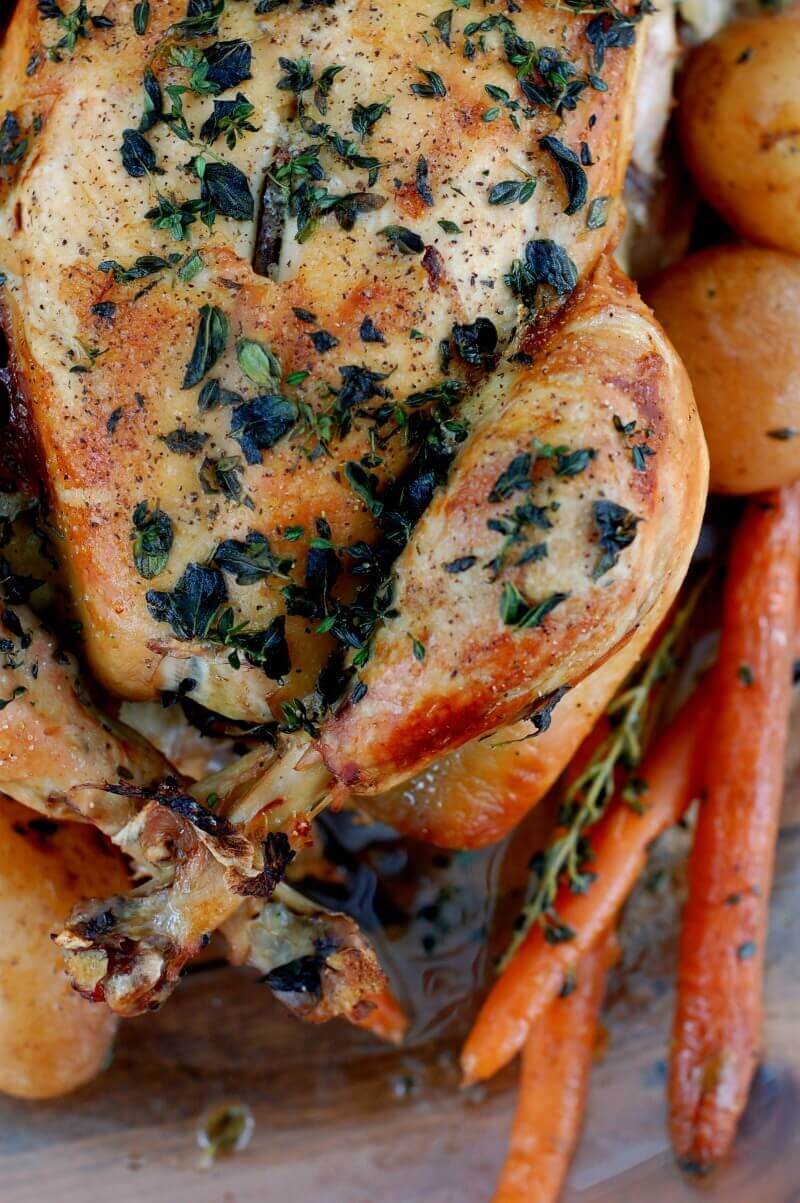 Herb Roasted Chicken With Herb-Infused Gravy
Ingredients
1

whole pastured chicken

7

long thin carrots

(whole – you can also use larger carrots cut on an angle)

2-3

celery stalks

(coarsely chopped)

1

medium onion coarsely chopped

small red or yellow potatoes

(2 small potatoes per person)

4-5

sprigs

thyme

(to stuff the chicken – If you don't have access to fresh herbs you can use dried herbs sprinkled on the inside)

4-5

sprigs

oregano

(to stuff the chicken)

4-5

sprigs

thyme

(to place in the liquid to flavor the gravy – If you don't have access to fresh herbs you can sprinkle dried herbs into the liquid)

4-5

sprigs

oregano

(to place in the liquid to flavor the gravy)

3

cups

white wine

(bone broth or water – or a combo of any of these)

Butter

(for the outside of the chicken)

½

tsp

sea salt

¼

tsp

black pepper

2-3

sprigs

thyme

(chopped – for the top of the chicken – If you don't have access to fresh herbs you can use dried herbs sprinkled on top)

2-3

sprigs

oregano

(chopped – for the top of the chicken)

2

tbsp

arrowroot

(you can use tapioca flour, white rice flour, or sprouted wheat flour to thicken the gravy – depending on what type of flour you can have)
Instructions
Wash out the chicken, stuff the inside with 4-5 sprigs each thyme and oregano (or sprinkle the inside with the dried herbs if that is all you have), and tie up the legs with cooking twine.

Put the veggies and 4-5 sprigs each of thyme and oregano in the bottom of your roasting pan along with the wine (or bone broth or water).

Put the chicken BREAST DOWN in the roasting pan and roast at 250 degrees with the lid ON for 3 hours.

After 3 hours, flip the chicken to BREAST UP, butter the skin, and sprinkle with sea salt, pepper, and 2 chopped sprigs each of thyme and oregano.

Roast another 30-45 minutes with HEAT UP to 350, and with lid OFF.

Let your chicken rest for a few minutes outside of the oven before cutting.

To make the herb infused gravy, strain out the juices from the bottom of the pan to a small sauce pan. Bring the juices to a simmer and whisk in your flour of choice. You will have to season salt and pepper to taste as well.
Nutrition
Calories:
2570
kcal
|
Carbohydrates:
101
g
|
Protein:
150
g
|
Fat:
117
g
|
Saturated Fat:
33
g
|
Cholesterol:
571
mg
|
Sodium:
2044
mg
|
Potassium:
3730
mg
|
Fiber:
24
g
|
Sugar:
33
g
|
Vitamin A:
73216
IU
|
Vitamin C:
62
mg
|
Calcium:
667
mg
|
Iron:
19
mg
About Renee
Renee is a wife and mama of 3 girls five years old and under. She is passionate about raising the next generation of kids with a better understanding of where their food comes from and how food affects their bodies. She is committed to teaching others that simple, real food can make positive changes in health and can be done on a tight budget, all while making the kids smile. Renee blogs at Raising Generation Nourished.