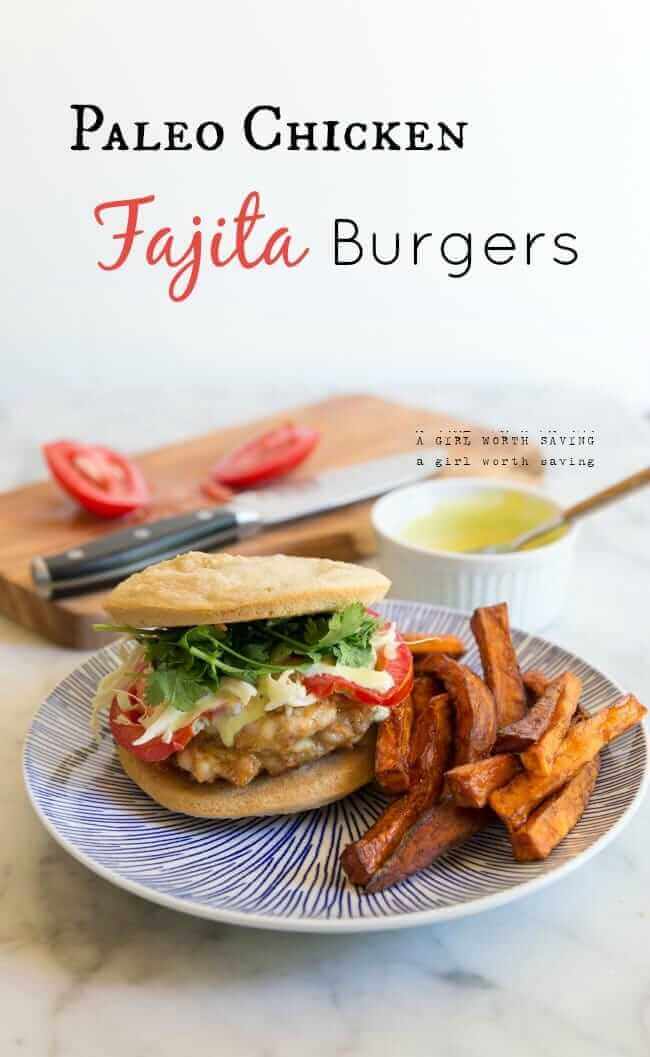 There is just something about the ceremony of getting chicken fajitas at a Mexican restaurant. The loud sizzling hot pan and the cloud of smoke just make what really is a simple meal of spiced chicken, onions and bell pepper, into an event. I won't even wax poetic about not having to cook or clean up the dishes, which really is the big bonus for me.
But let's get real… if I tried to fix Chicken Fajitas in my house:
1) I would set off the dang smoke alarm (which is an absolute pain to turn off); and
2) My 2 ½-year-old thinks I am part of a jungle gym, and trying to turn off the smoke alarm while he is trying to swing on my arms, or use my legs as a pole slide could be a major problem.
So, I got creative and turned my favorite Mexican dish into Chicken Fajitas Burgers. These are simple and delicious and you can get as creative as you like on the toppings. The next time I make them I'm going to break out the sour cream and guacamole. I hope you enjoy them!
Paleo Chicken Fajita Burgers
Instructions
Dice onion and bell pepper. Set aside.

Chop boneless, skinless chicken thights into 2" pieces.

In a skillet over medium high heat melt the coconut oil and add the diced onion and diced bell pepper.

Saute until the onion is lightly browned, about 10 minutes.

Remove from the oven and let cool.

In your food processor, place the chopped chicken thighs and hit pulse 20 – 25 times until the chicken is coarsely ground. Note, you don't want to just hit automatic and walk away as the texture will be more like a sausage and not like nice hamburger if you do this.

Add in the spices and hit pulse 5 – 8 times until well combined.

Spoon the mixture into a bowl and with a spoon mix in the sauteed onions, bell pepper and pepper jack cheese. Shape into four 4″ chicken patties.

Place a skillet over medium high heat and add the chicken patties.

Serve on a Paleo hamburger bun or lettuce wrap and top with your selected toppings.
Notes
Kelly Bejelly is a grain-free cook, with an admitted sweet tooth, who creates Paleo, Gluten-free Recipes on her food blog - A Girl Worth Saving.
Nutrition
Calories:
914
kcal
|
Carbohydrates:
11
g
|
Protein:
103
g
|
Fat:
50
g
|
Saturated Fat:
27
g
|
Cholesterol:
481
mg
|
Sodium:
3081
mg
|
Potassium:
1394
mg
|
Fiber:
3
g
|
Sugar:
4
g
|
Vitamin A:
1564
IU
|
Vitamin C:
52
mg
|
Calcium:
475
mg
|
Iron:
5
mg