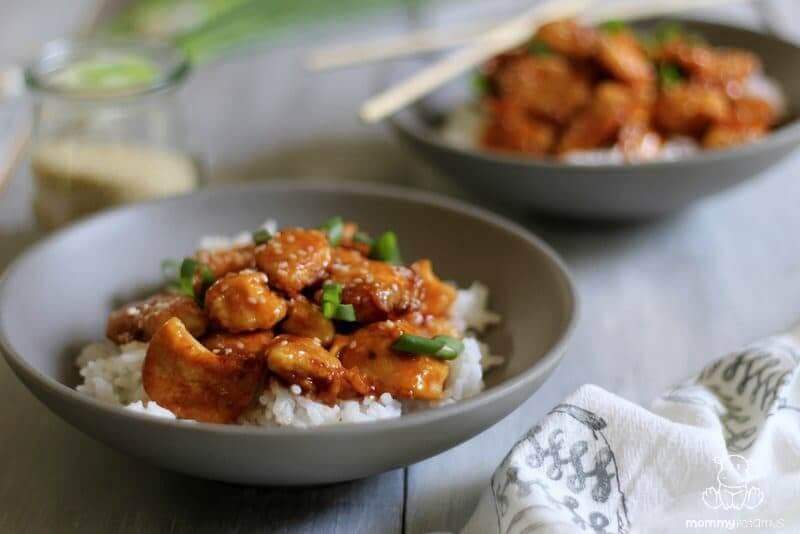 So, you love takeout but not the MSG and corn syrup it contains? Yeah, me too. Back when I finally made the connection between processed food and the health challenges I was facing, I walked away and never looked back.
Okay, I looked back a little. Because while certain flavors were easy to recreate at home, some seemed to involve one part science, two parts magic pixie dust (which, sadly, seems to be in short supply on Amazon), and three parts throwing my hands in the air and wondering what went wrong.
Then last week a surprise copy of Paleo Takeout arrived in my mailbox, and I literally squealed with delight when I pulled it out of the envelope. Written by Russ Crandall, a world traveling U.S. Navy serviceman and who writes at The Domestic Man, Paleo Takeout is the cheaters guide to Chinese, Thai, Indian, Italian, Mexican, Korean, Japanese, Vietnamese and Greek food – at least the American versions of them we're used to. And of course, there's a section for American classics like buffalo wings, chili fries, fish tacos and fried chicken in a bucket.
With over 200 recipes, there are plenty of reasons to love this book. Here are mine:
Why I ♥ Paleo Takeout
He's on #teamwhiterice
And potatoes, and dairy, which is great for this nursing mama. Of course, each recipe has substitution options for those who want or need to avoid these ingredients.
It's fridge-to-face in under an hour
And I'm not just talking about one entree, either. Russ explains his technique for making Egg Drop Soup, Sweet & Sour Chicken, Vegetables in White Sauce, and Baked Cauliflower rice in an hour by filling "hands-off time on one dish with some hands-on time on another dish." It's a method that can be adapted as needed, and kids can help!
There's also a guide in the back to help you quickly figure out which meals can be made:
In 30 minutes
In an hour
Ahead of time for easy weeknight dinners
It has all of my favorites
We're talking Mongolian Beef, Kung Pao Pork (or chicken), Bam Bam Shrimp, Spring Rolls, Moo Shu Pork, Pepper Steak, Orange Chicken, Hot and Sour Soup, Szechuan Beef, etc. And that's just the Chinese section! There's also Chicken Teriyaki, Tom Kha Gai, Pad Thai, Tandoori Chicken, Tempura Shrimp, Miso Ramen and more.
Russ has graciously given me a recipe to share with you guys today – enjoy!
Sweet And Sour Chicken Recipe
In Russ' words: "It is probably not surprising to read that while this dish is served in Chinese restaurants in many Western countries, it doesn't really exist in China. There are several sauces served in China that incorporate both sweet and sour tastes, the most common being from the Hunan province, but they're a far cry from what you can get at your local Chinese-American restaurant. The reality is that this is more of an American dish than a Chinese one. On the flip side, the Chinese have their own interpretation of Western tastes—like flying fish roe and salmon cream cheese stuffed-crust pizza (at the Hong Kong Pizza Hut). I think it's a fair trade."
Ingredients
Slurry Ingredients
1

tbsp

arrowroot starch

1

tbsp

cold water

½

tsp

sesame seeds

(to garnish)

2

green onions

(sliced, to garnish)
Instructions
In a saucepan, combine the sauce ingredients. Bring to a simmer over medium-low heat, then reduce the heat to low to gently simmer as you prepare the rest of the meal; stir occasionally.

Preheat your oven to 250°F. In a wok or skillet, warm the coconut oil over medium heat. Combine the tapioca starch, salt, and pepper, then toss the chicken pieces with the starch mixture. With your fingers, dip a starchy chicken piece in the beaten eggs, shake off the excess egg, and then add to the oil. Repeat until you have filled your skillet, being careful not to overcrowd the chicken pieces. Fry the chicken until cooked through, flipping every 2 minutes, about 6 to 8 minutes per batch. As you finish each batch, place the cooked pieces on a plate lined with paper towels; put them in the oven to stay warm. You should be able to cook the chicken pieces in 3 or 4 batches, depending on the size of your skillet.

Once the chicken is cooked through, finish the sauce. Taste the sauce and add more salt or pepper if needed. If the sauce is too dark and strong tasting, add a little chicken broth to thin it out. At this point, the sauce should be about as thick as tomato soup and should have a sharp but not overwhelming flavor.

In a small bowl, stir together the arrowroot starch and cold water to create a slurry. Raise the sauce temperature to medium; once bubbling, add half of the slurry and stir until thickened, adding more slurry if needed. Remove from the heat.

Toss the chicken pieces with the sauce, then garnish with sesame seeds and green onions. Serve over Basic Steamed Rice or Cauliflower Rice. (See below for recipes)
Nutrition
Calories:
454
kcal
|
Carbohydrates:
25
g
|
Protein:
52
g
|
Fat:
15
g
|
Saturated Fat:
8
g
|
Cholesterol:
227
mg
|
Sodium:
1699
mg
|
Potassium:
1035
mg
|
Fiber:
1
g
|
Sugar:
14
g
|
Vitamin A:
369
IU
|
Vitamin C:
10
mg
|
Calcium:
38
mg
|
Iron:
2
mg
Keep scrolling down for the steamed cauliflower rice recipe.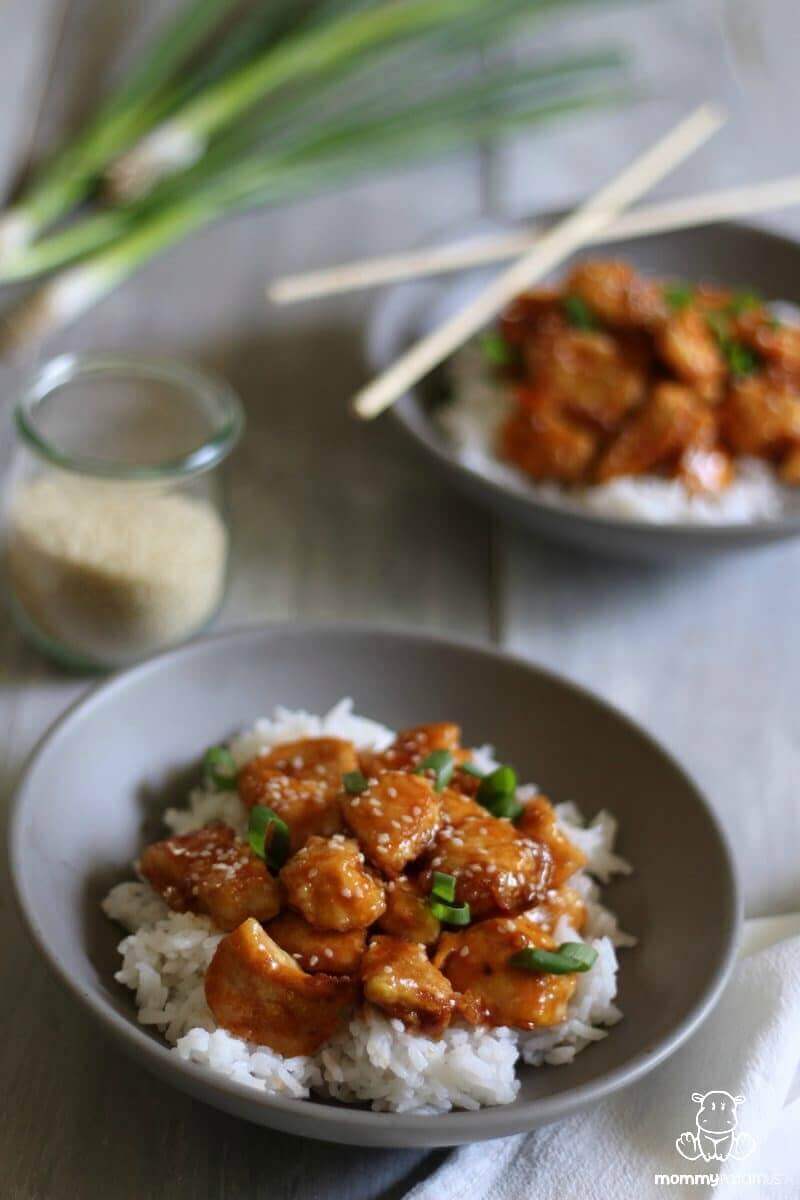 Steamed Cauliflower Rice
Ingredients
1

head

cauliflower

(cut into large chunks)

1

tbsp

ghee

(or expeller-pressed coconut oil)

1

tbsp

water

sea salt

(to taste)
Instructions
In batches, pulse the chopped cauliflower in a food processor until it is the consistency of rice or couscous, about 10 to 15 pulses.

In a large skillet over medium heat, warm the ghee for 1 minute, then stir in the cauliflower. Sauté until sizzling, then add the water, cover, reduce the heat to low, and simmer until softened, 4 to 6 minutes. Season with salt to taste and either serve or let cool for use in other dishes.
Nutrition
Calories:
69
kcal
|
Carbohydrates:
7
g
|
Protein:
3
g
|
Fat:
4
g
|
Saturated Fat:
2
g
|
Cholesterol:
10
mg
|
Sodium:
43
mg
|
Potassium:
430
mg
|
Fiber:
3
g
|
Sugar:
3
g
|
Vitamin C:
69
mg
|
Calcium:
32
mg
|
Iron:
1
mg
Click here to order Paleo Takeout
Recipe reprinted with permission from Paleo Takeout: Restaurant Favorites Without The Junk.
More Takeout & Featured Cookbook Recipes To Try
Chicken Tikka Masala – This recipe folds tender marinated chicken into a rich creamy curry sauce made with aromatic spices, diced tomatoes, fresh ginger & more.
Smashed Steak Skewers + Cherry BBQ Sauce – These tasty steak skewers from Nom Nom Paleo: Food for Humans are one of my favorite recipes from the book.
Honey Mustard Chicken – With just five minutes of prep and only a few simple of ingredients needed, this yummy honey mustard chicken is one of my favorite easy recipes for busy weeknights. It was created by my daughter Katie, who just published a cookbook with her friends called Chef Junior.