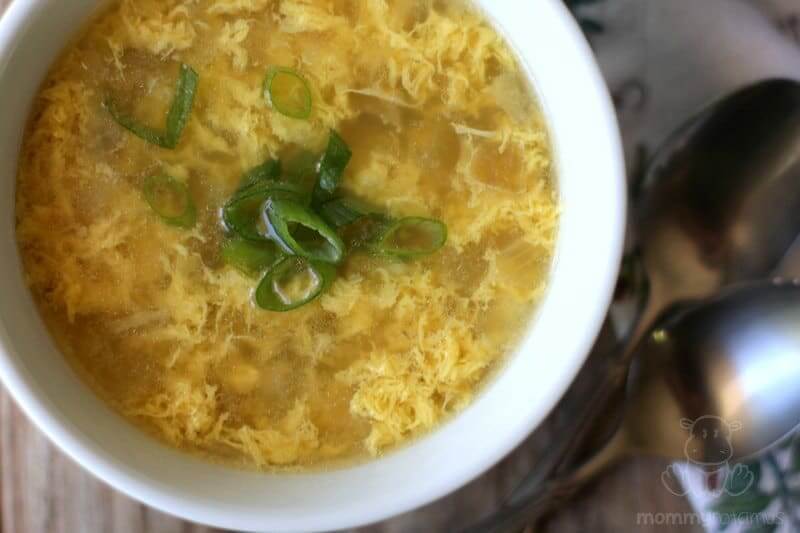 This delicious, protein-packed egg drop soup is one of my "go to" easy recipes when I need to get something on the table quickly. If you have homemade chicken broth or good quality store-bought broth on hand, you can make it in about 15 minutes from start to finish. It's kid-approved, and cleanup is pretty easy, too.
So what is egg drop soup, exactly? Called dàn huā tāng (蛋花汤), which translates as "egg flower soup," this Chinese soup is made of whisked eggs drizzled into boiling broth. It's often seasoned with optional ingredients like black pepper, white pepper, scallions, and soy sauce.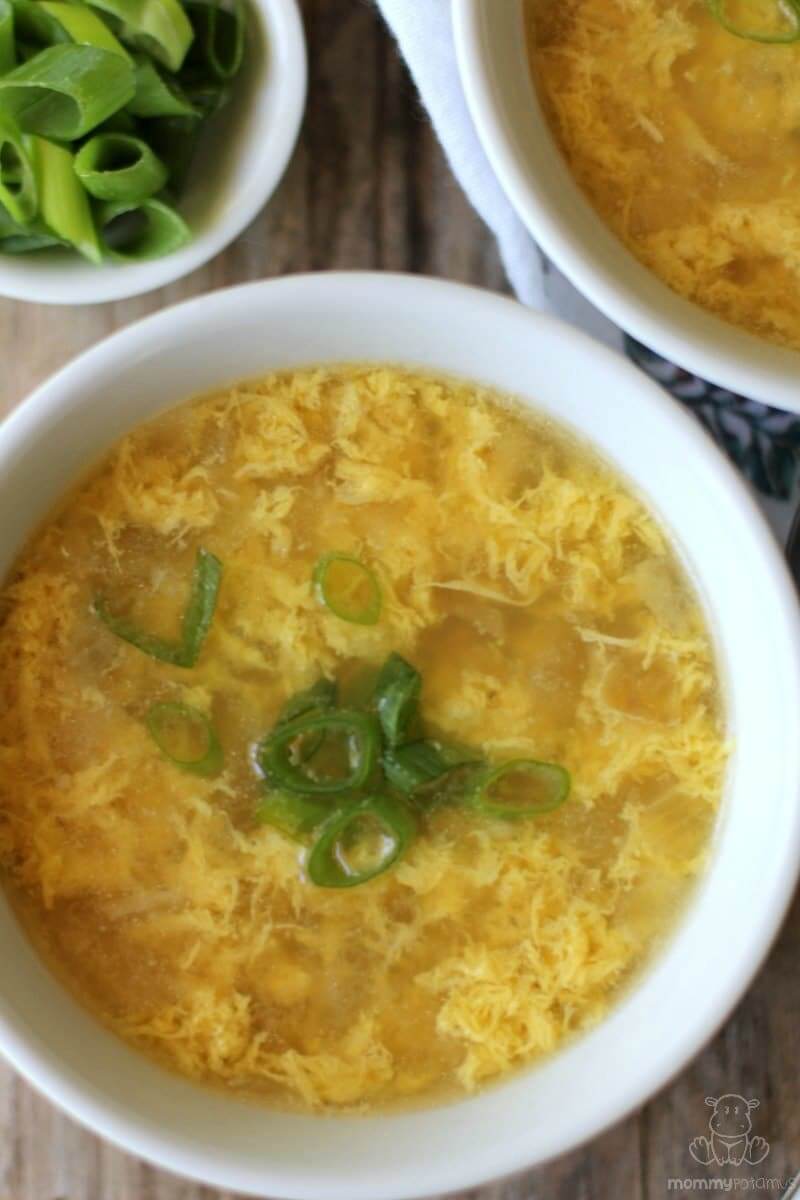 Since my family is gluten-free, we use coconut aminos or gluten-free tamari instead of soy sauce, with a bit of optional fish sauce for extra umami flavor. When someone isn't feeling well I also like to add a little ginger, which has been used in Chinese medicine for thousands of years to soothe tummy complaints like nausea and indigestion. Ginger also makes a soothing tea and yummy syrup that can be added to tea, sparkling water, stir fry's and more, but back to the egg drop soup . . .
Egg Drop Soup Recipe
This easy and delicious egg drop soup is my "go to" recipe when I need to get something on the table in 15 minutes from start to finish. Makes approximately 9 cups.
Equipment
medium sized pot

stirring spoon
Instructions
Add coconut oil/sesame oill to a medium-sized pot and warm over medium heat. Add onions and saute until soft.

Add the chicken broth, coconut aminos, 1 teaspoon salt, pepper and fish sauce if using. Bring to a boil, then reduce to a simmer.

Stir in a brisk circular motion while pouring in a thin drizzle of whisked egg into the chicken broth.

Taste and add additional salt if needed.

Season with chives before serving if desired.
Nutrition
Calories:
193
kcal
|
Carbohydrates:
6
g
|
Protein:
13
g
|
Fat:
13
g
|
Saturated Fat:
6
g
|
Cholesterol:
327
mg
|
Sodium:
2483
mg
|
Potassium:
540
mg
|
Fiber:
1
g
|
Sugar:
2
g
|
Vitamin A:
505
IU
|
Vitamin C:
36
mg
|
Calcium:
84
mg
|
Iron:
3
mg
Frequently Asked Questions
Can I thicken this egg drop soup with cornstarch or arrowroot flour?
Yes. To do that, make a slurry of 6 tablespoons water mixed with 4 tablespoons arrowroot flour or non-gmo cornstarch. When the broth comes to a boil, stir in the arrowroot/cornstarch and simmer for a couple of minutes before stirring in the eggs. Allow it to cool to a comfortable temperature before eating – it will continue to thicken as it cools.
How long does egg drop soup last in the fridge?
About 3-4 days I think, although ours usually doesn't last that long because my kids it all.
Can I make this in the Instant Pot?
I have made it using the saute function in a hotel room.
Is egg drop soup keto?
I think so as long as you don't add the arrowroot flour/cornstarch, but maybe someone can chime in below and let us know for sure.
Is this egg drop soup Whole 30 compliant?
Yes, as long as you don't thicken it with arrowroot or cornstarch.
Looking for more asian-inspired recipes?
This Sweet & Sour Chicken Recipe from Russ Crandall, a world traveling U.S. Navy serviceman and author of the Paleo Takeout cookbook, is super delicious and makes great leftovers . . . if there are any leftovers, that is.
This Asian Beef Noodle Soup from Craig Fear, another world traveler who authored Fearless Broths & Soups, incorporates the classic Japanese combination of broth, garlic, ginger and soy sauce. These four ingredients are pure magic.