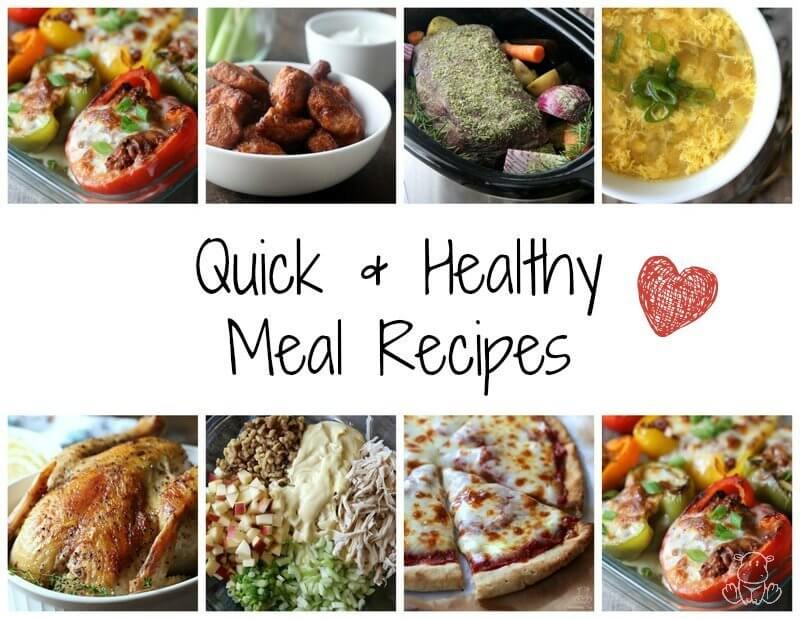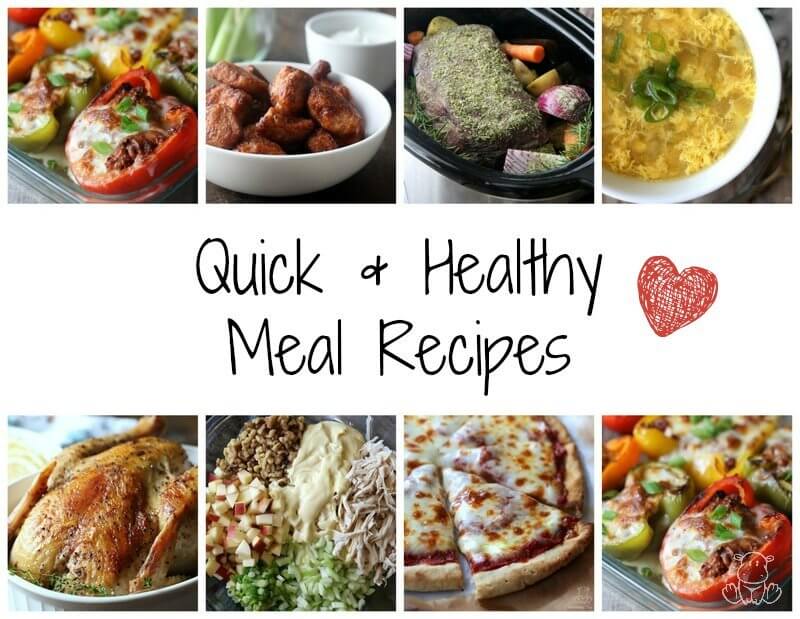 Before kids, I imagined motherhood would be 80% playing games, snuggling, and reading, and 20% hanging out with my husband while our kids quietly cleaned their rooms. Or something pretty close to that. Turns out, it's mostly googling for quick healthy meal ideas while doing any of the following:
Performing goalie maneuvers to prevent my youngest from pressing the alarm bell in elevators
Convincing another child that they don't actually need seven glasses of water on their nightstand at bedtime
Feeling like my heart can't hold any more love as I watch them sleep, then freaking out because one of them stirs and I think they're going to wake up. (I grab a pre-emptive eighth glass of water just in case.)
That's the short list, at least. I know from personal experience that when busy schedules and unexpected challenges drain our time, energy and desire to cook, it can be really tempting to opt for convenience. Those are the moments that our families need restorative nutrients the most, though, and that's why I've put together this guide for you.
Quick Healthy Meals In 30 Minutes Or Less
After lots of googling and tinkering with recipes, I've compiled a tried-and-true list of gluten-free, healthy dinners that are kid-approved and don't require lots of hands-on time. They'll help you get dinner on the table no matter what the day brings, and still leave time to enjoy your family.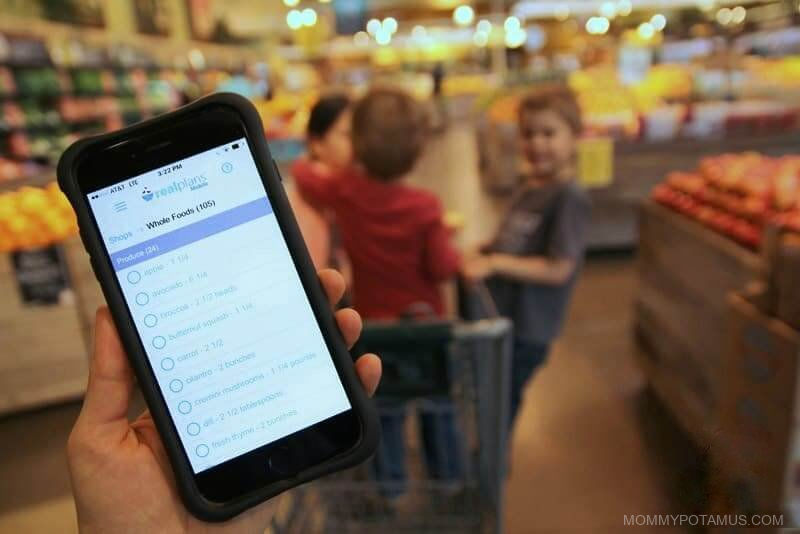 Before we dive in, though, I can't mention simplifying mealtime without mentioning my "personal assistant," Real Plans. It's way more than a meal generator or menu planner – it's an affordable, easy-to-use app that takes your schedule into account, caters to your family's specific dietary needs, and even delivers a shopping list to your phone so you never forget anything.
You can drag and drop the recipes below into your plan for the week, or you can tell Real Plans to only put meals on your plan that take 30 minutes or less to make. Now, about those recipes . . .
Each recipe below with an asterisk next to it is from yours truly. The others are some of my favorites from around the web.
Stovetop Recipes
1. 20 Minute Homemade Chicken Nuggets* – I'm always looking for ways to save time in the kitchen, so awhile ago I skipped a couple of steps while making our favorite chicken nugget recipe. Y'all, no one noticed. They gobbled them down and asked for more. When I need a quick meal, I often serve these chicken nuggets with my super quick homemade ranch dressing. The ranch serves as a dipping sauce for the nuggets and a dressing for a big salad that I toss together quickly.
2. 30 Minute Taco Skillet from Lexi's Clean Kitchen – This dish has so much flavor and it's all made in one skillet for easy cleanup. Definitely put it on your "must try" list. If you can't find ground turkey, beef works too.
3. Easy Pepper Steak* – This recipe for one of my old takeout favorites is super simple to make with 100% real food ingredients.
4. Egg Roll In A Bowl from Whole New Mom – Fast, delicious, and perfect for lunch the next day if you have leftovers. That's a big if, though.
5. 15 Minute Asian Noodles: Lo Mein Copycat from Raising Generation Nourished – Add in some boiled eggs for quick protein and you've got a meal in less time than it takes to convince your kids that they don't really need 8 glasses of water before bed.
6. Beef and Cabbage Stir Fry from Wellness Mama – This one pan recipe is budget-friendly and easy to customize with your family's favorite spices.
7. Chipotle Scallop Rolls* – The mild sweetness of scallops perfectly complements the smokey finish of chipotle peppers, and the rice/cauliflower rice adds a layer of texture that reminds me of my junk-food burrito days of yore.
Soup Recipes
8. Egg Drop Soup* – This protein-packed egg drop soup is one of my "go to" recipes when I need to get something on the table in 15 minutes flat. My kids cheer when I mention I'm making it.
9. Coconut Lime Chicken Curry Soup* – This simple Thai-inspired soup melds tangy lime and sweet coconut with warming ginger and fresh cilantro. It's one of my favorite ways to use leftover roasted chicken and homemade bone broth, and it's easy enough to make on a busy weeknight.
10. Pakistani Kima from Wellness Mama – One pan, thirty minutes, so much yum.
Oven Recipes
11. 10 Minute Oven-Cooked Salmon With Lemon & Thyme from The Family That Heals Together – This salmon recipe can be paired with something simple like these Instant Pot Butter & Dill Potatoes and a salad for a quick meal.
12. Paleo Pizza With Cassava Flour Crust* – This recipe can be made in 30 minutes if you work quickly, and when it's all said and done you have not one but two pizzas.
Quick Healthy Meals That Take Very Little Little Hands-On time
These recipes have a cook time that is longer than thirty minutes. However, they require very little hands-on prep so they're quick in the sense that they require little time in the kitchen.
Skillet & Oven Recipes
13. Perfect Eye Of Round from The Domestic Man – I love this recipe because it turns an inexpensive roast into a beautiful and tasty meal. It only takes about 10 minutes of active time, but actual cooking time is 2.5-3 hours.
14. Sheet Pan Chicken & Veggie Dinner from Lexi's Clean Kitchen – I think Lexi says it best. "Toss the ingredients in a bowl, line on a baking sheet, bake, and devour! What you're left with is an easy meal that requires minimal clean up. Plus, it's totally customizable to the veggies you have on hand!"
15. Easy Greek Chicken Bake by Beauty And The Foodie – This dish only takes 5-10 minutes of hands-on prep before you pop it in the oven, and it's a one-pan meal so cleanup is easy.
16. Sloppy Joe Stuffed Bell Peppers* – These tomatoey, cheesy stuffed peppers got a big thumbs up from my kids. They only take about 10 minutes of hands-on prep followed by 30 minutes in the oven, and they're pretty, too.
17. Lebanese Lemon Chicken – No bland chicken here. Lemon, rosemary and thyme keep things interesting even on busy weeknights.
Instant Pot Recipes
18. Instant Pot Honey Balsamic Pork Chops from Predominantly Paleo – Less than 10 minutes of hands-on prep and you're good to go.
19. Instant Pot Chicken Soup – Chicken soup is one of my favorite comfort foods, and this is hands down one of my family's favorite quick, healthy meals. The recipe is from Dr. Karen Lee's Keto Cooking with Your Instant Pot cookbook, and it's so flavorful and easy!
20. Easy Indian Butter Chicken from The Castaway Kitchen – Indian food was my date-night fave when my husband and I were newlyweds. Love this healthy homemade version!
21. Instant Pot Pressure Cooker Whole Chicken* – This Instant Pot pressure cooker whole chicken is one of my favorite Instant Pot recipes. It's so tender, and as soon as I serve the meat I can put the frame right back in with some water to make homemade bone broth.
22. Instant Pot Barbacoa from Zenbelly – This dish only requires 5 minutes of hands-on prep and can be served in place of ground beef for a quick taco salad, or over homemade gluten-free tortillas. (I make tortillas in big batches and freeze them with parchment paper between each one for a quick dinner option.)
23. Instant Pot Taco Meat – This flavorful Instant Pot taco meat can be quickly made with frozen ground beef . . . no thawing needed! It's easy, kid approved, and perfect for busy weeknights.
Slow Cooker Recipes
24. How To Cook A Frozen Roast In A Slow Cooker* – We all know slow cookers save a ton of hands-on time, but they often require a lot of planning: remembering to thaw meat + shopping for ingredients + getting up early enough to chop/dice/sear/etc. High five if you are always that organized, but I'm not. That's why this roast is different – it can be thrown together in a matter of minutes without planning ahead. If you've wondered how to cook a frozen roast without thawing, this recipe is for you.
25. Slow Cooker Whole Chicken* – This recipe is easy to pull together and can be adapted to keep things interesting – coated in barbecue sauce, sprinkled with lemon pepper or cajun seasoning.
26. Slow Cooker Ginger Beef from Kitchen Stewardship – I love the fresh ginger, beef, tamari, and snap pea combination in this recipe!
27. Slow Cooker Chipotle Chicken From Get Inspired Everyday – Takes just 10 minutes to throw together in the slow cooker, and it makes a delicious taco bowl or Mexican-style salad.
Soups, Hearty Salads & Sandwiches
28. Hearty Stuffed Pepper Soup* (Guest post from Raising Generation Nourished published here on Mommypotamus) – With this recipe, I've found that I can roll out of bed, toss all my ingredients in the slow cooker while I brown the meat, and then toss that in too and turn the slow cooker on high. That all takes about 10 minutes, and by lunchtime it's ready.
29. Easy Chicken Salad Recipe With Apples – If you have some leftover roast chicken on hand, this light and delicious chicken salad is wonderful over a bed of greens.
30. Easy Apple Sandwiches – This is typically a healthy go-to lunch in my house because it's on the lighter side, but it works for dinner with a hearty side dish.
Now that we've covered my favorite quick, healthy meals, I'd love to know: What are your favorite easy dinner recipes?