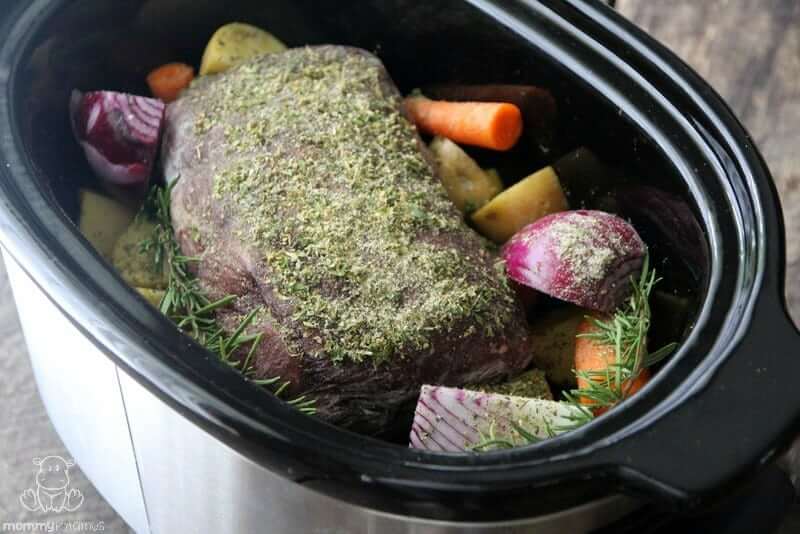 Quick! You have one hour to do ANYTHING you want… what do you do?
a) Rob a bank
b) Take a nap
c) Read a book while soaking in a hot bath with a glass of wine
d) Absolutely nothing!
e) Get a massage
f) Make dinner, scrape pans, sweep the floor and collapse in a heap on the couch
If You Chose "F" Do Not . . .
I repeat, do not read this post! The paragraphs below are meant to get you OUT of the kitchen and BACK TO those things you promised yourself you'd make more time for: a night out with friends, yoga – heck, maybe just a shower. If this does not interest you, please exit via the little red "x" in the top left corner.
[looks around] Okay, now that we're alone I have a confession: I love to cook, but I don't want to spend all day in the kitchen. If you feel the same way, here are two secret weapons for cooking from scratch in a fraction of the time.
Secret Weapon #1: The No-Thaw Pot Roast
We all know slow cookers save a ton of hands-on time, but they often require a lot of planning: remembering to thaw meat + shopping for ingredients + getting up early enough to chop/dice/sear/etc.
High five if you are always that organized, but I'm not! That's why this roast is different – it can be thrown together in a matter of minutes without planning ahead. If you've wondered how to cook a frozen roast without thawing, this recipe is for you.
(Pssst! I'm often asked if I know of any slow cookers that are guaranteed to be lead and cadmium-free. Answering that question is trickier than you might imagine because many companies simply say that their products meet the FDA's guidelines, which does allow for some lead/cadmium. However, there is a way to dig deeper. California's Prop 65 requires companies to disclose any lead or cadmium that is present, so you can contact companies and see if they have anything to disclose. The slow cooker I have – this Kitchen Aid 6 Quart – does have a Prop 65 label for the cord, but I have a documented chat in which they say that the ceramic vessel does not require a Prop 65 label because it has been tested and found to be free of lead and cadmium.)
Secret Weapon #2: Freezer Cooking
On days I get home late and slap my keys on the counter with no idea what's for dinner, I opt for pre-prepared ingredients from my freezer. For example, I can quickly thaw some cooked, shredded chicken to burritos, a chicken salad, soup, paleo quesadillas, or stir fry.
Freezer cooking is one of my favorite ways to simplify weeknight meals, but it can feel intimidating when you're first getting started. If you've ever wondered which foods can be frozen or needed tips for getting started, you may find my Freezer Cooking 101 Guide helpful.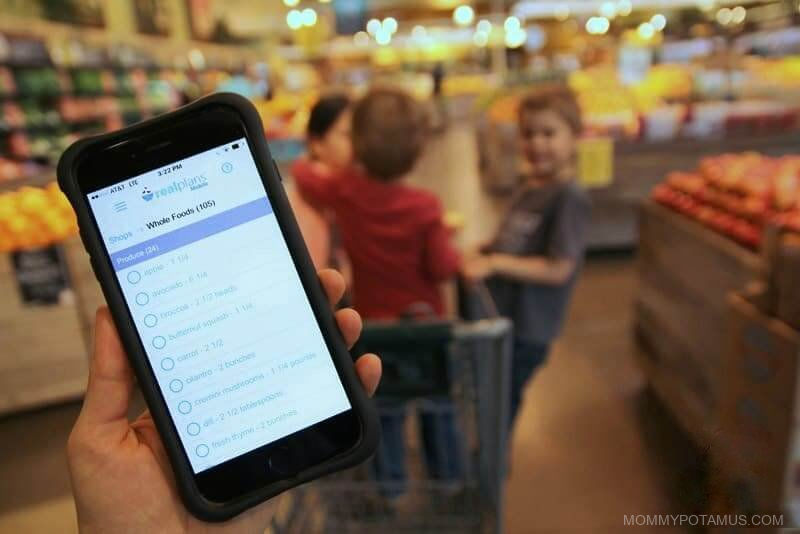 Secret Weapon #3: Real Plans
Feeling overwhelmed by all the planning I just mentioned? Meet Secret Weapon #3: Real Plans. It's like a personal assistant that does everything for you, including planning meals based on your dietary preferences, creating a shopping list you can pull up on your phone, and reminding you when meat needs to be thawed, etc. Watch a video tutorial that explains how it works.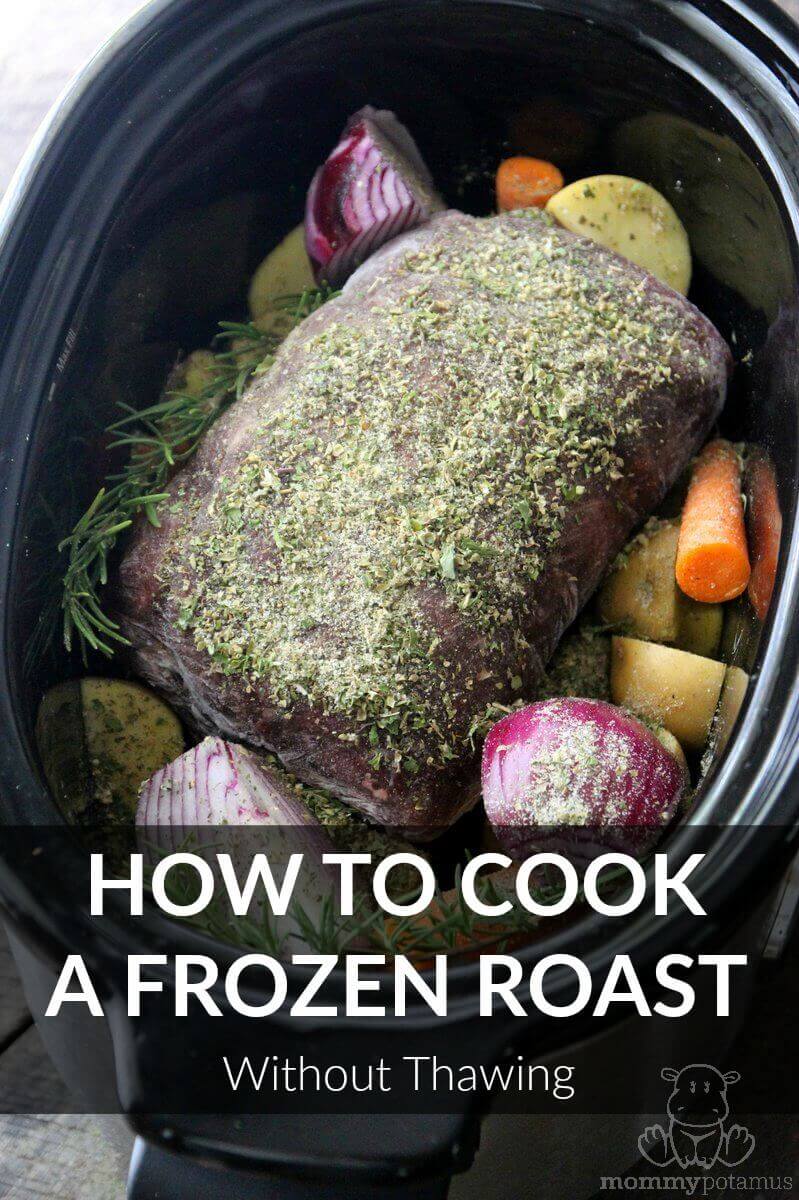 How To Cook A Frozen Roast Without Thawing
This Ranch-style no-thaw roast is a from-scratch adaptation of this "To Die For" pot roast which has been hailed around the web as one of the most delightful combinations of flavors every thrown into a pot and ignored for hours. I agree!
Ranch Style No-Thaw Pot Roast Recipe
This is the simplest, easiest ways to make a pot roast ever. No lost time thawing a large piece of meat. Just toss the frozen chuck roast in, add your veggies, broth, and seasoning, and set your crockpot timer. It literally couldn't be any easier. 🙂
Equipment
Crockpot

measuring cup

chopping knife
Ingredients
3 to 4

lbs

chuck roast

(arm or rump roast also work)

1

cup

chicken broth

(or water)

1

batch

ranch seasoning mix

(about 7 tbsp – see recipe below)

1

batch

organic Italian seasoning

(3 tbsp + ¾ tsp – see recipe below)

onions

(as desired)

carrots

(as desired)

potatoes

(as desired)

2 to 4

tbsp

flour

(or arrowroot powder for making gravy – optional)

coconut oil (for optional browning – substitute ghee, tallow or lard – how to render your own lard)

1

sprig

fresh herbs

(I added rosemary)
Instructions
You can build the complexity of this dish's flavor by tossing your veggies in to caramelize before adding them to the crock pot. Onions and carrots are delicious this way. Potatoes, not so much. 🙂

Place any veggies you want to include (onions, carrots, potatoes, etc) into the crock pot, then add the roast.

Pour one cup of broth/water around the roast. Sprinkle seasoning over the top and cover.*

Set slow cooker/crockpot to high and cook for 5-6 hours, or low and cook for 8-10 hours, or until meat is tender. Add spices if you haven't already.

When the roast is ready, make gravy using

one of these two methods

– I use arrowroot powder instead of cornstarch. Add salt if desired.
Notes
*(NOTE: Herbs lose some of their flavor when left in a crock pot for several hours. This recipe compensates by using more herbs to that the flavor is well-distributed throughout the roast. However, you can just as easily add them at the very end of the cooking process. Start with half of what the recipe calls for and then increase as desired. You may want to add some additional salt since it's included in the seasoning mix and you're not using the full amount.)
Nutrition
Calories:
2626
kcal
|
Carbohydrates:
37
g
|
Protein:
269
g
|
Fat:
158
g
|
Saturated Fat:
69
g
|
Cholesterol:
939
mg
|
Sodium:
5573
mg
|
Potassium:
5196
mg
|
Fiber:
7
g
|
Sugar:
2
g
|
Vitamin A:
621
IU
|
Vitamin C:
29
mg
|
Calcium:
507
mg
|
Iron:
36
mg
Is It Safe To Cook Frozen Meat In A Crock Pot?
Before I wrap up this post, I want to mention that there is a lot of conflicting advice on the web about whether it's safe to cook frozen meat in a crockpot. Some say it will cause the meat to stay too long at a temperature which promotes bacteria growth. However, the manufacturer of the Crock Pot brand of slow cooker has issued an official statement, saying it's fine if you follow these guidelines:
Add at least 1 cup of warm liquid to the stoneware before placing meat in the stoneware.
Do not preheat the slow cooker.
Cook recipes containing frozen meats for an additional 4 to 6 hours on Low, or an additional 2 hours on High.
Source: Crock Pot Official Site ~ Hints & Tips
However, if you'd like the peace of mind that comes with knowing the roast has reached the recommended temperature, use a meat thermometer to measure when the roast has reached 150-155F. Because the internal temperature will continue to rise while it rests it will reach the recommended temperature of 160F.
As a final note, many traditional recipes call for roasting at lower temperatures than is currently recommended. I love this roast turkey from Nourished Kitchen.