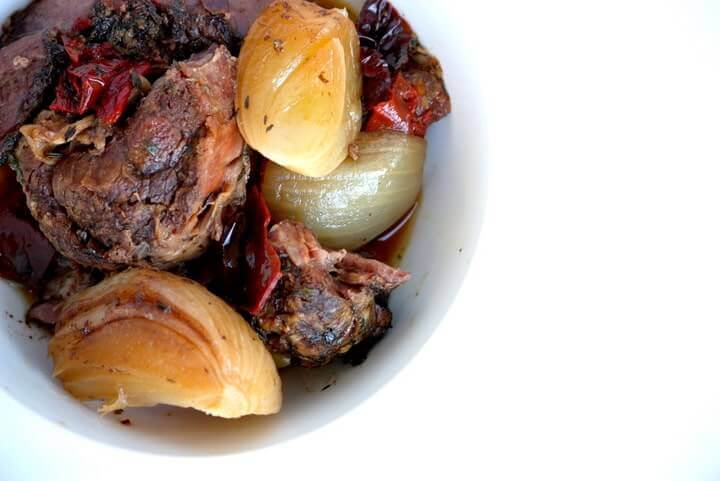 Snowboarding the white sand dunes of Ruidoso, New Mexico was a short-lived love affair. More like a fling, actually. If they ever install ski lifts it's a romance worth rekindling, but until then I'm more than happy to doodle my name next to a yucca tree instead.
What I DID truly love about New Mexico, though, were the colorful hanging ristras of dried peppers. What exactly one did with these peppers I had no idea – but unraveling the mystery over the last ten years has been a sumptuous journey for sure.
Anaheim chilies from New Mexico, chipotle's, ancho's from the legendary fields of Puebla, Mexico – each variety adds depth and excitement in its own way. Take the ancho, for example. It's mid-range on the heat scale, but it's peppery sweetness is what makes it perfect for a family of all ages.
No need to fiddle with it too much, either. The complex flavor is best paired with simple ingredients. Roast. Salt. Onion. Aaand a few other things. But yeah, that's pretty much it. Did I mention that active prep time is only 10 minutes? (15 if you make gravy!)
Just one more thing. The sauce is absolutely fab over scrambled eggs.
Crockpot Roast With Ancho Chilis
Instructions
Rub salt on the roast and place it in the crockpot to rest for 1/2 to 1 hour (this improves the tenderness of the meat).

In the meantime, chop onions, dice chili's, peel and crush garlic, get your stock ready and pull the spices off the rack.

When the roast has rested, place remaining ingredients in the crockpot and cook on low for 7-8 hours, or until tender.

Remove roast from crock pot and, if desired, make gravy with the ancho chili liquid.

Here's how

. (Note: I prefer to use arrowroot powder instead of cornstarch)

Enjoy!
Nutrition
Calories:
0
kcal
|
Carbohydrates:
0
g
|
Protein:
0
g
|
Fat:
0
g
|
Saturated Fat:
0
g
|
Polyunsaturated Fat:
0
g
|
Monounsaturated Fat:
0
g
|
Trans Fat:
0
g
|
Cholesterol:
0
mg
|
Sodium:
0
mg
|
Potassium:
0
mg
|
Fiber:
0
g
|
Sugar:
0
g
|
Vitamin A:
0
IU
|
Vitamin C:
0
mg
|
Calcium:
0
mg
|
Iron:
0
mg
Photo credit: Mr. T in DC