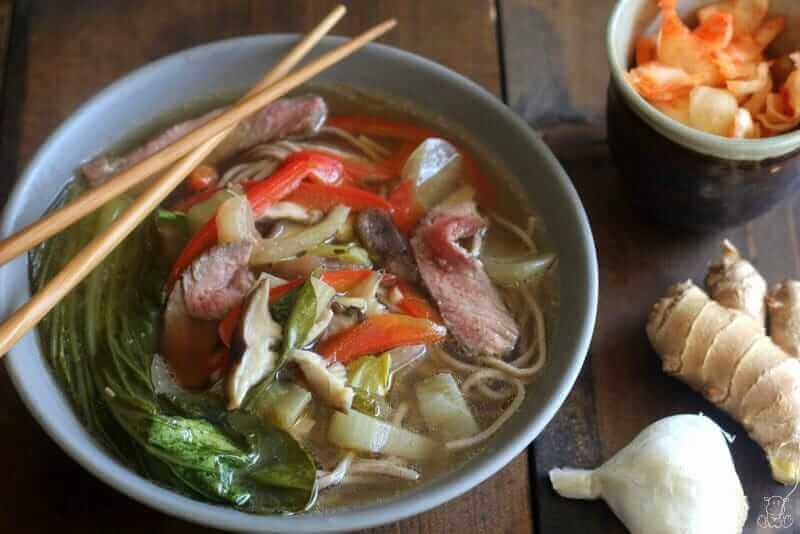 Note from Heather: Back when it was just the two of us, my husband used to consistently email me listings for Italian villas. He was always trying to convince me to leave our jobs behind and travel before we started our family, but I kept coming up with reasons not to.
Some – like my health issues – were legitimate, but now I wish I had because I totally have the travel bug! Right now my adventures are limited by my budget, the availability of goat babysitters, and the number of hours I am willing to try to entertain my kids in an enclosed space, whether it be a car or plane, so I make up for those challenges by embracing faraway places in whatever way I can.
Which, of course, means food. 🙂 Today I am so glad to be sharing a guest post from Nutritional Therapy Practitioner Craig Fear of Fearless Eating. I made it yesterday and loved the unique flavors. Here's Craig:
I love Asian noodle soups so much it's almost painful.
When I traveled to Burma, I became addicted to mohinga, a noodle soup that is considered the national dish of the country.
I didn't want to have it everyday. I HAD to have it everyday.
Traditionally served for breakfast, I woke up with such a craving for it that I could not function until I had a bowl (or three).
But it was a trip to Thailand where I first fell in love with Asian noodle soups. Steaming cauldrons of broths and soups were an everyday part of bustling street fare, crowded markets and tiny little hole-in-the-wall cafes that could rival any overpriced, overly pretentious 5 star restaurant in San Francisco or New York City.
The hot and sour soups, the red curries, the super spicy green curries, the sweet yellow (also called massaman) curries, all swimming in various combos of broth, fresh lemongrass, coconut milk, ginger, lime, Thai basil and fish sauce, were absolute heaven.
Because they were made fresh every day, from REAL bone broths (not boxed or canned versions) and fresh, local ingredients from Thai cooks (not chefs), who were not following written recipes, no two bowls of noodle soup ever tasted the same.
Every meal for the entire four months of my trip had a little tinge of excitement. "What is THIS ONE going to taste like?" I would think to myself while waiting in eager anticipation for the meal to arrive.
And I loved that at every street stall and at every table in every café and restaurant there was a little caddy of sauces – fish sauce, soy sauce, chili garlic sauce, a sweet hoisin sauce and a super spicy fermented chili pepper sauce (which the first time I tried it set my mouth on fire and left me sucking air for the next few hours) were the common denominators.
You add as much or as little as you want to your personal taste.
To me, that's the beauty of Asian noodle soups. They're so versatile and so ripe for experimentation and improvisation. It makes creating these soups at home a lot of fun.
And easy.
As an example, I want to share with you one of my favorite noodle soups to make at home.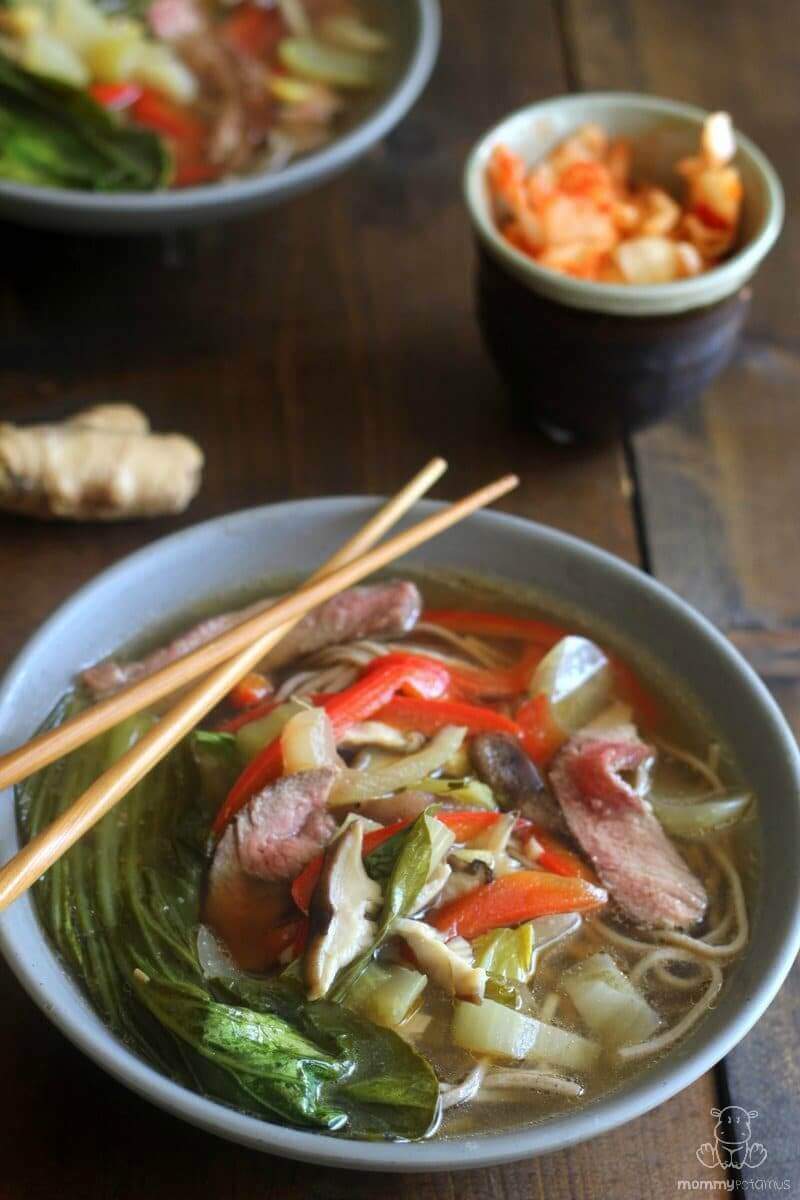 Asian Beef Noodle Soup
What I love about this recipe is the classic Japanese combination of broth, garlic, ginger and soy sauce. To me, those four things together are pure magic. And yet, it's just so simple.
This recipe is also included in my new book, Fearless Broth and Soups, which includes an entire chapter on Asian noodle soups!
As with all the recipes in the book, I encourage you to make this recipe your own. Adapt the ingredients below any way you see fit. Add more or less of anything. Use different veggies. Sub the beef broth and beef for chicken broth and chicken. Add some chilies or hot sauce for extra heat. Throw in some kimchi or serve it on the side (HIGHLY recommended).
It's also easy to adapt if you're on a special diet.
Soba noodles, which are made from buckwheat (which despite the name does not contain wheat), go really well in this recipe due to their nutty flavor. Despite the name, buckwheat does not contain wheat so it's perfect suitable if you're on a gluten-free diet. Similarly, sub a gluten-free soy sauce or coconut aminos if need be.
If you're on a grain-free diet, leave out the noodles entirely. You could also try some grain-free noodles like mung bean (also called "glass" or "cellophane") or shirataki (make from an Asian root vegetable).
Don't be afraid to experiment and improvise!
Asian Beef Noodle Soup Recipe
Ingredients
2

qts

beef broth

1 – 1½

lbs

flank steak

(cut into strips – I've also used strip steak, sirloin and even leftover pieces from a roast)

3 – 4

tsps

sesame oil

4 – 8

cloves

garlic

(finely chopped)

3 – 4

inch

piece of fresh ginger

(peeled and chopped)

1

bok choy

(chopped – separate and set aside the green leafy ends from the whiter stalks)

1

red pepper

(de-seeded and thinly sliced)

15 – 20

shiitake mushrooms

(sliced – or other mushrooms of your choice)

1

pkg

soba noodles

3 – 4

tbsp

soy sauce
Instructions
Saute garlic and ginger in half of sesame oil for about 5 minutes.

Add beef broth, soy sauce, mushrooms, red pepper and bok choy stalks to broth and simmer for 5-10 more minutes. Add the bok choy greens in the last minute as they'll cook much quicker than the stalks.

While all this is simmering, prepare noodles according to package directions, drain in cold water.

Salt and pepper both sides of the flank steak. Lightly sear the steak in the rest of the sesame oil, 2-3 minutes per side so that the outside is browned but the inside is still pink. It's best to undercook it because it will cook a bit more when you add the hot broth. Remove from heat and slice the steak, across the grain, into strips of any size you prefer.

Put several beef strips and a handful of noodles in serving bowls and ladle broth with vegetables over.

Add more soy sauce if needed, to taste.
Nutrition
Calories:
605
kcal
|
Carbohydrates:
22
g
|
Protein:
76
g
|
Fat:
23
g
|
Saturated Fat:
7
g
|
Cholesterol:
170
mg
|
Sodium:
3824
mg
|
Potassium:
2340
mg
|
Fiber:
6
g
|
Sugar:
7
g
|
Vitamin A:
10314
IU
|
Vitamin C:
136
mg
|
Calcium:
331
mg
|
Iron:
8
mg
Get More Asian Noodle Soups!
As previously mentioned, I have an entire chapter in my new book devoted to Asian noodle soups. Needless to say, it's my favorite chapter.
Also included are recipes for:
Thai Coconut Red Curry Chicken Noodle Soup
Burmese Coconut Chicken Noodle Soup
Vietnamese Pho
Chicken Udon Noodle Soup
Ginger Miso Sesame Noodle Soup
Mohinga
Many more!
About Craig Fear
Craig Fear is a certified Nutritional Therapy Practitioner (NTP) and real food blogger. He lives in Northampton, MA where he works with clients around digestive health issues. In addition to Fearless Broths And Soups, he is also the author of The 30-Day Heartburn Solution. You can connect with Craig over on his blog, Fearless Eating, and on Facebook.