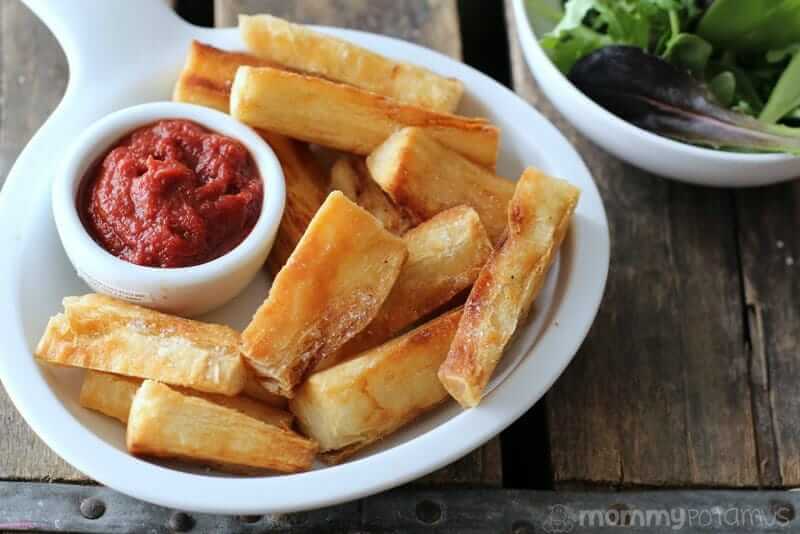 I'd managed to pull together . . .
Some "normal" snacks for the sweet college student that had come to watch my little ones – cheese and crackers, chicken nuggets with ranch dressing and whatnot – but then I saw it.
It was right there on the counter, bubbling away with golden, gut healing goodness. You could almost have mistaken my slow cooker chicken broth for soup, except um, a chicken foot was visible.
Cover = BLOWN. I can't hide my weird foodie ways. Fortunately, Operation Couple Time is currently overseen by a craft-and-storytime-ninja who loves food as much as I do. Her family comes from Brazil, so when she discovered that I had yucca in my freezer, she immediately shared this recipe with me.
It's so simple and we absolutely love it. The fries are crispy on the outside, yet soft and chewy on the inside. They're delicious simply sprinkled with salt and then dunked in your favorite sauce, or you can add some smoked paprika and garlic powder for a rich, earthly flavor.
Oh, and if you or someone you love is avoiding nightshades – good news! Sometimes referred to as cassava root, yucca is not a nightshade – it's a starchy root that grows in temperate climates. Pair it with something like ranch or homemade mayo instead of ketchup and you're good to go.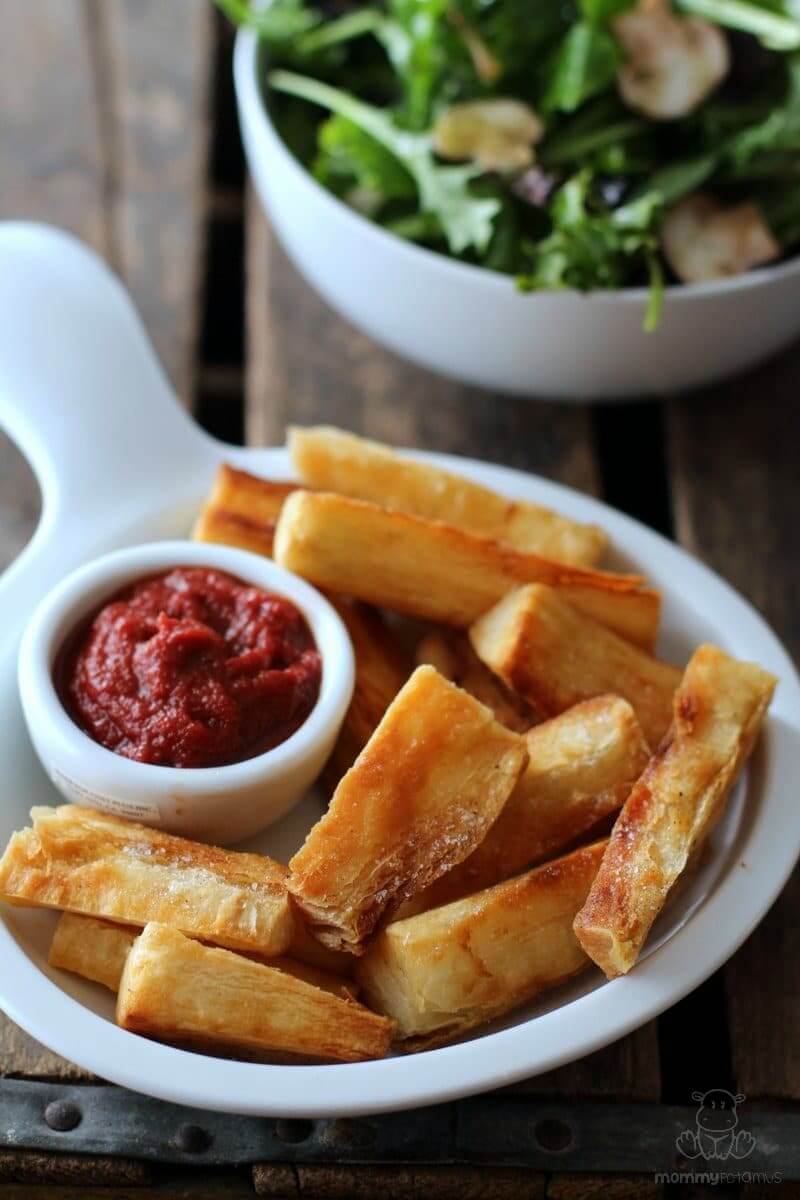 Yuca Fries Recipe
Instructions
Bring 3 quarts of water to a boil.

Add in a pinch of salt and ½ pound peeled, frozen yucca. This is what it will look like before you put it in.

Remove yucca when a fork can be easily inserted and removed – how long this takes depends on how thick the yucca root is. Place yucca on a plate or cutting board.

In the center of the yucca is a stringy stem that is too tough to chew. Remove it and cut the yucca in to french fry strips that are about 1/4 inch wide.

Fry in 1/4 inch coconut oil over medium heat until golden brown.
Nutrition
Calories:
363
kcal
|
Carbohydrates:
86
g
|
Protein:
3
g
|
Fat:
1
g
|
Saturated Fat:
1
g
|
Sodium:
32
mg
|
Potassium:
615
mg
|
Fiber:
4
g
|
Sugar:
4
g
|
Vitamin C:
47
mg
|
Calcium:
36
mg
|
Iron:
1
mg