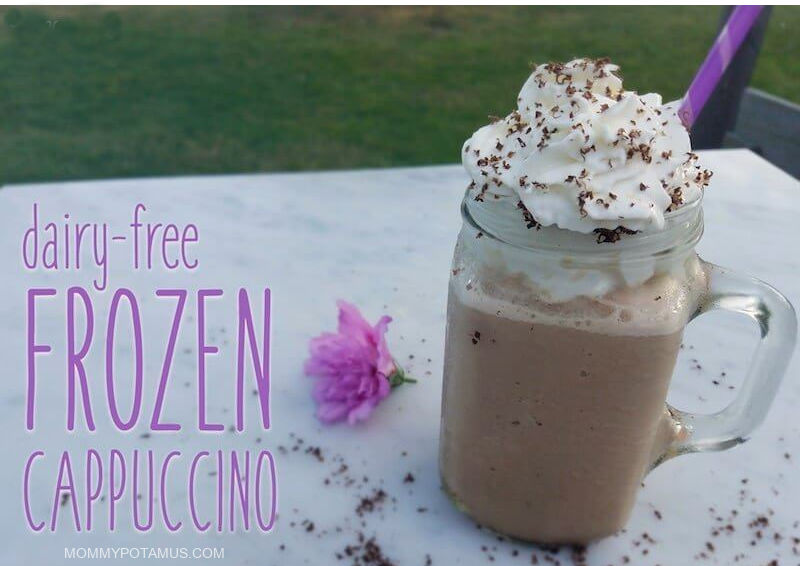 It seems like coffee shop drinks are getting more grande (have you seen the size of these things?) and more often than not come laden with large quantities of sugary syrup for flavor, a mega-dose of whipped cream, and drizzled with chocolate or caramel.
Sounds more like a sundae than a frozen cappuccino to me! No doubt they are delicious, but make it a daily habit and you're not doing your health or your wallet any favors.
Instead, save money and calories by learning how to make a quality blended coffee drink at home, and get some health benefits along with it!
How to Make Frozen Cappuccino at Home
This frozen cappuccino recipe is so super simple that I didn't even think about sharing it at first, but the amount of sugar I've avoided by making my own frozen cappuccino at home makes this "recipe" worth sharing.
This recipe uses cubes of frozen coffee so it takes a little advance preparation. I like to make enough double-strength coffee for several frozen cappuccinos and freeze it in cubes ahead of time. That way I have frozen coffee cubes in my freezer ready to go.
I've tried many ways to flavor my coffee drinks over the years (some of my favorites are listed below), but one step I never skip is adding some collagen peptides or even butter for healthy fats and protein.
You can also make this drink dairy-free by using coconut or nut milk.
For coffee shop results, also consider using a quality blender for best results. With what you're saving in coffee drinks, you may be able to upgrade sooner than you think!
My next barista goal: mastering coffee art!
Frozen Cappuccino Recipe (Dairy Optional)
A blended frozen coffee drink made with frozen coffee cubes and milk or coconut milk. 
Ingredients
1 ½

cups

double strength coffee

(frozen into cubes)

½

cup

coconut milk 

(or whole milk)

raw honey

(optional add-on)

vanilla extract

(optional add-on)

flavored stevia drops

(optional add-on)

cocoa powder

(optional add-on)

flavored collagen peptides

(optional add-on)
Instructions
Combine frozen coffee cubes, milk, and any optional add-ins in the blender and blend until smooth.

Enjoy immediately!
Notes
This recipe is endlessly customizable!
adjust the ratio of coffee to milk to create preferred coffee strength
add flavorings such as vanilla extract, vanilla stevia drops, or dark chocolate collagen peptides for added protein
Nutrition
Serving:
16
oz.
|
Calories:
75
kcal
|
Carbohydrates:
5.5
g
|
Protein:
4.4
g
|
Fat:
4
g
|
Saturated Fat:
2.3
g
|
Polyunsaturated Fat:
0
g
|
Monounsaturated Fat:
0
g
|
Trans Fat:
0
g
|
Cholesterol:
12
mg
|
Sodium:
56
mg
|
Potassium:
0
mg
|
Fiber:
0
g
|
Sugar:
6.4
g
|
Vitamin A:
0
IU
|
Vitamin C:
0
mg
|
Calcium:
0
mg
|
Iron:
0
mg
Do you make a frozen coffee drink? What do you put in yours?