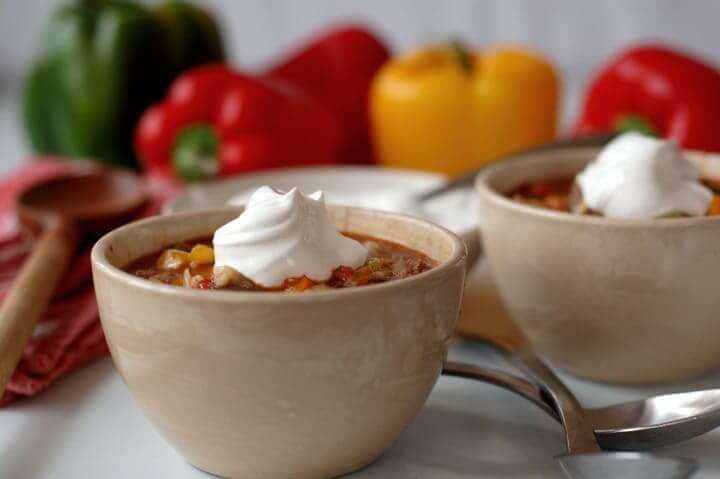 Note from Heather: Today's recipe comes from Renee Kohley of Raising Generation Nourished. Thank you, Renee!
One of my very favorite meals growing up was my mom's stuffed peppers. I think she made them once a month or so. I'm not sure if it was just the how it made the house smell, or the actual taste of them, but it is a good memory.
I still make stuffed peppers on occasion, but, especially during the fall and winter months, my goal is bone broth in my family daily.
Whether in soups or in the mug, bone broth daily has been my method of choice to keep us really quite healthy through the winter while we are cooped up for months on end. It's nice to have a big variety of soups in my back pocket to keep things interesting during our long cold season.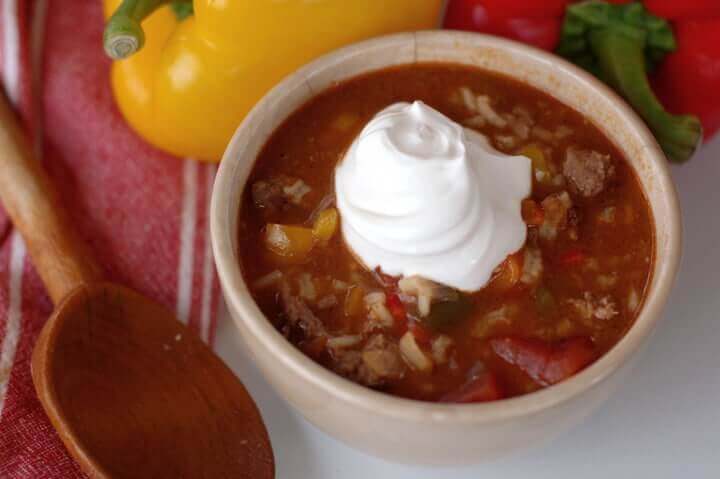 I love this soup because it really can be done by slow cooker method, or right in your soup pot. I usually choose my soup pot because I'm just about the worst meal planner in the world. I usually don't make dinner decisions until about lunchtime, so it works well for me to just do it up in the soup pot.
When I have moments of scheduling brilliance I will have beef ready to go to get into my slow cooker in the morning, and if you are a slow cooker fan, you will definitely love this one.
Be sure to take advantage of doubling up this batch to store in your freezer for busy weeks, or to take to a new momma or friend in need!
[Note from Heather: I'm often asked if I know of any slow cookers that are guaranteed to be lead and cadmium-free. Answering that question is trickier than you might imagine, because many companies simply say that their products meet the FDA's guidelines, which does allow for some lead/cadmium. However, there is a way to dig deeper.
California's Prop 65 requires companies to disclose any lead or cadmium that is present, so you can contact companies and see if they have anything to disclose. The slow cooker I have – this Kitchen Aid 6 Quart – does have a Prop 65 label for the cord, but I have a documented chat in which they say that the ceramic vessel does not require a Prop 65 label because it has been tested and found to be free of lead and cadmium.]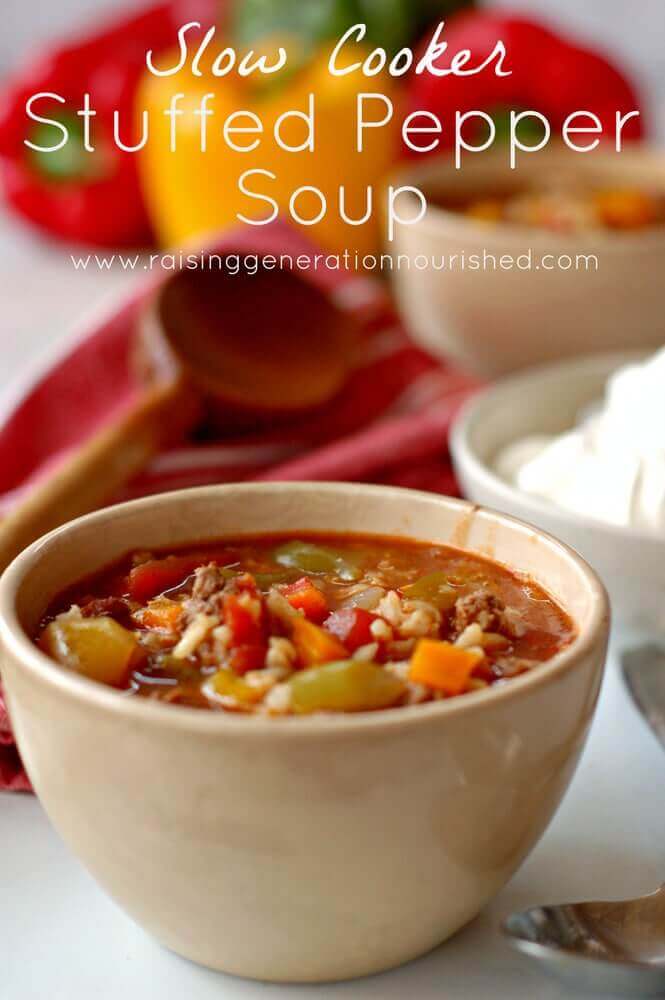 Stuffed Pepper Soup
Ingredients
1

lb

grassfed ground beef

¼

cup

pastured butter

(you can substitute coconut oil or lard)

1

medium onion

(chopped)

4

bell peppers

(chopped - multiple colors if possible!)

4-5

cloves

garlic

(minced)

2

tbsp

tomato paste

15

oz

organic diced tomatoes

2

qts

beef bone broth

½

cup

long grain white rice

(uncooked)

sea salt

(to taste)

black pepper

(to taste)

whole sour cream

(optional garnish)

raw cheese

(optional garnish)
Instructions
Brown the beef in a little bit of butter and set aside. Don't drain off the fat! Use that for cooking your veggies in!

If you are doing the slow cooker method, you can put the browned beef along with the rest of the ingredients into your slow cooker and cook on HIGH for 4 hours. I have tried on low for 8 hours and I feel like it gets too mushy just FYI.

If you are doing the soup pot method, sauté your onion and peppers in the beef fat and some extra butter for about 10 minutes. Add a few big pinches of sea salt while they cook to bring out their juices and sweeten them.

Add the garlic and tomato paste, and cook for a minute.

Add the Italian season, tomatoes, broth, and rice, and bring to a boil. Reduce to a simmer until the rice is cooked through - should take about 20 minutes or so.

Top with whole sour cream or grated raw cheese.
Nutrition
Calories:
0
kcal
|
Carbohydrates:
0
g
|
Protein:
0
g
|
Fat:
0
g
|
Saturated Fat:
0
g
|
Polyunsaturated Fat:
0
g
|
Monounsaturated Fat:
0
g
|
Trans Fat:
0
g
|
Cholesterol:
0
mg
|
Sodium:
0
mg
|
Potassium:
0
mg
|
Fiber:
0
g
|
Sugar:
0
g
|
Vitamin A:
0
IU
|
Vitamin C:
0
mg
|
Calcium:
0
mg
|
Iron:
0
mg
About Renee
Renee is a wife and mama of 3 girls five years old and under. She is passionate about raising the next generation of kids with a better understanding where their food comes from and how food affects their bodies. She is committed to teaching others that simple, real food can make positive changes in health and can be done on a (very) tight budget, all while making the kids smile. Renee blogs at Raising Generation Nourished.
Want more healthy soup recipes?
Instant Pot Chicken Soup – This rich version of one of my favorite comfort foods from Dr. Karen Lee is so flavorful and easy!
Spring Vegetable Stew – This featured recipe from The Nourished Kitchen Cookbook if full of fresh flavors like peas, artichokes, basil, parsley, mint and lemon juice.